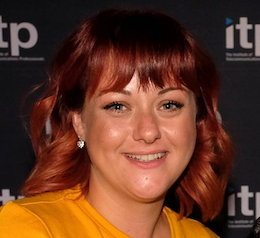 Comms Dealer is very sad to report the passing of Crissi Williams, CEO of The Institute of Telecommunications Professionals (ITP) on March 2nd.
She joined the ITP in 2007 as Office Manager, became Head of Operations in 2011 and CEO in January 2017. 
Jo Evans, Head of Communications at the ITP, said: "For any of you who knew Crissi, I think you'd agree she was a vital, irrepressible force, and an all round inspirational woman. We are at a loss."
Comms Dealer Editorial Director Nigel Sergent added: "This is very sad news and a terrible loss for our industry. 
"Crissi helped so many young people develop their careers in telecoms and amongst all the great work she did for the ITP she was also a much valued judge for our awards programmes for many years. 
"I only spoke to her a day before we heard this dreadful news. She was her normal bubbly self and was pleased to accept my invitation to be a judge for our Channel Champions Awards this year."
Thoughts and recollections about Crissi can be shared on the condolence board.
https://www.kudoboard.com/boards/dwPRAUae