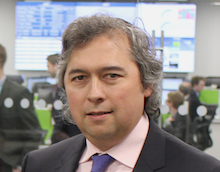 The health sector has long faced many challenges but in grasping a technology lifeline the prognosis is positive, says Content Guru Deputy CEO Martin Taylor.
Pressure on the health sector to deliver more for less is ever mounting, and the focus on using technology enabled efficiencies to reduce waste and avoidable costs is ever sharpening. The health sector must also consider ways to maximise the potential of the large and multi-skilled workforce involved in health and care services. "Acutely aware of these issues, ICT commissioners are beginning to shift their focus from organisational, to patient to citizen centric delivery models," said Taylor. "The NHS has started to reorganise into broader sustainability and transformation partnerships, encompassing whole health and care systems to deliver the necessary reform."
The pattern of technology procurement has also shifted, and technology providers acknowledge that delivering healthcare is complex so they are seeking ways to engage with the NHS as strategic partners. The emerging Tech UK initiative to connect industry with national and regional leads is a step in the right direction, believes Taylor. "This approach has now begun to mature," he commented. "For example, NHS Digital increasingly reaches out to industry leads through Tech UK to help shape service specifications. This methodology has the added benefit of encouraging the NHS, and other companies in the health sector, to think beyond current capabilities and consider new and emerging technologies."
Big data is key. The ability to collect unstructured data via speech-to-text, alongside the use of AI tools to better understand trends and behaviours will enable local and national care commissioners to design better services. "Cyber security will also become crucial as data is migrated into cloud technologies and information flows across multiple channels within health and care communities," added Taylor.
Technologies that support the development of personalised healthcare are growing in popularity. These technologies, pointed out Taylor, should also make it easy for people to navigate their way through a complex care system, while ensuring clinicians and carers have the information required to respond to planned and unplanned patient needs. "A notable trend in the health sector is the use of AI-enabled self-service solutions that support the delivery of personalised care," said Taylor. "A combination of Natural Language Processing (NLP), speech-to-text and other contact centre trends creates enormous potential for the provision of a better experience for patients who are, for example, elderly and frail."
The latest NHS Plan reaffirms the importance of regional Academic Health Science Networks as a conduit between care commissioners, providers and industry
Taylor noted that omni-channel technologies are providing service users with access on any device, anytime and anywhere. They are also being used to deliver a connected patient experience, helping them to navigate through different services and guiding them to the right care. "This technology enables callers to be recognised instantly, and their care record or crisis plan to be made available to the responding clinician," added Taylor. "It also offers options to self-triage using AI driven algorithms and suggests alternative services to better meet their needs.
"As well as chatbots, NLP and other AI driven innovations that help drive care personalisation, reducing routine tasks and delivering better experiences and outcomes will also be key. This implicates a number of technologies as being important to suppliers, including cloud reliability, omnichannel flexibility, big data analytics and real-time data management and alerts."
Cloud technologies offer the potential to deliver change by connecting with legacy investments. "By avoiding the need to rip and replace suppliers are positioned to offer advantageous changes while maximising the benefits of prior investments," said Taylor. "Cloud can deliver incremental change, side stepping the need for risky and large-scale transformation."
 
Raising brand awareness in such a dynamic health system is never easy. Many small suppliers struggle to engage beyond a small pilot. "The latest NHS Plan has reaffirmed the importance of regional Academic Health Science Networks as a conduit between care commissioners, providers and industry," noted Taylor. "This route should be used for any new entrant wishing to understand how to raise awareness. It is vital that providers develop partnerships with Academic Health Science Networks, Tech UK Health Team and NHD Digital Market Engagement leads. They should also spend time listening to clinicians, patients and carers."