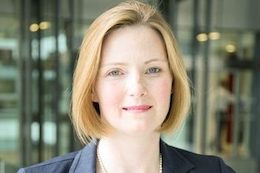 Helen Lamprell, General Counsel and Director of External Affairs of Vodafone UK, has received an OBE in the New Year Honours list.
The honour is in recognition of her work in championing equality in the workplace.
This includes raising awareness of vulnerable people and helping those who have raised a family, or cared for someone, to return to work.
As a member of the Women's Business Council for the last five years, Lamprell has shown how businesses can drive positive change, from the empowerment of women through employment and the use of technology to the treatment of mental health in the workplace.
 
Lamprell was instrumental in the UK launch of Vodafone's ReConnect programme in 2017. It offers networking and training to parents – mostly women who have taken time out to raise a family – and carers so that they can regain the confidence, skills and opportunities to continue their careers. 
Vodafone has also partnered with the Women's Business Council and the Government Equalities Office to publish a toolkit of best practices to help other employers set up their own returner programmes.
 
She has also raised awareness of the psychological and financial damage that domestic violence can have on employees, and promoted a project with Mencap to help people with learning difficulties become more independent through the use of digital technology.
 
Vodafone UK Chief Executive Officer Nick Jeffery said: "Helen has worked tirelessly to implement programmes at Vodafone to help people, in particular woman, return to work.
"Businesses can ill afford to ignore the difficulties and the financial penalties imposed on people who for good reasons need to take extended maternity leave or time off to care for someone."
 
Lamprell added: "Typically, fewer than one in four women return to work within the first year of giving birth.
"Often this is not through personal choice, and the gap in their résumé leaves them at a disadvantage when applying for work.
"Vodafone ReConnect is not just about providing people with work after a long period of absence, it is about helping to restore that person's confidence and financial independence."