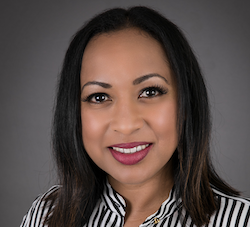 As we laud the efforts of channel partners in home-work enabling swathes of UK employees, we must also get to grips with emerging technologies such as 5G and the IoT, says Kathy Quashie, Head of Partnerships and Alliances, Vodafone UK.
Quashie performs her various duties and functions as a figurehead with assurance. Her career path and achievements speak volumes about her strength of character and underline why leadership really matters. Prior to joining Vodafone as Head of Partnerships and Alliances last July Quashie worked for BT as Major Business Director for Enterprise. She was also CEO and Chair of BT Expedite, BT's omni-channel retail business, where she led the turnaround and profitable divestment of the unit to an Equity acquirer, APAX, based in America.
Prior to these achievements Quashie held a number of other senior roles during her tenure at BT and across other retailers and telecoms brands including Carphone Warehouse and TalkTalk. During this period Quashie took on commercial and financial leadership positions in which she delivered strong revenue management and M&A assurance activity, covering both the AOL and Tiscali acquisitions through to integration. Not surprisingly, her growing influence in the telecoms sector was recognised in 2009 by GT in the Global Telecoms Forty under Forty top executives to watch.
"My biggest career achievement was being made Chief Executive of BT Expedite," commented Quashie. "I led the performance turnaround of the two separately run entities and then later the successful sale of these companies to a PE business. This not only delivered stronger P&L performance but also rebuilt customer creditability and loyalty through a high performing team culture. The transformation success journey mirrored all areas of business improvement and strategic growth which was recognised by the sale price awarded for the business."
Women in tech
In other activities, Quashie is a member of many women in technology programmes, and she has mentored and contributed to the diversity and inclusion agendas of the companies she has worked for. "In hindsight, championing more women to work in technology is something that I would have pushed for earlier," she stated. "Working in tech and building diverse teams is critical to delivering performance. Technology is still a male-led industry and the need to bring diversity of thought to mirror tech trends is more important now than ever before. As a result, I am proactively involved in networks – most recently, Vodafone women's network – to drive diversity and inclusion in tech."
That's not all: Quashie was recently appointed as a NED at the Transport for London (TFL) Museum, she holds an MBA from Heriot Watt University, is CIMA part-qualified, appears in the Women to Watch 2019 list from Cranfield University (as part of its spotlight on the BAME Board of future talent) and is a Black Belt in Lean Six Sigma. "All of these are credentials that have equipped me for overcoming the challenges of leading a major division within a global business like Vodafone," she stated.
You can have the best tech, the best customers, pricing and propositions, but you can only create an engaged and vibrant culture, leading you to success, if you invest in your people
When the opportunity to lead the partner programme at Vodafone presented itself Quashie was drawn by the combination of opportunities and challenges in driving growth. "These include the chance to bring my telecoms experience to the table and offer a fresh perspective to the team and develop the culture," she added. "People and culture are something that I am deeply passionate about. You can have the best tech, the best customers, pricing and propositions, but you can only create an engaged and vibrant culture, leading you to success, if you invest in your people."
The opportunity to forge new relationships and bring support and expertise from the wider Vodafone business into the partner channel was also a magnet. "I got excited and saw a real opportunity to help Vodafone's partner programme on its transformation journey," she said. "Channel partners are playing an increasingly important role in the strength of British businesses. Their knowledge of industries, geographies and organisations means they are positioned to help companies digitise their operations. To adapt to new market conditions and opportunities, businesses are looking to work with specialist partners who can advise and guide them on the right technology choices, and importantly how to integrate technology into business strategy."
Challenger brand
Vodafone itself is undergoing a period of adaptation as it continues to build on what Quashie calls a 'challenger brand' in the fixed market. "This is an area we are investing in to bring our services up to speed with competitors," she explained. "Vodafone's SIP over Public Internet is the first of a new range of SIP services we have been working on recently. Developed with our channel partners, the solution lets businesses use their phone system to make and receive calls via their Internet connection rather than relying on traditional phone lines. This significantly reduces business telephony costs while offering new levels of flexibility and scalability."
As markets like fixed line and mobile shift and new technologies emerge every customer has different demands, and according to Quashie a key way to meet these challenges is to work closely with the partner community. She also says that it is critical for Vodafone to be ubiquitous in its role as a digitiser and transformer of UK businesses. "From the launch of 5G to cloud services and IoT, we are helping businesses to improve the way they communicate and collaborate," she added. "Our 4G service is now at 99 per cent population coverage and, although a new technology, we have 5G in many locations."
Vodafone has more than 100 million IoT connections worldwide and Quashie believes that the company has reached an 'exciting inflection point in IoT's development'. "With 5G fully rolling out over the next couple of years billions more objects will be connected quickly and easily, powering IoT for the next decade and driving adoption even further," she said. "As part of this we are helping partners to get their hands on the latest technologies, including 5G, NB-IoT and high speed fibre, by opening innovation centres across the UK."
She refers to Vodafone's Customer Excellence Centre in Newbury, the new Digital Innovation Hub at MediaCityUK in Manchester, and the Vodafone Business Lounge at the Ricoh Arena. "There is a significant amount of pressure on businesses to adapt and prepare for the impact of the digital world, and to position themselves to thrive within it," commented Quashie. "Partners are at the heart of these digital transformations. They are a key ingredient in helping businesses adapt to changes in the modern market."