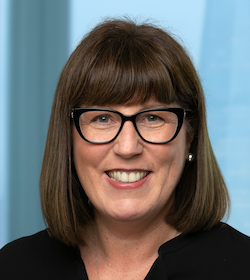 Node4's MD for Digital Hannah Birch discusses ways to nurture females seeking leadership roles in the comms sector, and shares insights into how organisations can best unlock womens' full potential in the boardroom.
Birch, who was formerly Accenture Managing Director, joined Node4 as Managing Director Digital in January this year. She started her career at BP and also held leadership positions at Fujitsu Services UK and Computacenter. Here, she discusses a number of approaches to progressing gender equality in leadership roles, and reflects on the very real impacts of women in the boardroom....
What are the benefits of a strong female presence in boardrooms?
Innovation: Having a mix of people in the boardroom not only ensures a true diversity of collective thinking, it also stimulates new and creative approaches to real-world challenges. I believe that having a female presence in the boardroom is critical for the delivery of long term, and sustainable, company value.
What have been your experiences during your career in terms of being female?
While I'm sometimes aware of being the only female in the room, my primary focus has always been on doing my job to the best of my abilities. I come to work, I contribute, and I've excelled because I worked hard. This in turn led to me being recognised for my achievements, and not my gender.
How are you taking a lead on increasing female representation at the top?
I'm passionate about mentoring women who have the inclination and capability to rise through the ranks. Over the years I've been involved with many groups and organisations dedicated to supporting women in ICT and continue to actively mentor women I've connected with through these networks.
Ultimately, however, it all begins with seeding a female talent funnel in the first place – heading into schools to educate children on the breadth of opportunities they can expect to encounter in the tech world and dispelling notions that it is populated by males who work in darkened rooms crammed with equipment. Talking to students as they prepare to make decisions about the subjects they will go on to study at A Level is also important. Encouraging girls to focus on STEM subjects isn't the only game in town. Many girls studying the arts aren't aware their skill sets and creativity are ideally suited to today's world of agile tech or project management. I'm always eager to take up invitations from schools and colleges looking for female tech ambassadors to visit and share what a 'day at the office' really looks like.
What initiatives can help to retain high potential women?
Today's companies have few problems attracting women into entry level roles. Down the line, however, many drop out at the very point their careers are set to take off to take on parenting responsibilities. When they get back to the workplace, they need to play catch up fast. So any organisation looking to limit talent attrition and harness the potential of these future leaders needs to implement programmes that help women returners to bridge this gap and progress their careers.
Recent government policy is helping to level the playing field on this issue. Schemes like Shared Parental Leave help to facilitate new ways of working and make it the norm for men to play a much more active role in their children's lives. All of which contributes to breaking the organisational barriers that can inhibit gender inequality at line management and more senior levels. Ultimately, creating a more equitable and supportive working environment is the key to enabling a pipeline of women who are willing – and also able – to take up the leadership opportunities that come their way.
What other initiatives are you progressing?
When it comes to creating a more balanced workforce, I'm a fervent fan of apprenticeship schemes that deliver greater access to workplace opportunities for all – regardless of gender or background. Node4 operates an apprenticeship programme that doesn't just welcome the more technically gifted, it also provides practical training and development for trainees looking to pursue a wide range of workplace roles. Everything from traditional engineering roles to customer service, digital marketing, accounting and business administration.
With regard to helping women across the industry progress up the management ladder, work from home policies initiated in response to the pandemic have helped spur many companies to rethink their workforce planning and development strategies. Here at Node4, for example, we run a re-skilling and support programme designed to help our employees successfully transition internally and take up a new role.
What more action needs to be taken to boost the number of women on boards?
We've already touched upon the importance of making sure there is an effective executive mentorship programme in place to support women to achieve their full potential. As well as providing opportunities for analysis, reflection and action that enables people to achieve success, a mentor is able to pass on knowledge and experience that opens the door to new opportunities. In my experience, these trusted advisors also have a critical role to play in helping women overcome the debilitating impact of imposter syndrome, which so often undermines their confidence in their ability to take on new roles.
What barriers have you identified to having more women on board?
Statistically speaking, because more women previously chose to step out the workforce to take up the bulk of child care responsibilities, men have traditionally outweighed women when it comes to holding senior leadership roles. However, I believe that this is beginning to change for two reasons. Firstly, the growing prevalence of female role models and secondly, more organisations are now proactively promoting policies that enable women returners to pick-up where they left off and progress their careers.
In my role as a mentor, I often share my experiences when it comes to managing the balance between work responsibilities and family life. But just as important is acquiring the skills, knowledge, expertise and emotional intelligence that is needed to be considered for a place on the board. So, organisations that have an eye on the future will need to ensure they have programmes in place to bolster these capabilities.
What are the key flexibility considerations that need to be taken into account and why?
More and more organisations are recognising that the challenge of juggling work-life responsibilities impacts employees of all genders, at every stage of their career. Whether that's raising a family or, increasingly, caring for elderly adult relatives. In the UK, the current care-giving crisis means that hiring and retaining top talent increasingly depends on initiating flexible workforce policies that will keep employees' careers on track and provide access to the resources and professional services that deliver practical support for staff.
Flexible working arrangements make it easier for people to achieve a work/life balance and dovetail their work and personal worlds more cohesively. This will not only reduce the loss of personnel who feel they have no option but to give up on their career ambitions – or worse still, take early retirement or leave the workplace entirely. It also extends the potential pool of candidates the board can look to when selecting the next senior leaders to guide the organisation forward.
Research suggests that for a group to have an impact on decision making it needs to form 30 per cent of the whole. Do you think business leaders in general consider this critical mass ratio when seeking to increase the number of women on their boards?
Frankly, I think that diversity of thought and viewpoint are what's important here – not gender. If you're on a board, then you've been selected on merit to be there to run the company and make decisions that will impact everyone – employees, customers, shareholders, communities. If you've got an insightful point to make, you make it and the other board members, male or female, will support your voice based on their knowledge and opinions. When it comes to decision making at board level, my personal experience is that gender goes out of the window.
How can ambitious women influence their own ability to reach a board level position?
Over the years I've benefited from positive male and female role models who encouraged me to just go for it. Rather than focusing on potential barriers to progression, they instead acted as cheerleaders who proactively counselled me along the way. So I'd say ambitious women should find good mentors, observe and learn from others, and work on developing genuine and empowering gravitas.
In your experience, has the comms sector in general made progress in recent years on increasing diversity and inclusion at leadership level?
While we've made significant strides forward as an industry, there's no denying that women are still under-represented at a leadership level. So clearly, there's still work to be done. That said, I think that women need to take it upon themselves to consciously skill up for the boardroom, act decisively and with self-confidence – and never be fearful of speaking truth to power.
Armed with the right know-how and competencies, no woman should ever underrate her credibility when it comes to undertaking an executive leadership role.