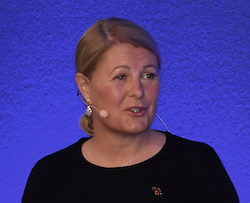 A root and branch review of the diversity within BT Wholesale and the wider group set the wheels in motion to introduce many new initiatives that encourage positive change.
This remedial project is undeniably effective and to some extent ground breaking. Here, BT Wholesale Managing Director Alex Tempest provides an honest insight into how the company is addressing key issues that impact all businesses.
The purpose and value driven nature of BT's diversity and inclusion campaign is already yielding much in terms of identifying human behaviours around group differences and how to better understand them to create a fairer workplace. The company now has various diversity networking groups spanning gender, ethnicity, LGBT+, ability, faith, carers and more, which are crucial to ensuring that all issues faced by the workforce can be brought to light and engaged. The number of groups jumped from 10 to 16 last year alone. And BT's first Diversity and Inclusion Report, which includes a Gender Pay Gap and Ethnicity Pay Gap Report, enabled it to formulate clear objectives to be reached by at least 2030, including an aggregate gender (50 per cent), ethnicity (25 per cent) and disability (17 per cent) target.
In June 2020, BT Group launched the BT Ethnicity Rapid Action Plan centred around four pillars: Educating and empowering; leading by example; building transparency and accelerating diversity. As part of this, Tempest herself undertook race training and reverse mentoring. "The last year has shone a powerful light on issues of systemic racism, prejudice and discrimination – it was a wake-up call," stated Tempest. "We are unapologetic that much of the year's most important work has been focused on ethnicity as we've opened our eyes, ears and minds to the experiences of our black, Asian and ethnic minority colleagues, which is where we sometimes fell short. Like others, BT Wholesale has been forced to hold the mirror up to ourselves, as individuals and as a business, and ask what more we can do and to commit to being bolder in our approach.
In two years time, the BT Ethnicity Rapid Action Plan will be running like clockwork. We'll still be educating our employees through training sessions and mentoring, and our employees will have support through our various networking groups. We'll also continue with campaigns like Hope United, an initiative that mobilised the entire nation in the fight against hate speech. We brought together footballers from the home nations to provide advice on how to tackle online abuse. Our overarching goal is to support our employees in the best possible way while inspiring other organisations and the channel."
BT is also focused on supporting the diversity of its most senior leadership. Many studies have shown that there is still a disparity in the number of diverse groups present in more senior roles. "We are working hard to reflect and put in place initiatives to make sure we stamp out discrimination completely," emphasised Tempest.
BT Wholesale's approach to D&I can be broken down into these key areas: The BT Ethnicity Rapid Action Plan, an apprenticeship scheme, supporting women in tech and revamping the hiring process. "Tackling unconscious bias in recruitment will truly allow businesses to diversify their workforce, commented Tempest. "There are a number of things to consider like anonymous applications, meaning names are not important, or reducing the list of mandatory requirements on applications so that women are more likely to apply.
We are working hard to put in place initiatives that make sure we stamp out discrimination completely
"Recognising biases is absolutely fundamental. It can be a hard pill to swallow, but we all have them. Taking part in the reverse mentoring on diversity opened my eyes and it's something I'd recommend to every channel organisation. This format could also work for tackling gender, disability or socio-economic imbalance. We all have unconscious biases, so we have to think hard if we're employing in our own shadow because it's easy to do so, or if we're genuinely embracing diversity."
Tempest cited a well known stat that men apply for a job when they meet only 60 per cent of the qualifications, whereas women will only apply if they meet 100 per cent of them. Tempest also quoted leadership expert Tara Mohr, who wrote, 'most of the time, women don't know their brilliance. They are more attuned to the ways they aren't qualified than to the ways that they are'. "This is something that really resonates with me," added Tempest. "To make any progress at all, channel organisations need to address these pre-existing biases and make women feel like they are good enough."
All of the above efforts are feeding into BT's hiring practices and making conscious decisions to ensure application processes are inclusive. "For example, with the BT Ethnicity Action plan we have created a new fast-stream for high potential people from ethnic minority backgrounds and implemented shortlists for every senior management role," explained Tempest.
Supporting women in tech and the channel is also close to Tempest's heart. "Throughout my career I've been lucky enough to get involved in some great projects which have helped change experiences for women in their careers," she commented. "In previous roles within the tech industry I oversaw coding classes and was part of Light Reading's Women in Comms group. At BT, we are similarly creating an environment where women feel supported and can envision a career path. For example, our TechWomen programme continues to help women in key commercial, operational and technical roles develop their careers – from those starting out to those further along the career path. Last year 95 per cent of those completing the course said they felt confident in driving their career."
BT Group's focus on evidence-based inclusion interventions has also enabled it to ensure that the gender pay gap and quartile figures remain stable (median 4.9 per cent) and low, providing some assurance. "We use the richness of our data to give us an increased awareness and an accurate understanding of the issue we're responding to," added Tempest. "And we're really clear about one thing – we're not fixing people, we're addressing any bias that may exist in processes and in our decision making.
"That said, we need to continue our efforts and we need more women represented at the top so our young employees have role models to look up to. Currently 31 per cent of leadership positions at BT are held by women, our aim is to up this to 50% by 2030, if not before."
Furthermore, BT Wholesale continues to support diversity in the channel through its apprenticeship scheme. "Our objective is to ensure that a larger variety of people have the chance to work in tech," added Tempest. "Giving young people who don't fit the traditional university mould the opportunity to enter the working world means they can see where they belong. At BT, thousands of apprentices from a range of backgrounds have benefitted, with almost 80 per cent of apprentices that qualified over five years ago still with us."
To make any progress at all, channel organisations need to address pre-existing biases and make women feel like they are good enough
Change doesn't happen overnight and sometimes progress can be slow, especially for smaller businesses and in the channel, which is a historically white and male dominated industry. "It's important that you measure your impact and are accountable for your decisions," stated Tempest. "Offering more accessible routes into work via apprenticeship schemes, shaking up recruitment policies or undertaking unconscious bias training, as well as dedicated forums to support a diverse workforce and plans for concrete action, not just discussion, will keep you honest."
Tempest advises leaders to start with their own understanding of the diversity of their business and the inherent biases. Instead of looking top-down, taking a step back and looking bottom-up means that leaders will have a full picture of their organisation. "Practically, this involves talking to a range of employees, varying in seniority, gender, race, age, ability – to name a few," she commented. "This can be in the form of one-to-one conversations or collecting information through an anonymous poll, for example, both of which provide a valuable way to gain insights. It's only by collecting information that the channel will be able to gain a deeper understanding and implement effective D&I initiatives that work for their business and people.
"Businesses that put D&I at the forefront of their operations cement their position in their industry as a supportive and understanding employer, which makes it easier to retain staff and build relationships with key stakeholders. Now is the time for individuals and brands to lead by example and use their influence to create initiatives that make a lasting impact."