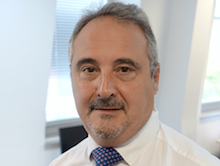 Product developments from Akixi that were first mooted in July took a step forward this month following an outing at BroadSoft Connections (12th-15th November, Florida) where the company showcased for the first time the migration of its call analytics service to an omnichannel environment. The official launch is planned for Q1 2019.
Product Manager Colin Gill said: "Akixi 3000  – the working title for our omnichannel offering – builds on the Akixi 2000 by delivering omnichannel analytics and reporting. 
"Users will see the familiar Akixi platform including the wallboard, translate across web chat and email channels."
MD Bart Delgado (pictured above) added: "Transitioning our call analytics service to omnichannel was an obvious progression for us, but we had to get it right. 
"Akixi's scalability makes it effective for enterprises but part of the draw its simplicity and accessibility for the SME market. We wanted to retain that appeal to the masses with Akixi 3000."