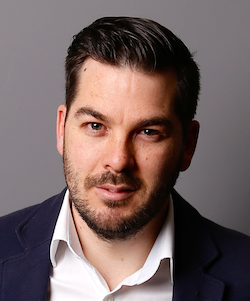 Xelion is clearly on to something: Its UK channel champion, the bold and adventurous Managing Director for the region Dave Reynolds, has defied the odds and, as if racing the clock, established a fast rising disruptive force in his homeland cloud comms market.
The boom in hosted comms is no secret, and as the cloud rises so emerges an opportunity for ambitious newcomers to overleap national boundaries and set up shop in international markets. From a standing start with Netherlands-based Xelion, Reynolds has become a champion of the new kid on the block and shown himself to be a skilled channel building architect with an expanding practice in the UK.
It started in late 2016 when Reynolds had a big job on his hands. Undaunted, and with an adventurous spirit that has been on display since childhood, he could not resist the chance to build a channel partner network from the ground up single-handed as Xelion's UK warrior. It took Reynolds just over a year to grow the customer base to 10,000 seats, contributing to a total base of 140,000 Xelion users. Monthly growth is running at 2,500 to 3,000 seats. "Now I want to create a tier one group of distributors with the capacity to support new partners," said Reynolds.
He knew from the start that entering a sophisticated and established market like the UK could take a Herculean effort. "The early liberalisation of the UK telecoms sector means we face a lot of competition," commented Reynolds. "However, the market has not yet matured. Hosted voice is surrounded by media hype but adoption is still relatively low. Our principal focus is the SME sector and our goal is to achieve one million subscribers by the end of 2022 via channel partners."
UK partners have already won key customers in all sectors including a major housing association, an international airline and a Premier League football club. According to Reynolds, Xelion is thriving due to the integration capabilities of its open platform architecture, its partner support and channel-only policy. "Partners can configure to whatever the customer wants," he added. "This puts the comms provider in control, enabling them to build their own proposition instead of being restricted to a one-size-fits-all service."
Xelion's Integration Market Place provides pre-packaged integration between its platform and an array of CRMs and other applications such as MS Exchange and Office 365. "Partners no longer need to spend time, resources and expenditure on programming interfaces between the Xelion hosted platform and their customer's preferred back-office apps," added Reynolds.
Xelion was founded by Micha Cohen in 1988 and employs 45 staff who are mostly based at its HQ in Delft. The UK 'contingent of one' will be bolstered this summer when Reynolds recruits a number of Partner Managers. "We have also expanded into Germany, Spain and recently signed Capstone as our first partner in the Republic of Ireland," noted Reynolds. "A distribution agreement with an important telephony manufacturer will see Xelion launch in Belgium at the end of the year and five other EU countries during 2019. One million seats will not be far off the horizon."
Most new entrants to the UK cloud market are the tortoise to the hare of Xelion's rapid expansion, and the company's bold growth strategy reflects the character, leadership and experience of the man driving the UK business. "When I was young I worked on a high ropes course, similar to Go Ape, in upper New York State," explained Reynolds. "I ran team building sessions with camping, hiking, field cooking and games. I was later tasked with re-building an old scout troop that had broken down which we grew to 28 scouts and financial stability."
Most outdoor adventure specialists would not give computer gaming the time of day, but as a child Reynolds was also a keen gamer, so much so that his career kicked off as manager of Rogues Asylum, an Internet café and gamer's haunt in Southend near where he grew up, which became successful with a base of 300-plus members. "My first serious job was with Griffin where I had the chance to learn from some of the industry's best sales and marketing minds," he explained. "I soon realised that this was the career for me."
Reynolds struck up an acquaintance with Cohen when he was introducing fixed products into a mobile reseller. He was mesmerised by the potential of Xelion's platform - which was first developed in 2008 as a central hub for corporate communications - and knew that with the right support he could introduce it to the UK market at the right time and make an immediate impact. After moving to channel reseller PMGC, Reynolds exposed the business to Xelion and sales 'went through the roof'. By now Reynolds had successfully introduced Xelion to two resellers and decided to give the wider channel 'something different'.
"You have to differentiate and sell more than a price point otherwise you're in a race to the bottom," commented Reynolds. "The channel's role is to add value. Our partners are moving from customers in the SME sector to bigger enterprises with multisite operations and we need to move with that evolution. The biggest trend we'll see in the coming year is the growing demand for apps and integration, something that the market has lacked for some time."

Just a minute with Dave Reynolds...
Role model:
Richard Branson, a great entrepreneur who has gone from vinyl records to space tourism
What talent do you wish you had?
Cloning myself
What do you fear the most?
Being bored
If you weren't in comms what would you be doing?
Working in the computer games industry
What's the best piece of advice you have ever been given?
Know what you're talking about before you open your mouth
How do you relax when not working?
Spending time with my kids, caravanning and gaming
What's the biggest risk you have taken?
Leaving as manager of Rogues Asylum in Southend where I'd built a base of over 300 members to go to the States as an outdoor adventure specialist
Name four ideal dinner guests:
Bruce Springsteen, Dave Grohl and Lord Baden Powell
Your greatest career achievement?
Establishing Xelion in the UK is by far the major achievement of my career to date
Top tip for resellers?
Never get complacent because disruptive technologies hit faster than you think
What possession could you not live without?
My laptop, I take it almost everywhere
Industry bugbear:
Jargon. Why do we have to make it so hard for customers to understand concepts?
How would you like to be remembered?
As great guy who was honest and fun to be with