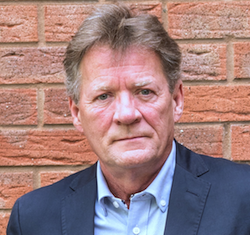 There are some notable shifts taking place in the Marston's Telecoms dynamic and we could be witnessing the start of something big, according to Managing Director Mike McMinn.
Marston's Telecoms is shaping up for what, under McMinn's leadership, will be a pivotal period of expansion. The former CIO of £992 million business Marston's PLC - a role he held for 20 years up until last month - is now 100 per cent focused on Marston's Telecoms great potential to gain ground with its growing network of channel partners and technology initiatives. "We've a carrier class network of our own out of three London data centres," he said. "We've added capacity to the network and now support over 600 Ethernet circuits. Our network management is among the best, and as we're so much more confident about the strength of our architecture we saw a huge opportunity to extend our reach to a wider audience - hence the indirect sales channel."
'Unique' is a word Comms Dealer rarely prints. But Marston's Telecoms' experience in the hospitality, leisure and the general retail space forces an exception to the rule. "We've lived it, not just from conception to implementation but operationally," stated McMinn. "We've skilled up, brought in more expertise and fuelled the start-up culture of the business. Partnerships with companies like Cisco make it easier for us to compete and it brings a tech edge to the company that was always there but not obviously visible. Cisco's product and distribution support and that of our other partners is vital."
The greatest test for those who champion technology lies in their ability to provide it effectively and reliably. Marston's Telecoms passes every test. "Right now we have a huge opportunity concentrating on what we know we're good at," stated McMinn. "In the near future that means keeping an eye on what is happening in our sector. So called 'Digital Transformation' still has a way to go. The real opportunity rests in using our knowledge, experience and talent to keep abreast of the market. So we've latched onto emerging technologies, in some cases developing our own, and we have a solution integration approach that means we can be truly flexible."
Technology projects in the wider Group ultimately feed into Marston's Telecoms' product and service channel strategy, but only after Marston's has cut its teeth on them and learned the workarounds before going to market. "That experience is something channel partners can use during their own conversation and know they'll get the support of an organisation that's got the scars to prove it," said McMinn.
'so called 'Digital Transformation' still has a way to go. The real opportunity rests in using our knowledge, experience and talent to keep abreast of the market.'
Marston's Telecoms first began flexing its muscles as the credit crunch took place, which only intensified demand for its services. The comms arm was originally conceived to serve trading customers via its Business Solutions project - MyMarstons.co.uk - an online services hub for Marston's partners to take advantage of its buying power and resources, which helps them to run their own pub operations more effectively. "Not being core business the telecoms venture didn't take flight initially, but by the time recession hit in 2008 there was obviously an appetite to save costs, so Marston's Telecoms was born after I repackaged the idea to the PLC executives," explained McMinn.
"In some ways I've always been the MD albeit not formally. I thought it was going to be easy. How hard can networking be? We'd been doing it for years in IT, so wasn't telecoms just a bigger network? I was completely and utterly wrong. The first thing I had to do was fix was my attitude and get learning all over again. Now, we have a great story to tell, a carrier class network to offer, a flexible approach to our chosen market and a service centric culture. We're here and ready to help."
McMinn describes Marston's Telecoms as being like a start-up with a solidly credible offer in a rapidly changing and converging market. "My job is to build on our success and leverage my experience of both sides of convergence," he stated. "I have a natural inclination to use technology to make things easier. That gives me some insight from the customer's point of view and plays to our strategy of being easy to do business with."
First year turnover peaked at circa £750k simply because of the size of the Marston's voice estate. The business at that time was managed by McMinn, Marston's IT services manager, a consultant and a couple of IT support people - all working part-time on the project. Now with a headcount of 15, Marston's Telecoms hit just under £8 million turnover last year and is on target to generate £11 million by end of 2019 when the company expects a 60/40 split between direct and channel customers.
A milestone was reached when McMinn realised Marston's Telecoms needed to build its own infrastructure to gain control over reliability in response to the demands of the wider Marston's pub business. "Another turning point was last year when Operations Director Tony Ford and I completed a plan to grow the company," added McMinn. "This generated excitement among the PLC board and was subsequently given full approval and total commitment. Growing the organisation and our wider relationships are the main priority. However, I can't let that negatively impact our customer centric culture. The challenge will be in balancing growth against simultaneously lifting service levels. Software and process automation can help us with this. So I am hopeful for a good outcome."
Before convergence a line was drawn between voice and data, a delineation that no longer exists, offering many more opportunities and options. "Greater choice in connectivity terms enables us to become more flexible as opposed to being locked into single solutions," commented McMinn. "We have a broader conversation now with our customers in both reseller and direct channels as the demarcation line starts to disappear. Data security, protection and general network controls are also now more relevant to the conversation. Again, Marston's Telecoms has a strong story to tell backed up by years of experience. Also from a connectivity point of view the IoT will be huge, as will robotics and data analytics where there is much more to do around Machine Learning and automation in general. We are developing our own automation in some areas like customer self-service and adaptive websites."
If one thing has been proved beyond a doubt, the surest way to business growth is to understand the value and potential of data rather than legacy revenue streams. "There is not much life left in selling minutes or for that matter circuits of whatever type," noted McMinn. "It's all about data, and you'll have to get your head around what that actually means if you're going to survive. Successful evolution will require quality time spent understanding the customer's challenges. I see a huge opportunity in supplying connectivity as the enabler, and extending the conversation to include tech and services that add value - VLANs, UC, hosted voice, Wi-Fi and PCI compliance - it's a big list."
Despite our universal dependence on technology and its advancement the perception of IT has to some degree become so warped that its daily users greatly underestimate the achievements of those presiding over its management and delivery. They deserve full recognition, asserts McMinn. "If I could get more IT people to understand that they have changed the world, while regular business people have followed passively, then maybe they'd have the confidence to make themselves heard more," he said. "They certainly deserve to be."
McMinn started his own IT career as a 16-year-old tape monkey in a computer room on the outer edges of Birmingham. He became spellbound by a computer's ability to do maths and its exciting potential to change the world. "Being part of the technology industry from the start has been incredible," he enthused "I've seen and been part of several revolutions, and the changes I've witnessed and created in my own small way over the last 30 years are nothing short of astounding.
"Having been lucky enough to have made it to the top of my profession, I knew exactly what I needed from communications technology and technology providers. Applying that insight to what I do now gives me a very different perspective that will help Marston's Telecoms to become a technology business with authority. We're close to that now, but we need to continue to develop close relationships with our partners, the channel, technology, IT services and communications to reach our goals."•
Just a minute with Mike McMinn...
Role models:
My dad because he taught me about leadership, humility, being open minded and listening to another point of view. And David Bowie for the courage to be different and his constant re-invention
What do you fear the most?
Fear
Your greatest strengths and what could you improve on?
I'm not bad at spotting future trends, but I really could work on my conversation as I'm a novice at networking
What talent do you wish you had?
To deliver witty one liners
Your biggest career achievement:
Not getting fired! More seriously, getting to this point as I passionately believe in Marston's Telecoms and its potential
What is the greatest risk you have taken?
Becoming Managing Director of Marston's Telecoms - it's hard work
Give one example of something you've overcome:
For many years I've managed to overcome any kind of ability to play a guitar properly
Name three ideal dinner guests:
Genghis Khan, he could help me secure world domination; Oscar Wilde for his cutting one liners; and my family, they're a great leveller
Name one thing you couldn't do without in your job:
A chair
Tell us something about yourself we don't know:
I was born in Singapore, was a proud owner of a Lambretta GP200, and a once devoted follower of the Northern Soul circuit