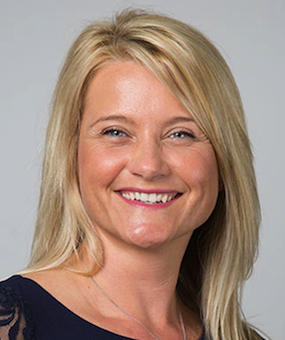 Inspired and spurred by the example of her remarkable Great Aunt, Windsor Telecom Managing Director Sue Kempton understands that with attitude, determination, capability and fortitude anything is possible against all the odds - even rising majestically through the ranks of a male dominated comms industry...
Kempton's Great Aunt swam every day year-round in the choppy seas off Plymouth Hoe well into her nineties. "She had an amazing appetite for life and determination which was infectious and I do my best to replicate that spirit," stated Kempton. "She is my role model, and following the example of her personal qualities and strength of character helped me to realise my biggest career achievement - being offered a board level role in a particularly male-driven industry. I didn't even need a stick-on beard!"
Nonagenarians stroking effortlessly through the English channel are quite an uncommon sight. Almost as scarce, by a whisker, are high profile women leaders in the comms channel. But in rising from the deep sea of male dominated telco-ism Kempton has emerged as a beacon of executive experience with a solid background in operations and qualifications in accounting and HR. Her rise to MD-ship reflects leadership skills in both people and business management which are being put to good use as Windsor continues to advance its transition from being a pure inbound provider to an all encompassing solution specialist.
The onset of product and service diversification began two years ago when Camberley-based Windsor introduced hosted telephony. "Demand for VoIP kick-started our evolution into non-inbound services," explained Kempton. "What I love about the telecoms sector is the diversity of products available to offer, as well as being given the chance to use technology to enhance business performance."
Windsor began its commercial life in 1997 when David Bennett and Neil Sherring merged their companies. From the outset Windsor focused on personal numbers but quickly moved into 0845 numbers, and claimed to be the first UK company to offer an unmetered call product for 0845. "We have always focused on customer friendly numbers, championing 03 heavily and more recently 0800 following the NGCS changes by Ofcom in 2015," added Kempton, who joined the senior management team in 2012. "But following the remarkable growth of our 0845 service we realised that we needed to differentiate ourselves in the marketplace. Inbound is still our main passion, but we also get excited about hosted telephony, connectivity, SIP and cloud back-ups. We are also on the brink of launching a mobile offering."
Windsor's sweet spot is providing enterprise-grade communication solutions to smaller businesses. All services can be self-administered using the company's online portal and app. "Our customer demographic leans towards the SME and SoHo environment," explained Kempton. "However, we also have plenty of large enterprise businesses in our portfolio."
The decision to revamp and evolve Windsor's business strategy is proving ever more fruitful, with 2016 turnover of £6.4 million rising to £7.2 million last year. The company has 8,000 customers on the direct side and a modest headcount of 34 staff. "We have an ambitious growth plan in place," added Kempton. "This includes broadening the number of products in our portfolio and increasing the headcount, which will hopefully see us double our EBITDA in the next three years."
Windsor launched its thriving reseller business five years ago and currently works with over 100 partners. "We have a sharp focus on driving growth with channel partners who see the benefit of additional revenue streams through inbound services," added Kempton. "And we have a great track record in up-selling our customers with dedicated account managers, so the addition of new products will also lead to aggressive growth."
In keeping up with the times Windsor has also adopted a stance of innovation in the customer experience, portal improvements and integration, and has invested heavily in its development team. "APIs are becoming more prevalent in all we do, which is strongly feeding into our channel," explained Kempton. "Version 2 of our online interface incorporates new features and the ability to 'plug in' products for a seamless, integrated customer experience. This is a massive focus for us right now.
"We are also in beta testing for a new bespoke CRM system with billing modules that will be rolled out to our partners. To ensure that we continue to introduce new products and enhancements at a steady rate we are expanding our development team and inbound sales teams."
Also of particular interest right now, noted Kempton, are enhanced VoIP and SIP products, mobile, plus enhanced conference calling. "Our stats package is also on the roadmap for development," she added. "With a mission to deliver all aspects of business communication, emerging technologies will naturally play a part in our new product advances. Customers are now transient, require self-service and expect all technology to be cloud-based. Therefore communication services need to be integrated and accessed via a sleek online portal. VARs and SIs will not need to provide every single service, but should show expertise in the core and have a portfolio of services to address customer needs."
The day when women leaders in the comms industry match their male counterparts in numbers is far away, but in displaying the qualities of an industry champion and leader Kempton offers herself as a role model for aspiring career women who, it could be strongly argued, may be dealt a tough hand of cards. "Juggling being a mum and having a career has been a challenge at times," said Kempton. "But at 22 and 19 and well-rounded successful human beings, the guilt levels I felt at times when they were younger have all been forgotten. I am fortunate to have loved every job I have had so far. It's only recently that I've completely engaged with the home-life balance philosophy, despite preaching it. I now realise that some of my best ideas come at times of rest."•
Just a minute with Sue Kempton
Role model
My Great Auntie who had an amazing appetite for life
What talent do you wish you had?
To ride a bike!
What do you fear the most?
Failure and not hitting any target assigned to me
Tell us something about yourself we don't know
I was a keen and good fencer (the sport!)
Name three ideal dinner guests
Steve Jobs to learn more about how he built such a well-loved global brand. I'm a Game of Thrones fan, so it would be amazing to delve into George RR Martin's brain to see what happens next. And speaking to Emmeline Pankhurst would be interesting
What are you greatest strengths, and what could you 'work on'?
My biggest strength is leadership and getting the best out of people. Seeing people progress and be the best they can be gets my blood pumping. But I can be impatient. When we have an idea, I want it to be in place immediately, so I must remind myself not to jump ahead
How would you like to be remembered?
As someone with a passion for life, who helped others be the best that they can be, and as someone who didn't take herself too seriously
Name one thing you couldn't do without in your job.
My team. They are a brilliant bunch of engaged individuals who all work together to get the best results for the business (and have a lot of fun along the way)
What possession could you not live without?
My Apple watch
Key priority
To make sure Windsor is a fabulous place to work, which translates to an engaged workforce where our red carpet ethos is embedded in our company culture
If you weren't in comms what would you be doing?
Owning a little tea room by the sea
What's the biggest risk you have taken and why?
Agreeing to this article. Now my team know I can't ride a bike!
How do you relax when not working?
I have a VW campervan that I adore, or on a beach with a cocktail somewhere in SE Asia
Top tip for resellers
Service is key. There will always be other companies offering what you do, but if you wow your customers with memorable customer service it will promote loyalty and repeat business