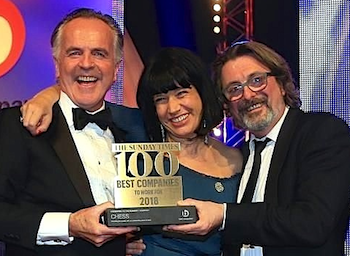 There is a host of precedents for Chess standing aloof from this year's contenders in The Sunday Times Best Company to Work For 2018 awards, according to Kate Wood, Head of Knowledge, Culture and Office Experience, who reveals how Chess secured the top prize.
Don't fixate on hard business facts and numbers. Focus instead on the needs of your people and be amazed about what can be achieved, says Wood, who gave us insights into the mighty commitment Chess has made towards its people and culture, and its preferred mode of operation that serves both staff and customers so well. "Passion and consistency secured the top award for Chess this year," she stated. "We have a cultural methodology that we stick to month in month out, year after year, and it's paid off. We continually get feedback from our people which allows us to improve and keep raising that bar. We want to keep the Number One spot but what really drives us is the fact that happy people make happy customers."
Chess embarked on its people-centric journey in 2005 under Business Growth Consultant John Stein's tutelage and the positive results soon became blatantly apparent. "We knew that if we didn't document our vision and core values they could get watered down as we grew," commented Wood. "We needed to set out a plan for the kind of business we all wanted to be part of. During six months working alongside John Stein we took the whole business on a journey. This involved workshops, surveys and feedback sessions which culminated in the publishing of our first Blueprint for Success."
In 2005 Chess voted in Cultural Architects (CAs), people who are most passionate about making the company a 'great place to work'. "They are elected annually by everyone in the business and we have 55 CAs across our offices," commented Wood. "They provide a crucial feedback mechanism and produce a weekly morale score for their area. They also have individual monthly meetings with either the CEO or Managing Director."
This is not about constitutional edicts, but about a flourishing, frictionless relationship between Chess's business leaders, all staff and customers, that goes far beyond the norm. "Our vision is to be 'A Great Place to Work and a Great Place to be a Customer'," explained Wood. "We believe that behaviours drive performance and by encouraging our people to focus on nine key influential behaviours we create the right environment for success."
The success of Chess's mission depends on its cultural methodology and the ability of leaders to fashion a way to advance the nine behaviours cited by Wood - Happy People, Accuracy, Quality, Passion, Own It, Knowledge, Speed, Talk and KISS. "We want to give all our leaders the knowledge and skills to inspire, motivate and guide their people," added Wood. "We aim to attract and retain the best leaders and create a framework that people work to rather than doing things their own way. We run a two year Leadership Academy which covers 20 modules ranging from basic subjects such Time Management to more complex areas like Coaching Others and Delivering a Major Presentation. Many of our leaders are promoted quickly from within, who previously had no formal leadership training or experience."
Chess's leaders receive 360-degree feedback from their team on how they have progressed during the course. This has proved successful and, so far, 70 leaders from six sites are currently enrolled. "We create relationships between teams that don't normally work together, which has had a positive impact on both growth and morale," noted Wood. "We also run an Aspiring Leaders Programme."
Chess is now experiencing the golden mean between corporate business growth and the high value it places on staff and their wellbeing. This happy state was augmented last year during Chess's 2017 Summer Conference which was themed 'Chess Family' and heralded a number of new initiatives such as increasing paternity, maternity, adoption and shared parental leave packages to above the industry average.
"We also introduced our Harvest Festival rule, meaning that nobody should ever miss an event with their family," added Wood. "If any of our people want to go to their child's Harvest Festival or a hospital appointment with a relative they are encouraged to do so and make up the time in the future."
Chess has also created a Parent Champion group, a gathering of parents who support other mums and dads while on maternity and paternity leave and when they return to work. "They hold regular group meetings to offer support in whatever form they need," noted Wood. "We send care packages to homeworkers and people on maternity leave when we have events in the office, so they don't miss out. This has been really popular. Feeling valued and cared for at work makes a massive difference to peoples' confidence and their lives outside work hours."
Staff engagement is the banner to which businesses should now be rallying, which is why all Chess People have their own Blueprint that they use every day. It's particularly visible in the senior management team who use Blueprint language in all of their communications and in their monthly 1-2-1s with staff. "This creates a joined-up approach and ensures everyone has a single vision," explained Wood. "We do everything we can to make sure our people are in the correct state of mind. Passion is critical."
Chess has grown through many acquisitions and its culture facilitates the transition of new people who immediately feel the company's positive influence on their morale. "We intend to continue to grow through acquisitions, adding great people and new products and services to our capabilities," said Wood. "We know people may be nervous when the business they work for has been bought, so we spend time supporting them through the journey. They attend one of our Growth Workshops based on The Building the Pyramid Book by John Stein. This serves as a mini induction so they can get to know the business. We implement Cultural Architects who take morale scores every week to ensure we pick up any concerns and address them immediately."
That Chess will continue to be a bastion of people and cultural development is beyond doubt and is strongly reflected in its work to encourage women in the organisation to 'be brave' as part of an effort to maximise female potential, improve the gender balance across the organisation and increase the number of women at senior levels. "Studies show that women don't put themselves forward for opportunities as often as men," said Wood. "This is a global issue and we want to make sure every single woman feels empowered to achieve her potential and have the work-life balance she needs.
"On International Women's Day in 2017 Chess launched its Empowering Women Programme. We partnered with Women to Work, a company that performed a research project into Chess and what will work best for us. We are passionate about this and believe it will make a massive difference to the future of the women who take part."
Chess runs three programmes for its women: Courageous Women, designed for all non-team leaders; Maximising Female Potential, for female team leaders; and Being a Role Model, for senior female leaders. "Participants receive monthly online assignments, attend sessions together and have mentoring," stated Wood. "Already, women have reported feeling more confident about themselves, inspired for the future and excited about what they want their Chess to be. We will launch the second set of groups on 2018's International Women's day (March 8th)."
Chess's remarkable achievement in being crowned The Sunday Times Best Company to Work For this year has the whole industry applauding. It comes as Chess celebrates its 25th anniversary and is a personal milestone for Wood. "Two things stand out during my time as Head of Culture," she said. "Firstly, winning the Prince's Trust Million Makers competition and raising over £43,000 in six months for young people in the north west. And, coming third, then second two years running and finally achieving Number One in the Top 100 demonstrates a high level of consistency. It's all about listening to your people and customers when they tell you something. They are usually right."