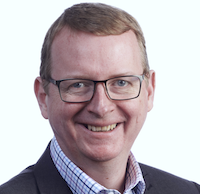 Here we talk to Saville Audio Visual's Andy Dyson, one-time stores assistant who became joint Managing Director of the former pharmacy firm that has evolved to embrace AV and ICT.
In April last year York-based Saville Audio Visual was acquired following a MBO backed by Yorkshire Bank that saw Managing Director and Chairman John Sills retire after almost 50 years with the company. Sills previously led a MBO from the Saville family in 1996 and the latest buyout also signals a new era for the £34-plus million business now led by joint Managing Director's Andy Dyson and Colin Nixey.
Saville Audio Visual started out as a pharmacy in York in 1876 and has since evolved into one of the UK's largest suppliers of audio visual, multimedia and video conferencing technology. The company primarily operates as two divisions offering AV and IT solutions and services, alongside conference and live event production services headed up by Nixey. This division has also witnessed significant growth, most notably within its digital event technologies service which now boasts a global client portfolio. Since the launch last year, Saville Concepts and Design, the in-house specialist set and staging department, is also in expansion mode driven by demand for its facilities and exhibition build services. "The recent MBO marked the start of the next chapter in the Saville story," stated Dyson. "We are creating a new generation Saville brand that builds on our heritage and takes the business to the next level."
Saville Audio Visual's roots as a pharmacy business may seem to be incongruous, but it was the photography and film projection side of the company that grew to embrace AV and then the convergence of UC and IT. A partnership with Tandberg was its first entry into the video conferencing sector.
Today, Saville Audio Visual generates turnover of circa £34.4 million (up 8.7 per cent per annum on average over the last four years) and has a headcount of 229 staff operating out of 10 locations in the UK. Its customer base encompasses the corporate sector, higher education, health and defence, with many account relationships running into tens of years. "A growing number of blue chip corporate clients has allowed us to develop an expanding global presence," added Dyson.
He has always had an interest in video, having owned an 8mm video camera and projector, and joined the company after studying IT at college. Little did he know at the time that his initial role as a stores assistant would lead to the top of the career ladder. "Our focus has always been on the fast developing areas of communications, collaboration and recurring revenues such as our hosted video service, called Saville Convene," he said. "We also expect to expand our global partnership network. More and more clients are looking for a uniform approach to their meeting room and communication technologies regardless of which countries they are operating in."
Featuring high on the Saville Audio Visual agenda are collaborative communications and technologies that enable organisations to work in a more agile way. "Virtual technologies and subscription-based solutions are the developing trends that allow the industry to change and adapt at a fast rate," commented Dyson. "The company has always been about adding value rather than low margin box shifting, and over the last few years this has become even more central to our strategy. We have built up a technical team with a range of experience, allowing us to develop creative solutions."
Dyson emphasised that Saville Audio Visual always stands by its heritage for being early adopters of the best of new emerging technologies. "There is a move toward providing a full-service model where SIs can provide a complete solution from initial design through to project management, delivery, training, maintenance and support," he added. "As more options become available for subscription-based solutions including hardware and software, resellers and SIs will need to consider new business models that can operate and compete in these arenas.
"The blurring of the lines between traditional AV and IT with the emergence of IP-based technologies has dramatically changed the industry landscape, but with our in-house teams we have been able to embrace these trends. Investment in training and staff development is key to surviving in a business environment that is rapidly changing. As a modern day reseller and integrator we have a whole range of new skills compared to five years ago. This is a trend that will continue into the future."