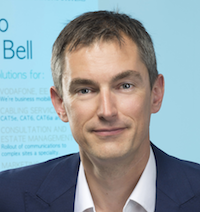 In his own words, Armstrong Bell Director William Copley talks about achieving NME's 'single of the week', becoming a chart topper in the comms channel, and why resellers are critical to the success of innovative businesses.
At school I was in a band called Fretblanket. We were somewhere between britpop and grunge, and when I was 17 we flew to New York and signed a seven album deal with Polygram. We toured America and the UK, recorded three albums and released two of them. We were also awarded NME's 'single of the week'. The band displayed self-belief prior to having some success, and going from Stourbridge to LA and beyond seemed natural to us. That confidence seems amazing now. But there is a lot of down time when you're in a band. My friend's dad had a comms company so I used to help out with cabling to fill in time. I eventually did jobs like cabling the seasonal tills in Toys R Us and picked up some system install training. It became a full-time job.
My friend's dad tragically died and things were never the same, so my manager and I thought we could do cabling and systems on our own and focus more on technology. As an engineer you think the world revolves around you and the installation, and we are lucky now that our engineers feel the same way. While there's a lot to be said for that attitude, of course I now understand more about the challenges of running a business.
Armstrong Bell started as Ocean Data and Voice Services in 2001 with an eye on new technology and innovation, so we are never satisfied and always looking for new ways to service our customers' needs. We were based in Southampton and I was living in London. After a period of time we picked up some great customers, many of which are still with us today. I bought out my partner in 2008, renamed the company to Armstrong Bell and consolidated in Bromsgrove.
We are an outsourced telephony department to our customers. They trust us to do the right thing and we are successful because we care about the end result. When I look at our portfolio I feel we are strong in data, mobile, wireless and all the conventional voice offerings. We have had NEC PBX in the portfolio since the very start and it's still a core product, but hosted voice features strongly now. That is where the growth in recurring revenue will be generated and we have two great hosted voice partners. I'm told there are 90 hosted voice providers currently in the UK and it will be interesting to see who eats who in the next 12 months.
We hit the usual plateaus at around eight and 12 employees. There was a big one at 15 where it was really getting difficult, so I had to change mindset. Everything in the business was going through my head and it was all reported to me. The secret of course is to employ great people. Sometimes you have to be ready to take the next step and there isn't a shortcut, so I want to help every individual in the team achieve their potential and reach their goals. I can only do that by providing the right resources and structure and allowing them to develop.
We aim to quadruple the size of the business within six years, tantamount to a target growth of 26 per cent per annum which we are running close to. We also doubled our office space this summer. A few years ago it was hard to visualise such an expansion, but now we have a good framework to support our longer-term growth plans which also build on some key developments over the past three years. We have implemented Salesforce CRM, added three field sales executives and worked hard on lead generation and process development. We have not made the most of creating significant leads from digital marketing. But we're refocusing on this area of customer acquisition.
The profiles of our customers are a broad range of size and industry, but we seem to be doing well in the education, hospitality and healthcare sectors. Right now we have some large projects to complete so two or three good recruits before the end of the year would be perfect. We unfortunately lost a key employee in late 2015 but that has helped us to diversify some roles and expand the skill sets of the team.
We need more capabilities because the market has moved on in the last 12 months. It's something we have tracked closely in the first quarter of this year, and observed that the big players are driving customer expectation towards a default of more or less unlimited included calls, which has made it easier to compete. Call charges are now often irrelevant in sales, so you can concentrate on service and differentiators. People are expecting a high level of integration and we have to be ready for that as it develops. Customers will always need capable and trusted advisors so that they can concentrate on what they do best, therefore resellers have a critical role to play in the success of innovative businesses in the UK.
While the global technology companies will disrupt the market I have no fear of existential threats, partly because we select vendor partners carefully and view them as our most important strategic decisions. We have always worked with the smaller, more engaged and responsive vendors where possible, and have helped a few of them to improve their businesses.
Our team members are great ambassadors for Armstrong Bell and I couldn't ask for them to be more engaged and positive. Our customers sense a genuine belief in the company, whether it is in the engineers, sales people or support desk."