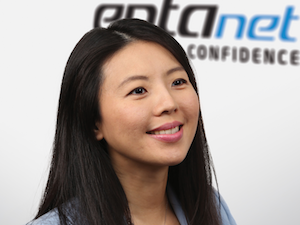 The Government's Future Telecoms Infrastructure Review (FTIR) offers the gigabit full fibre utopia everybody is voting for, according to Entanet CEO Elsa Chen (Comms Vision Platinum sponsor), who discusses the key issues afoot as the Digital Britain blueprint hits practical reality. 
The concept of Digital Britain envisages the nation emerging from digital reality denial and joining the ranks of other European countries currently streets ahead in the race to full fibre. "The Government has seen the light and is clear that gigabit full fibre provision is the essential objective for a truly digital Britain," stated Chen. "The targets set out in its FTIR for UK-wide full fibre by 2033 and 5G access by 2027 – which also relies on full fibre infrastructure for backhaul – are achievable thanks to the emergence of committed, focused and suitably backed alternative infrastructure providers." 
Chen believes that the key challenges are in ensuring that competition is on a level playing field, that transparency between providers is increased and that opportunities for collaboration are vigorously pursued. "Our colleagues in CityFibre are working closely with the Government and Ofcom to ensure there's fair competition among infrastructure builders and minimal overbuild for an efficient roll out – and to encourage wholesale access among providers to deliver full fibre infrastructure to as much of the UK as possible, as quickly as possible," added Chen. "We also believe that consumers, be they businesses or households, should no longer be hoodwinked by the practice of fake fibre advertising."
The core challenge is to create the right environment and conditions for a truly digital Britain. "This means replacing an aged infrastructure that's no longer fit for purpose with one that delivers against businesses' requirements for speed, capacity and resilience," added Chen. "It's about ensuring that British businesses and households have the platform to be able to thrive in an increasingly digital world. The key aspect in achieving this is delivery. More investment is needed and the drivers for this are alternatives, like CityFibre and its wholesale subsidiary Entanet, to the incumbent provider.
The Government has seen the light and is clear that gigabit full fibre provision is the essential objective for a truly digital Britain
"Our channel partners – whether resellers, aggregators or wholesalers – are an essential part of this delivery and we want to help them recognise the significance they play in making new network provision happen, through the decisions they make and by shifting their thinking from being simply recipients of connectivity options to proactively driving the adoption of full fibre where doing so propagates further investment and growth."
Considering the potential impact and challenges arising from the FTIR, and the belief that collaboration between the industry, Government and Ofcom will be key, the success of the project will largely depend on how Ofcom and the Government incentivise network providers, believes Chen. "If the wrong incentives and regulatory framework are in place we may see a situation where some areas of the country are subjected to multiple network overbuild resulting in significant disruption to local communities for no benefit, while other areas miss out altogether. 
"We want to see a model that discourages overbuild and instead encourages a single underlying full fibre network to be built in each location as a neutral platform on which multiple ISPs can deliver choice to customers. To achieve this a level playing field is required to ensure competition between Openreach and new market entrants and it must be meaningful and sustained. What's needed is for the Government and Ofcom to take up-front action to prevent Openreach acting anti-competitively and slowing down the roll out of full fibre. Otherwise we could see whole swathes of the country left behind on copper and unable to join the UK's digital progression."
We're seeing partners move from simply reselling what's available to thinking strategically for the customer
As a wholesaler, Entanet's priorities are to empower partners to effectively sell a new full fibre proposition in towns and cities across the UK that until now have been out of bounds. "We're opening up new markets for partners and actively helping them through THRIVE!, our partner programme, to promote a differentiated service that businesses are crying out for," commented Chen. "We are already collaborating vertically with the channel and our partners play a vital role in helping determine areas of demand. As the wholesaler, Entanet is aggregating this demand to create the business case for network build, be it expansion of existing infrastructure into new business parks or into new cities. We also think horizontal collaboration should be explored, including reciprocal builds. This has helped to drive deployment in countries that now have high coverage, like Portugal and Spain. This makes sense for wholesale networks and also reduces disruption to local communities."
The channel's opportunity is huge, enthused Chen, who noted that common agreement between the Government and regulator and the FTIR's widely publicised ambitions has put full fibre front and centre before Britain's businesses. "It has triggered a race to fibre-up the UK and this puts proactive channel partners in a great position to win," she said. "Digital is already a key consideration among business customers. And, with the Government setting out an unequivocal and bold agenda to move the UK away from copper to full fibre, as well as drive 5G availability and adoption, we're encouraging the channel to do the same."
The digital age will free us up from a copper legacy and also release a new wave of technologies such as IoT, cloud computing, virtual reality and 5G, each affecting every aspect of our private and working lives. "The UK's ability to harness these technologies will be a determining factor in the health of our economy and the competitiveness of UK businesses," stated Chen. "IT services and users' online experience of them can only be as good as the networks over which they are delivered. Customers' adoption of new technologies and their demand for always-on availability requires high speed, high reliability and high quality connections. 
"As more businesses have access to full fibre and experience the benefits of speed and reliability they'll rightly demand a digital infrastructure that can continue to keep up. Buyers will have exceptionally high expectations of their IT solution provider's ability to understand and interpret their objectives and have the knowledge, skills and connections to deliver against them. We're seeing partners move from simply reselling what's available to thinking strategically for the customer."
Digital Britain has awoken and stirred into life, and according to Chen CityFibre and Entanet are at the heartbeat of the UK's full fibre infrastructure rebuild. "We have open access networks in 51 towns and cities and the backing of large infrastructure investors," she commented. "We're building full fibre to five million homes by 2025 and our ambition to have network in 100 towns and cities across the UK by the same date will create even greater opportunities for the channel."
It takes Vision to be a leader
Comms Vision (7-9th November, Gleneagles Hotel) is the leading annual leadership forum for CEO, MD and CTO delegates making up the major league of the UK reseller community. Places are limited and by invitation: If you would like to join us this year, please register your interest to attend at www.commsvision.com