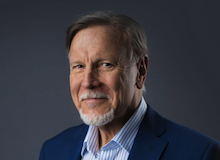 A top level executive reshuffle at Simwood sees Group Chairman Grahame Davies become COO of the UK operation. The move follows the appointment of Thomas Hadden to the same role at the US business. 
Davies' immediate remit is to build operational scale as Simwood seeks to advance work towards ISO9001 and ISO27001. 
Over the longer term and in line with business growth Davies will redefine and delineate the future MD role according to the company's developing strategic objectives.
"Grahame brings a lifetime of relevant experience having been co-founder of Demon Internet and Group CEO of Easynet, along with being the Chairman of LINX," stated MD Simon Woodhead. 
With an eye on amplifying Simwood's key messages to the market the company has also pulled in Alister Ross (pictured) as part-time CMO. 
"Alister brings a wealth of experience across many sectors including telecoms," added Woodhead. "He'll turn up the volume on our current work to ensure that customers fully understand our approach, our objectives and our evolving proposition."
Simwood's current recruitment activity includes the appointment of former FreeSWITCH-er Kathleen King who joins Simwood's Bristol office in January as a Level 2 SIP Engineer.