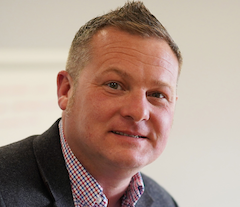 Nasstar's 600 partners will be served via a new standalone division following the launch of Nasstar Channel.
The move follows Nasstar's acquisition of the National ICT services business of KCOM in August, creating one of the largest independent tech providers in the UK with over 1,200 employees.
  
Dave Hawkins (pictured), Head of Sales for Nasstar Channel, stated: "Now the acquisition is complete we've broken the channel away from the rest of the business to focus on partners. 
"In a constantly evolving marketplace, customers are making the journey from legacy to new technology and are at various stages in their transformation. It's complex and they need strategic advice and solutions to help get them there."
Hawkins also noted that Nasstar is investing in its technology and boosting automation and innovation as it seeks to become a single source of partner solutions for the channel. 
"We're also removing the complexity," he added. "Early initiatives include paper free automated processes with easy onboarding online. 
"Training tools and technical support will move online including a new partner portal that will make it 50-60% quicker to buy services from Nasstar Channel."