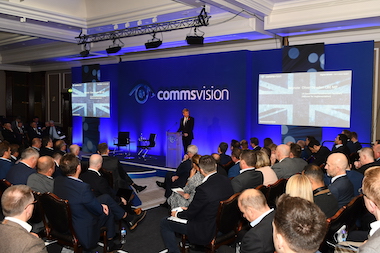 Everyone agrees that the road to Digital Britain is redefining how the ICT channel thinks and acts, but there is no broad consensus on how the industry can mould and accelerate the UK's all-digital journey for the long-term advantage. Enter Comms Vision 2019 (6th-8th November 2019, Gleneagles Hotel), which aims to decipher the emerging themes and clarify the threats and opportunities facing the channel and what they could mean for your business
Britain's departure from legacy communications infrastructure is not a matter of choice: The Government and regulatory edict is clear – that the nation's copper network will become obsolete, and that next generation infrastructure may split the market down the middle in terms of pure fibre and 5G. What happens next is unclear: The binary structure of the infrastructure market is not yet fully formed nor understood, and the question of just how transformational full fibre and 5G will be for the channel has not been answered with clarity.
To form a solid relationship between full fibre/5G and the future success of ICT providers we need a bigger vision to identify real next generation market opportunities. Therefore Comms Vision will clarify the output of pure fibre and 5G beyond pointing to infrastructure, faster speeds and greater capacity. Why? Because it's time to fully decipher the technologies, services and market opportunities that will be delivered over a modern network – and ultimately come to underpin channel businesses in Digital Britain.
Comms Vision will explore, among other salient factors, the role of industry collaboration in building a coherent strategy for the all-digital future, and how coopetition could accelerate the drive to Digital Britain and reshape how the wholesale channel operates. Comms Vision will also explore what more can be done to speed up progress and channel growth in this key mobilisation phase of Digital Britain. Moreover, we assess how the channel's ICT resellers can make sense of these impending seismic industry changes and look head with a holistic and strategic vision.
Against the backdrop of unprecedented and accelerating industry and technological change, you must ask yourself a cardinal question: Where do you want your business to be in Digital Britain, and how will you get there?
A frontline assessment of the full fibre landscape will identify areas of success, the products and services currently being sold, and quantify how channel and end user businesses are benefiting – as well as highlighting the roadblocks encountered and measures to remove them. Moreover, for Digital Britain to prevail, common sense dictates a joint consideration of 5G and full fibre, and how they set the stage for a digital channel fit to deliver connected Britain.
It is a fact that entry points into the customer are being engineered out as we progress towards an all-digital environment, and universal solutions will continue to scale as full fibre and 5G come to dominate. So how do we remain relevant and differentiate in this disintermediating and commoditising market – and find additional/alternative opportunities? Comms Vision will highlight the areas where opportunities to harness innovation and differentiation exist in selling OTT services and provide a strategic focus on innovation and disruption as a route to differentiation and growth in Digital Britain.
5G, like full fibre, merits meticulous attention. Given the frequency with which 5G launches are likely to occur in the coming months and years, Comms Vision is a timely platform for delegates to receive an update on 5G right now, and undergo a crash course in distinguishing tangible business opportunities from the hype and the headlines. It is expected that 5G will create a wireless connectivity network that opens the gates for an unprecedented wave of innovation as a platform for the future, providing a boost to technologies such as AI, Machine Learning, the IoT and smart cities. But questions need to be answered: What will be the true impact of 5G on the channel? Do the underlying economics work? What does 5G mean for businesses? Should resellers plot a 5G roadmap now? Comms Vision will address these key strategic issues.
For all the fibre and 5G boasts about unleashing a new era of innovation, the possibilities will remain meaningless concepts in modern communications unless we fully understand what the primary and industry-specific applications and services will look like. In crystallising next generation business opportunities, Comms Vision will take the exploration of fibre and 5G further and examine how they enable great advances in applications and tech like VR, AR, mixed reality and the IoT – and how these technologies are likely to impact your customers and your business.
Comms Vision will also shine a light on how next generation wireless connectivity will reshape our approach to all markets, driven by Ultra-Reliable Low Latency Communications (URLLC), Network Slicing, multi-gigabit-per-second speeds and the Tactile Internet.
Furthermore, we will explore how 5G advances the ultimate goal of seamless converged connectivity, connecting customers to a network that intelligently links 4G, 5G, Wi-Fi and full fibre. For the ICT channel, 5G, like any new technology, can only be defined by the business case and proposition that makes it real and substantive, and Comms Vision aims to provide clarity on this.
Along the road to Digital Britain ICT providers cannot be denied cast iron choice, and the channel's aggregators and wholesalers will prove crucial linchpins in delivering the full scope of next generation solutions to partners. Therefore Comms Vision 2019 will explore the critical role of aggregators and wholesalers at the interface of change, and how their channel engagement models are likely to evolve in line with the ever greater digital requirements placed on partners by their customers.
Against this backdrop of industry change you must ask yourself a cardinal question: Where do you want your business to be in Digital Britain, and how will you get there? Comms Vision will address these pressing issues, and provide insights into the key leadership questions to ask yourself: Where to focus on the future? How to nurture culture, skills and diversity in your business? How to gain confidence in new markets, face threats and develop the resilience to keep pace with unequalled industry transformation.
It takes Vision to be a leader
Comms Vision (6th-8th November 2019, Gleneagles Hotel) is the leading annual leadership forum for CEO, MD and CTO delegates making up the major league of the UK reseller community. Places are limited and by invitation: If you would like to join us this year, please register your interest to attend at www.commsvision.com