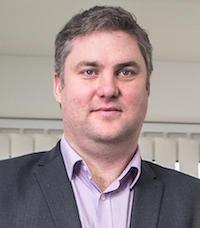 In setting up Burnley-based MSP Seriun in 2003, Managing Director Justin Sherwood and co-founder Richard Lee were attempting to form a new type of ICT provider.
Every reasonable person accepts the core values contained within Seriun's opening manifesto - to make a difference to businesses by helping them overcome their technical challenges - but few manage to infuse their business strategy with such energy and clarity of vision. "We wanted to do things better by offering the right fit while maintaining a focus on developing innovative solutions," said Sherwood. "We have had a passion for technology since the days of the ZX Spectrum and Amstrad. Some may call us geeks, but our passion has been the driving force behind us going into the ICT industry."
Sherwood was bold in rethinking Seriun's core purpose, and with good reason he quickly realised that the company needed to move from being a micro break-fix operation to a fully managed service provider. "To make the change we invested heavily in systems and resources such as Autotask to manage our service delivery and ISO9001 and ITIL frameworks to demonstrate our high service standards," explained Sherwood. "We then diversified and began offering software solutions as part of the mix, becoming more than just an IT service provider. As we grew, we realised comms and IT were converging so introduced telecoms services into our portfolio and welcomed Alan Scully to the team as Director of Communications."
To manage growth, Sherwood also recognised the need to re-set the structure of the business while being particularly sensitive to the implications of a transition from an owner-manager style company to having a management team in place to focus on the MSP strategy. "Our focus has been on implementing a management structure and developing a systemised approach to delivering our products and services," he added. "Our current priority is growth. However, because the market is fragmented and we have such a diverse offering from telecoms to IT systems, with bespoke software development in between, our challenge is knowing where to focus our efforts and investment."
Seriun has already invested in human resources, improved processes, efficiencies and systems. This has enabled the directors to work strategically 'on' the business instead of 'in' it. "We also invested in developing our marketing and sales strategy," added Sherwood. "This set our growth plan into motion."
Seriun's markets are diverse, mainly small and medium businesses with some larger enterprise level clients such as Betfred and Castle Metals. "We are growing our presence in the education sector and currently developing some offerings resulting from the digital transformation that is sweeping across the industry," added Sherwood. "We are also working on gaining more medium-sized customers as our proposition is suited to that level of the market."
Sherwood noted that plans are in place to grow Seriun's resource base to service revenue growth. The company currently has a headcount of 20, and turnover for year end October 2016 was £1.6 million with projected turnover this year of £2.3 million. "Our overall target is to reach £3 million next year," stated Sherwood. "We have also set our sights on an acquisition. It will be challenging to integrate the new team and maximise on the synergies. However, our investment in people and process should help us."
Sherwood believes that these investments will give Seriun a strong hand of cards. The company can now impose its presence in emerging markets and orchestrate a strategy around new areas of interest. "Our vision is to embrace machine learning and AI to improve efficiencies and increase autonomy," explained Sherwood. "This sounds like science fiction, but the reality is that in an increasingly connected and competitive global economy, transforming businesses to embrace this is critical. It could be the next revolution."
Sherwood has also invested heavily in remote management and monitoring as part of Seriun's evolution from a break-fix company to a fully managed service provider. "This has allowed us to proactively service our customers' systems," he commented. "We are alerted immediately to a potential issue and often solve the matter before impacting productivity. We are looking to evolve this into monitoring critical services and not just for binary up or down time."
Seriun's focus on innovation has been carried over to the realm of Business Intelligence and analytics with the creation of Intellistream for O2, which so far has been rolled out to 25 of its UK stores. "The next step is to take the concept of gathering retail data and enhance this by adding other streams of Big Data," noted Sherwood. "This will be evolved into a platform for analytics that will ultimately provide deeper and more meaningful insights into performance and efficiencies."
The only route to future proofing his business is to fully engage with what Sherwood believes to be the biggest industry trend for years - digital transformation. "Second to that is convergence and commoditisation of IT and telecoms," he added. "Systems as a Service is paving the way for this and managed services can reduce the risk to outsourcing. The market is becoming services oriented and the next big revolution is IoT, Big Data and AI, connecting devices even further and consuming the data via systems that help us understand and garner intelligent insights.
"The major players are leading the curve here with the smaller service providers delivering these big epics to their SME customers in a meaningful and consultative way. We'll see an increase in market consolidation and I still believe there is room for a leading brand. We're confident that our offering will steer us and help us stand out in the marketplace."
Sherwood's desire to be centre stage has not been over stated in the content of this article so far, even though he displayed a flair for stage-work as a child. But when he lost his footing and fell off set as a young extra in the 1987 film Allan Quartermain and the Lost City of Gold, leading lady Sharon Stone bought him two ice creams to make things better. What a treat! Sherwood has since gone from acting with the 80s sex bomb film star to fulfilling the role of a current day rising star with a secure foothold on the comms stage where staying power is assured and success in new markets a stone's throw away.
Racing back again, this time to 2001, and Sherwood moved to the UK from Zimbabwe after completing a digital electronics diploma and Microsoft certification. He began working for a computer company in Clitheroe, and a few years later decided he could do it better and approached Richard Lee who was working part-time while at university to see if he wanted to start-up a company.
"The rest is history," stated Sherwood. "My biggest personal achievement in my career has been the move from a technical role to a managerial leadership role within the business. To help me make the transition I completed a part-time MBA while managing Seriun. It was a challenge and a huge achievement and couldn't have been done without the support of the team, family and friends. I'm pleased to say it's paid dividends as it helped develop my critical thinking and overall business strategy."
But nobody can legislate for hindsight, and looking back in the rear view mirror Sherwood sees that two elements of his early strategy might have been executed differently to accelerate growth. "I could have approached things with an objective viewpoint, applied some critical thinking and realised that there may well be better ways of doing something away from my own subjective opinions," he commented. "And looking for financial support at the start-up stage may have provided the resources we needed to adopt a faster growth strategy."
The difference now is that Sherwood is moving Seriun along far more swiftly while riding the wave of convergence that is shifting the market towards SIs and managed service providers as demand for integrated systems and services increases. "I relish getting businesses to think differently about ICT and to see it as a transformative value activity with a return," said Sherwood. "We all get excited when we see the value that technology can bring to our customers."•