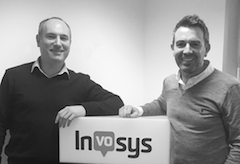 The next phase of Invosys' growth strategy has begun with characteristic earnest and its business leaders have big markets to aim at and a model that must be admired.
The rise of Manchester-based Invosys must rank in the pantheon of comms sector success stories. The company was founded in 2006 as In Call Solutions by former Norweb high flyers and best pals Rob Booth and Peter Crooks, their catalyst being a gap in the market for an inbound services model that was cost-effective for SMEs. The partnership between Booth and Crooks works with not an inch of daylight detectable between them, always adapting the business structure and their roles to reflect the changing market, bringing growth through stability. Booth is CEO with a responsibility for strategy while Crooks takes care of the day-to-day running of the business as COO.
Since its inception as a virtual carrier and a challenger to its much bigger rivals Invosys has stolen a march with its simpler and smarter products. "We launched with a web-based portal to set up numbers and manage the calls to them, and we have built on this foundation over the years," explained Crooks. "In the early days the KPI we always used were the calls managed via the platform - one million minutes a month quickly grew to five and ten million. Each call and every second was generating income that allowed us to be profitable. Today, we deal in hundreds of millions and billions."
The company managed 100 million more calls on its platform in 2016 than 2015. Also on the up is staff numbers which have increased by 30 per cent, while turnover's up by almost 40 per cent. "Despite 2016 being our best year yet we forecast that 2017 will beat this success, driven by larger resellers, enterprise clients, and delivering more products into new and existing markets," stated Booth. "We see big increases in turnover being achieved through a combination of new products, new markets and acquisition. Inevitably, our team will grow and every single person will be developed to be the best they can be and given opportunities to push themselves."
In its approach to market and long-term planning Invosys is a model for other ambitious comms entrepreneurs. The company rebranded from In Call Solutions in 2014 to mark its evolution, with key developments being the launch of NumberManager in 2011 (its flagship portal for the UK inbound market) and a shift from TDM to IP technology which unlocked potential to scale via access to enterprise sized clients. Having steered away from its roots, Crooks sees the platform as key to growth. "We are now a technology-led company whereas our origin and focus initially was about being sales-led and the account management," he added. "Invosys is now a much bigger organisation with a technical outlook, and each day has a focus on platform technology, its maintenance and R&D."
Also crucial to Invosys' strategy is acquisitions. "We are pursuing an acquisition that will allow us to introduce more products and services into our channel, such as managed IT services or co-location in our data centre," explained Booth. "Our highest priority recently has been the acquisition of MergedComms and the consequent productisation and integration of a hosted telephony service that has great potential and will be promoted through our wholesale channel."
Hosted telephony and VoIP services will be the big growth market in the coming years, believes Booth. "We will soon be launching our own product to the channel which will stand out in terms of the technology, the features and the available options," he added. "It will be exciting to see how quickly we can grab market share. A variety of IP-based communication solutions and mobility convergence-type products are also on our roadmap.
"NumberManager will be updated with our own SIP and hosted products that will combine with the existing technology. The portal has also been successfully deployed to Australia and New Zealand, so rolling out our technology and products into other countries might also be feasible."
Growth has mainly been organic and this will continue as increasingly large resellers and carriers promote Invosys' products as their own to large enterprise clients, pointed out Crooks. "From day one, ours has been a wholesale-only proposition for resellers and carriers to use and promote, and we have 350 in the UK including some of the largest," he said. "The role of resellers will continue to be key in the channel. They are able to offer the end user best of breed solutions."
Invosys remains ambitious to the core and its lens is permanently focused on harnessing leading edge technology to maintain and develop its platforms and ensure that it remains at the forefront. "Technical staff now make up a third of our team and we only employ the best in the business who can sometimes be difficult to find," commented Booth.
What Invosys exhibits most, perhaps, is a business fit for purpose that will continue to walk the walk supported by a loyal base of partners and a like-minded and enthused team of employees. "We've worked hard to create a family culture where everyone is valued, regardless of their job title," commented Crooks. "This has paid off and our staff genuinely enjoy working here. We are open and honest, trusting, nurturing, empowering, determined, dedicated, hard-working and have plenty of fun. It is a successful model and every single person stands to gain."•