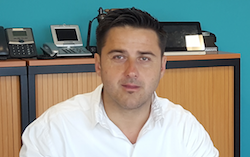 Centile's renewed focus on the UK channel is playing into the hands of resellers who want to gain control of their own destiny by adopting a PaaS-led and mobile-first approach to market, according to Director General Bertrand Pourcelot.
Whatever blizzard of spin is applied to Brexit and 'economic uncertainty', the advance of Centile into the UK channel market shows no sign of hesitation. Its status here will be enhanced by newly appointed Business Development Director Justin Hamilton-Martin who is already reinforcing the certainty that underpins Pourcelot's UK ambitions with new channel partnerships. "With Justin's experience in the telecoms market, including CEO roles at service providers 8el and Ultracomms, plus many consulting projects, he is well placed to engage with the UK service provider community," stated Pourcelot. "Justin is already bringing new resellers on board to our PaaS platform and we are confident that 2017 is going to be a great year for Centile in the UK."
Centile's positioning as a viable alternative to BroadSoft is catching the eye of potential partners in the UK, according to Pourcelot, who has high hopes for the success of the firm's channel push. "The UK market needs providers who can differentiate, make additional margin and gain control of their customer experience," he added. "We're well known in other countries, but not here. This year we're focusing on the UK."
The UK currently accounts for 10 per cent of Centile's revenues. Overall, the company is growing between 15-20 per cent in annual revenue terms and adding four or five new employees per year, building on its current headcount of 40 mainly based in Sophia Antipolis in France, Europe's largest technology park. They support circa 100 service providers in 20 countries.
"While we do have some big service providers in our customer base we also work with many SMEs that realise the potential of services such as IP Centrex and FMC," said Pourcelot. "For example, we're seeing traditional PBX dealers move into cloud-based services. Platform-as-a-service is an opportunity for us to help market players who don't have the technical skills or bandwidth as part of their daily operations."
Platform for growth
Centile describes itself as a European developer of UC and fixed mobile convergence platforms for operators and integrators. The firm was established in 1998 when broadband connectivity was emerging as a market reality along with a number of small service providers. The idea behind Centile was to develop a telephony system that was easy for these providers to offer to their enterprise customers via broadband. Pourcelot joined the company as it was coming out of start-up mode and beginning to grow. His background is in software development and project management on international projects, including ten years working in the space industry.
"Developing software for the French army or image processing for meteorological satellites gave me a solid background in understanding what mission critical projects need," he said. "One of the common failings of many start-ups is that they struggle to have the rigorous processes needed to grow a company while keeping the agility and flexibility to move fast. I was brought on board to address those requirements based on my experience in challenging software development projects and delivering mission critical products."
The company was later acquired by 8x8 which funded much of the R&D and led sales while the Centile team focused on developing software. But when the dotcom bubble burst 8x8 sold many of its assets including Centile. "Even though the first few years of this century were a tough time in the industry we already had some IP Centrex customers, especially in the Nordics," said Pourcelot. "In 2008 additional investors were brought in, the whole market turned around and we've grown ever since."
Centile made an early transition from a traditional capex pricing model to an opex one. The company name even refers to its adopted revenue share pricing model (Percentile). Another milestone was the company's early focus on the mobile market and the launch of its mobile platform in 2010. "Our first customer was Elisa, Finland's biggest mobile operator which was already on our books," commented Pourcelot. "With more than 250,000 subscribers that was a big step forward with full convergence delivered via an opex pricing model. Other customers include VozTelecom in Spain, Bahnhof in Sweden, Pace Telecom in the UK and many more in France such as Bretagne Telecom, Adista and VoIP Telecom."
Fixed mobile convergence will be key for Centile in the UK, pointed out Pourcelot. "There are some initiatives but not as many as other countries such as the Nordics where the idea of mobile-first or even mobile-only is a reality," he explained. "Most of Elisa's customers only have mobile phones which they use for both their fixed and mobile numbers. France is also well ahead on FMC. We want to bring all that experience to the UK and see this as a market segment that has the potential to grow fast, particularly as the price gap between fixed and mobile minutes narrows."
As Centile presses ahead with its growth strategy and the development of new features it is also building a 'best of breed' partner ecosystem. Pourcelot added that the company is wedded to an API approach that will drive standardisation and openness across all kinds of technology markets. "Look at how Android caught up with its competitors with APIs that enabled an ecosystem to be built," he stated. "We believe in cloud-based integration and cloud APIs, which is much easier than on-premise integration.
"More widely, we've continued to add new features, new web portals and user mobile apps. We've also seen Centile IstraCloud which provides all the flexibility and cost-efficiency benefits of a multi-tenant platform really take off. Another focus area is our own mobile application on IoS and Android which is designed to offer a better user experience via local contacts and simple tools such as push notification. This is a white label app that we've already introduced in Finland and will be launching globally later this year."
The challenge and the opportunity in this market, says Pourcelot, is to demonstrate to enterprise customers a future proof solution with high end features. "However, our experience is that enterprises aren't always ready to pay for all those advantages so there needs to be flexibility," he added. "Having a good price point for some stand-out services, such as the PBX-type offerings, is important, with the ability to up-sell even more advanced features such as collaboration tools and video.
"We also believe that our 'bring your own lines and networks' approach will enable resellers to move quickly with us and protect most of the long-term relationships already in place. Many resellers already sell private wide area networks and have SIP trunking relationships. We are proposing that they include the Centile PaaS offering to supercharge their core service and enable them to become Virtual Network Operators to complete with the larger providers."
According to Pourcelot the comms industry must leave tradition behind otherwise it will be vulnerable to the rise of commoditisation and less able to compete against new entrants, GAFA and OTT players. "Resellers of products have a real opportunity to evolve into service providers, to drive new revenues and be more competitive," he said. "Mobile-first is one of the biggest movements in the industry. Some countries are already ahead, others less so. It's a huge opportunity, not just for vendors like us but also for resellers and ISPs."