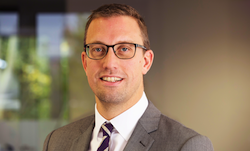 In acquiring Webantic, ANS Group has taken the fast track to giving customers what they really want in the public cloud, according to CEO Paul Shannon.
ANS's acquisition of Webantic sets the company up for another strong year. By adding expertise in cloud app development ANS can better help customers migrate and manage their applications in the public cloud, and also develop next generation digital business apps. "We've invested heavily in public cloud and giving our customers state-of-the-art technology," said Shannon. "Acquiring Webantic is key to our strategy for 2018. It's helped us to offer a full service to our customers, especially as we work towards permeating more vertical markets."
In 2017 ANS registered its 14th year of growth with turnover just under £63 million. The customer portfolio is also in constant growth mode, made up of 300 diverse clients across sectors including healthcare, local government and manufacturing. ANS has also worked on customer projects that include AI and machine learning. "The next six months will deliver more innovation than the last three years," stated Shannon. "More customers are wanting to harness the power of data analytics and machine learning and we are ensuring that we have the capabilities and tools that allow them to do so. Listening to customers when they tell me what they want to achieve, and then helping them to deliver it is an easy thing for me to be passionate about. The challenge is keeping up with the fast-paced market."
In this environment resellers need to future proof their strategies, noted Shannon. "Technology evolves quickly but the key to success is flexibility and being able to tailor and meet individual customer needs," he added. "The next two years will shake up the long-established IT channel like never before. There will be consolidation, acquisition, extinction and more."
The acquisition of Webantic will help ANS navigate the choppy seas ahead with aplomb. The deal bolsters its Microsoft Gold Cloud Platform Provider and AWS Advanced Partner status and extends its ability to offer end-to-end managed cloud services. "We're also striving to improve our recruitment and staff retention rates, strengthening our workforce across both the London and Manchester offices," stated Shannon. "Through the ANS Academy we have taken on over 65 apprentices, enabling them to gain qualifications and drive forward their careers."
To say that Shannon views ANS as a 'people company' would be to greatly understate the nature of his conviction that a business is only as good as its staff. "ANS is driven by its people, not one individual," he commented. "We offer a merit-based platform for staff to be successful and we have some unbelievable employees at all stages of their careers. Being the CEO gives me immense pride. ANS was named the 7th Best Company to work for in 2017. We wouldn't be able to transition the business so successfully without amazing people, so their belief that ANS is a great place to work is everything."
Shannon stepped in as CEO a year ago, taking over from Paul Sweeney who became Executive Chairman. Shannon was previously COO, and at the time of his promotion had been at ANS for over seven years. "My immediate priority was to ensure that we continued to build out practices for public cloud and managed WAN to complement our existing networks and platforms teams," he said. "We had started on a path, but our CTO, Andy Barrow, and I had to put every ounce of energy into making sure ANS could become even more successful than anything we've done before."
The company was founded by Scott Fletcher in 1996 when he was just 22, working out of a back room of his house. "Scott worked non-stop to grow the business," said Shannon. "Since then, Paul Sweeney, Andy Barrow and myself have led the company through continued growth, expanded into new verticals and made strategic acquisitions. None of this would have been possible without hard work and motivation. We are now able to call ourselves one of the leading cloud providers in the UK."
Key company milestones include acquiring BIOS and turning the acquisition into a Cisco Gold Partnership for ANS; snapping up Alpha and becoming a NetApp Star Partner; opening the London office; creating managed service offerings; launching the ANS Academy for apprentices; and forming public cloud partnerships with AWS and Microsoft. And of course the Webantic acquisition.
"Our customers now have a single point of expertise for cloud application development, migration and management services as well as cloud ready networks," commented Shannon. "It is incredible how quickly we are moving. I believe that ANS will cement its position in the marketplace, helping our customers migrate to a world where their business utilises technology, cloud and software so effortlessly and seamlessly that it feels easy. That's how it should be. We will get there by continuing to leverage our number one asset - our people."•