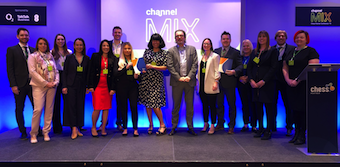 Following the acquisitions of IT business Lanway and telecoms billing specialist TMS, Chess has had something of a hiatus with partner events of late but was back on form with an above par show at The Belfry.
Chess Partner's 'Channel Mix' event was intended to give resellers an insight into new technology on the horizon and early in the proceedings guest 'futurists' delivered a heady mixture of imminent opportunities laced with some controversy for delegates to contemplate. Former BT CTO Peter Cochrane, now a 'scientist, engineer and pragmatist', spelt out a future where the IoT will monitor our health by telling us what's going in and what's coming out of our bodies via sims in our coffee maker and down our loos, not to mention telling us we're running out of milk via our connected fridge!
But is there money for resellers in facilitating this joined up world? It's debatable because, as Cochrane pointed out, 'the vast majority of things on the IoT will not be connected on the Internet, they will be connected to each other over a short range'. The view of Ant Morse, Futurist and Head of Digital Solutions at O2, was slightly different. "Ultimately IoT will tell us when to do more of something and when to do less," he said. "It will turn on our kettle and advise us how well we are cleaning our teeth. By 2020, 50 to 100 billion things will be connected and it's worth trillions. IoT-as-a-service is the way forward."
Partners have different ways of dealing with us and a broad mix of products and services to select. It's about partners picking the right cocktail for them
Morse warned of the disruption joined up Big Data will bring, facilitated by 5G, which he described as 'phenomenal network of service' and advised partners to start talking to customers now about the huge leaps in technology ahead and, importantly, get up to pace with cybersecurity. "Big Data will be disruptive and not everybody will take the moral decisions O2 takes not to drown people in adverts," said Morse. "We will, however, know if you're in a traffic jam and we'll be able to direct you to the nearest Starbucks. Our team is focused on helping people do more with less and be more efficient. My advice is to become a navigator for customers. Guide them through new technology, get them secure and get them collaborating more effectively. Do 30-minute webinars or whatever it takes and offer advice on phishing, Internet security and so on."
All this 'blue sky' thinking was followed by highly engaging and motivational talks from entrepreneur and business sales expert Adrian Webster and Chess Culture Director Kate Wood, who has helped catapult the business to the top of the Sunday Times Best Companies to Work For list. Olympic Gold Medallist Ben Hunt-Davis, founder of the 'Will It Make The Boat Go Faster' performance consultancy, wrapped up the conference. He said that every single thing the winning Olympic 2000 rowing eight did was taking them in the direction they wanted to go. In other words, his simple message to delegates was 'set your goals and don't do things that don't make a difference'.
In between the speaker presentations 'Deep Dive' sessions with product specialists from Chess, O2, TalkTalk Business and EE gave resellers insight into new margin opportunities from Cybersecurity, Cloud PBX, IoT Vehicle Management, Workspace Collaboration and Tech-as-a-Service. 
So, did Chess' return to the event business make a difference to channel partners? "I hope so," said Managing Director Stephen Dracup afterwards. "The idea of the Channel Mix theme was to make the event like a bar with cocktails. The story we're trying to get across is that partners have got quite a lot of different ways of dealing with us and a lot of different products and services to choose from. Effectively it's all about partners picking the right cocktail they want. Also, this kind of event gives us the opportunity to hear back from partners about what they want. It's not all about just telling people things, it's about listening to them as well. I've always really enjoyed blue sky topics because they get you thinking, and sometimes it's the most simple thing that adds the most value. Nonetheless, it's always a good process.
"We're in a very interesting period at the moment, as an industry, as a country and perhaps even as a world. I think that we have to be able to take time out of our busy lives to think about what our place in that world is going to be. Because if we don't, then perhaps it will happen to us rather than us happening to it. In adversity or in change situations there are always huge amounts of opportunity for people to take advantage of."
So, everyone's happy in the Chess 'cocktail bar' and with its new mix of digital products and services Chess is running at £125m in revenues which is a nice place to be, as Dracup confirmed. "We have transitioned from the old world to the new world and I think to have done that and maintained profitability has been a real achievement. Our task now is, having built a platform for growth, step on from there."
Currently, the foundations of that platform are built around the modern work place via Chess Partner. Focusing on connectivity, cloud-based and -as-a-Service solutions. "Chess Partner is a huge opportunity for transitioning partners and we're working closely with suppliers to deliver a new world proposition," added Dracup. "We're eating our own lunch as well, so what we learn we can sell. And, if you don't have that expertise in house, we can provide it and work with you to get that story out to customers."