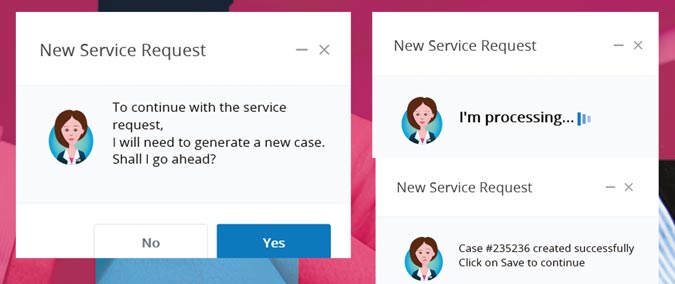 If you are a reseller looking after businesses with contact centre agents who perform repetitive tasks then, no matter what their size, they will benefit from using NEVA.
NEVA stands for NICE Employee Virtual Attendant, but your customers can choose a new name for it if they want. It is the technology and the results created by this leading example of attended Robotic Process Automation (RPA) that counts.
Just as we rely on virtual assistants at home to wake us up, play our favourite music, check the weather and give us the news headlines, NEVA works with contact centre agents to alleviate mundane tasks while keeping a close eye on business goals.
Too many businesses are finding themselves bogged down by repetitive, mundane but entirely necessary and often compliant tasks. Their tedious nature can lead to stressful backlogs and human error, which can cause further issues, such as failure to meet SLAs, reach KPIs or a rise in complaints. Not only is this demotivating for the employee but it is precious time away
from looking after the customer. What's the answer? First, you need to understand what RPA is.
What is RPA?
RPA is software that can be easily programmed to carry out basic, repetitive tasks across multiple applications. It sounds like a nirvana and it is, plus it's a growing trend that businesses are happy to buy into.  Forrester predicts the RPA market will have reached $2.9 billion as we enter 2021, up from $250 million five years ago, and is due to almost double by 2025. RPA processes can be provided at an 'unattended' or backoffice level where there is no human intervention required. This helps with high volume and low value processes that need be carried out accurately and at speed.
'Attended' or frontoffice RPA is where NEVA comes in and it's not just for enterprise organisations. Companies with 50 or more agents can benefit from this technology.
How does NEVA work?
NEVA is all about supporting the agent, in real-time, whether it be automating a task on behalf of the agent or guiding the agents towards the next best  action, during a live customer interaction. When it comes to automating tasks on behalf of the agent, NEVA can copy and paste, create call summary notes, do calculations, verification checks, and so much more!
NEVA keeps an eye on the employee's desktop actions and is ready to assist with tasks where human judgement is not required, as and when the agent needs support. These tasks are automated and are therefore completed faster and more accurately than even the best member of staff could manage.
NICE Enterprise's UK&I Channel Manager John Byron said: "We have created a bot which sits on an agent's desktop and acts as a guide to internal databases, CRM systems and other tools. I love NEVA because it is unique in the market. No-one else does this type of RPA like NICE. NEVA even has her own character."
NICE has indeed made  NEVA feel very human with her own avatar. You will quickly find yourself referring to it as 'her' and 'she' and being grateful for her contribution to your business!
NEVA is also the team member with all the up-to-date answers. As a bot, she does not miss or forget any updates from management or business goals. Automated pop-up windows will give agents real-time, step-by-step guidance when they need it and next-best action recommendations. Agents can also trigger assistance manually or via a web chat facility.
Help can include telephone scripts, messages on changes to company  guidelines and policies, reminders to ask for missing contact details or prompts to upsell or cross-sell other products. At just the right moment during a customer call NEVA will automatically open the tools agents need to  facilitate a call, such as multiple databases, CRMs and diaries, but will only present the relevant records on one screen.
Benefits of NEVA
It is not hard to see where the benefits lie. With NEVA, agents can maintain a consistency across all their interactions to improve customer service.
Businesses will be more efficient, more compliant and less prone to error, so complaints should be reduced.
Time is inevitably saved as NEVA does so many of the tedious tasks, therefore productivity is improved while agents enjoy enhanced job satisfaction as they are free to concentrate on the higher-value tasks. Profitability should increase too with NEVA working as a digital salesperson with scripts that prompt agents with relevant sales promotions or offers based on a customer's
unique history, including purchases and interactions.
Lastly, NEVA is perfect for the world of remote working we now find ourselves in. The bot is a convenient go-to expert when team members are working independently of each other and the supervisor is unavailable. She also helps onboard new agents by quickly bringing them up to speed with new workflows, systems and tasks.
But where do businesses start?
NEVA is an easy sell when it comes to the benefits, but businesses may be put off by not knowing where to start to implement it. NICE has the answer in its Automation Finder which seeks out and analyses agents' repetitive processes to ascertain what can be automated. Byron added: "NEVA does not care what contact centre solution your customers have got, or CRM or database; this cutting-edge solution suits all. The resellers I have spoken to are getting really excited about NEVA as this isn't in any of their portfolios."
Business partner programme
Named as an RPA Leader in Everest Group's 2020 PEAK Matrix® Assessment, NICE Enterprise can pass on this expertise to contact centre resellers via their business partner programme. The programme provides expert help from product specialists, wholesale or referral commercials, and marketing support.
To enquire about becoming a NICE Enterprise partner, please contact John Byron at John.Byron@NICE.com