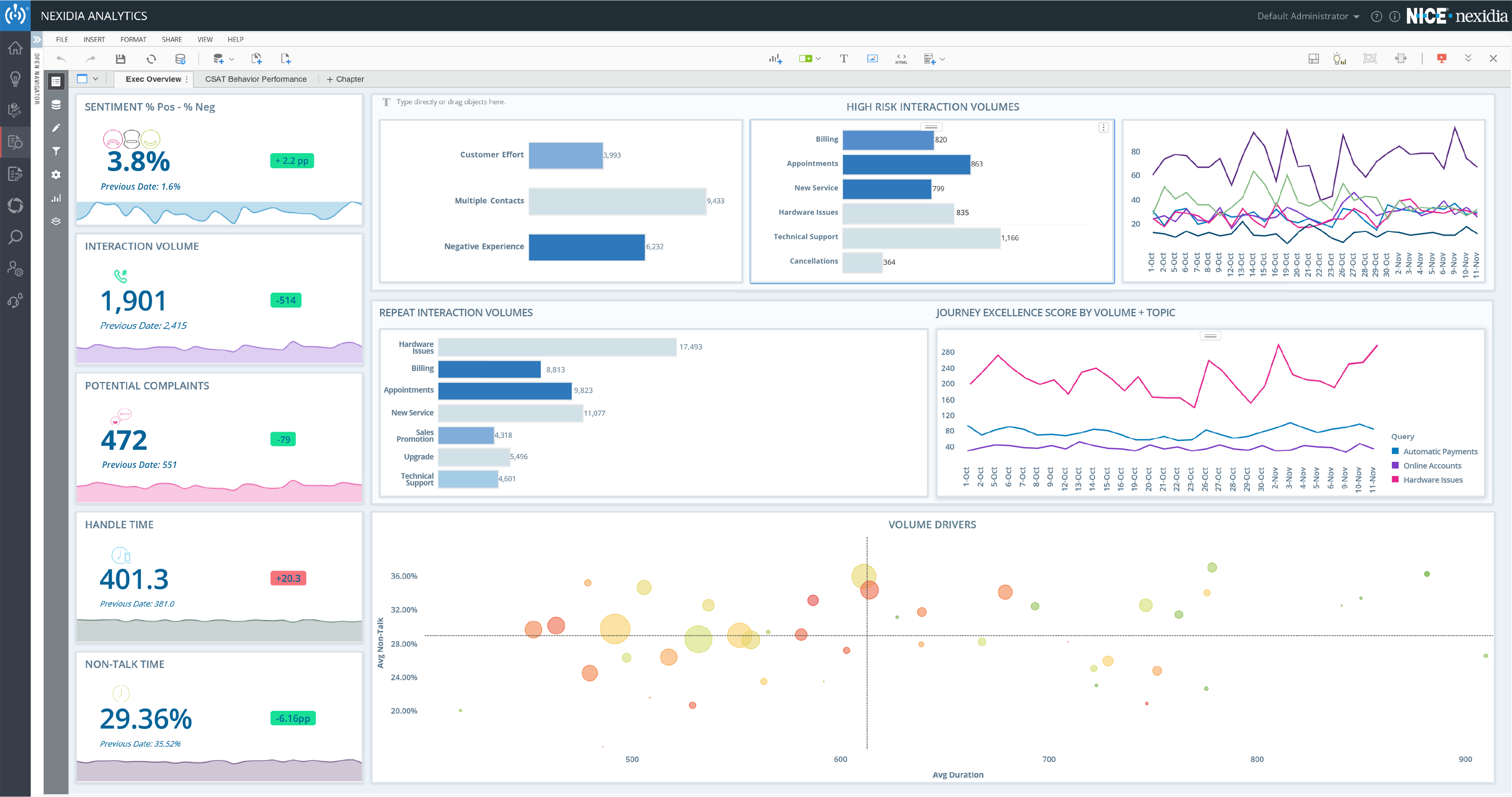 Artificial intelligence (AI) analytics from NICE's newest product NICE ENLIGHTEN provides benefits to the whole business and customers too. A winning combination as the contact centre deals with the 'new normal'.
The contact centre conjures up images of large rooms full of agents wearing headsets. COVID-19 saw many of these agents sent home but sent home to work. Two lockdowns later and some socially distanced working in between and home-based contact centre agents are a long-term reality.
Meanwhile, customers are more reliant than ever on contacting businesses and organisations on the phone as they are largely prevented from visiting premises in person. As the economy struggles to cope with the pandemic, customer service is more critical than ever.
These are both compelling reasons for resellers to revisit their contact centre customers with NICE ENLIGHTEN, but there are more.
Nicky Butler, VP of EMEA Channels, said: "NICE has the analytics to help businesses understand what is going on in their contact centres and to improve their customer service by making their agent interactions as good as possible."
NICE ENLIGHTEN's sentiment model is at the core of this cloud-based contact centre solution to eliminate manual processes and replace them with an automated and unbiased system to free up supervisor time and to improve agent's soft skills. Having analysed billions of interactions from many of the world's largest organisations, NICE ENLIGHTEN is so accurate that it predicts customer satisfaction at a rate of 97%.
How does AI analytics improve agent interactions?
Historically, agent interactions were improved through expensive customer surveys along with quality control and training provided by supervisors or team leaders who would listen to and score a random selection of calls. The number of training sessions and thoroughness of evaluation would often depend on the number of agents and time available.
AI turns this manual process into a fully automated and adaptive agent performance programme that interprets soft-skill behaviour that influences customer sentiment. This means every interaction receives a quality satisfaction score rather than a selection being manually evaluated.
Butler said: "With the power of AI, we can go beyond specific analytics; we can be more subjective. It's more of a black box solution."
How does NICE ENLIGHTEN enhance agent satisfaction?
With agents at home potentially feeling anxious about the pandemic or uncomfortable about working remotely, regular updates from supervisors are critical. Some quality programmes have been suspended as staff numbers have been stretched leaving agents feeling dissatisfied. Although, many agents had already felt that the subjective nature of human evaluation made the process unfair.
Butler continued: "Supervisors can talk to agents about their interactions from the previous day to give them the support they need. If they can coach agents on a daily basis, they will be fully engaged with the organisation. Meanwhile, your agents will be pleased all their interactions are being accurately measured, rather than just a small random selection."
NICE ENLIGHTEN also makes it easy for agents to see for themselves how they are performing as they can view their scored interactions from a personalised dashboard and take action by listening to their calls or requesting coaching.
What about the supervisor?
It's all about relieving the burden. Clearly, supervisors will save time on what can be a very arduous process to maintain consistency and will be relieved of the subjective responsibility of analysis.
Dashboards provide ready access to analytics based on behaviour data models to easily see where coaching is required to achieve team KPIs. NICE ENLIGHTEN will recognise any problematic interactions and will automatically queue them for the supervisor to rapidly review. Coaching is more accurate too as analytics will pinpoint the areas that need improvement and praising! Supervisors can even give real-time guidance to influence interactions to hopefully arrive at a positive conclusion.
Accuracy of reports will improve over time in the true tradition of machine learning. With accurate and increased engagement, supervisors should benefit from lower staff turnover too.
Return on investment
Businesses and organisations are seeing their transactional net promoter scores (tNPS) go up, complaints come down and rising customer confidence and sales. Operational contact centre costs of manual listening and surveys are reduced too to promote increased profitability.
Butler concluded: "Where we have deployed NICE ENLIGHTEN, it's impact has been felt all the way through the business."
Business partner programme
NICE Enterprise has launched a business partner programme to give contact centre resellers access to NICE's analytical solutions, which are designed for both SMB and enterprise clients. The programme also provides expert help from product specialists, wholesale or referral commercials, and marketing support.
NICE Enterprise's UK&I Channel Manager John Byron said: "The fact all areas of a business or organisation stand to benefit from NICE Analytics is presenting real opportunities for resellers. If you can demonstrate an ROI, solve the challenges customers are facing and increase their customer satisfaction scores, then you'll almost certainly increase your sales revenue and their loyalty towards you."
To enquire about becoming a NICE Enterprise partner, please contact John Byron at John.Byron@NICE.com