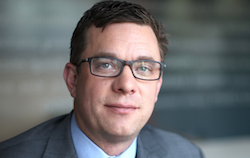 A master plan to bring top Microsoft partners into close union lies behind New Signature's acquisition of Paradigm Systems in February. And according to CEO Jeff Tench, the US-based company's global ascendency is symbolic of Microsoft's emergence as an industry leader in all things cloud.
The grand scale of Tench's growth ambition is matched in stature by the extent of his past experience in building businesses, which is why he is so deftly able to fashion an acquisition led tour de force in New Signature. Tench has more than 20 years experience in leading high growth technology companies. Prior to New Signature he was CEO of Teliris, a role that followed a stint as President of the Business Markets Group at Level 3 Communications. "I have also built and re-built companies that weathered many storms yet ultimately succeeded in the face of drastic market changes," said Tench. "With New Signature we are taking a different approach in a market that has strong endemic growth, having partnered with Microsoft and, most importantly, identified companies that have already achieved great success and bringing them together. The goal is to build something tremendous and create an amazing team that stands upon outstanding culture and values."
In April 2015 New Signature, the 2014 and 2015 Microsoft US Partner of the Year, secured an initial funding commitment of $35 million from Columbia Capital to fuel expansion. With this backing Tench focused on acquiring fellow Microsoft partners that each bring distinct capabilities to the greater team. The potent sweep of Tench's buy and build strategy began in June 2015 when New Signature acquired CMS Consulting and Infrastructure Guardian, sister companies based in Toronto, Canada. "By adding Canadian operations with deep technology expertise in Microsoft Azure and cloud infrastructure solutions we furthered the expansion of our capabilities and market coverage," explained Tench. "Infrastructure Guardian brought a strong infrastructure managed services practice that has propelled New Signature's capabilities greatly in that area."
Five months later New Signature acquired imason, a Microsoft application development firm also based in Toronto. The deal strengthened New Signature's capabilities in web and mobile application development. Days later InfraScience was acquired, a premier Microsoft Partner based in Atlanta, Georgia. And in April 2016 UK-based Dot Net Solutions (a specialist in application migration to Azure and 2014 Microsoft UK Partner of the Year) was picked up, launching a second front in New Signature's strategy to bring together like minded Microsoft partners.
"We knew from the start that the UK market was a neat fit for New Signature, and Dot Net Solutions, under Paul Cosgrave and Dan Scarfe, was the perfect launching point," stated Tench. "The addition of Dot Net also allows us to increase our international presence by helping customers with multi-national operations. Dot Net's business, both in professional services and managed services, aligned perfectly with New Signature's strategy for growth."
As Tench continued to scour the Microsoft partner ecosystem for potential acquisition targets on which to pitch his grand vision, London-based Paradigm Systems was always a prime target. And in February this year New Signature made its move, bagging the premier Microsoft Partner and adding skills in Azure, Office 365, Windows Server and desktop deployments, as well as a managed services business that chimes with New Signature's portfolio. The deal follows a year of working together on joint projects.
"There are differences in the global market that have to be taken into account as we scale the business," explained Tench. "The North American operation is geographically dispersed which adds another layer of communication between our team and customers as well as Microsoft, and it also introduces the potential for friction at different parts of the customer journey. The UK ecosystem is a tighter community which lends itself to more streamlined communications and enables our team to be more agile."
New Signature's headcount of circa 350 employees is growing by the day along with top line organic growth of 20 to 30 per cent, while its global base of mid-to-large enterprises is also expanding. Against this backdrop of rapid growth and acquisitions Tench confronts the mechanics of his integration challenge with practical mission statements that speak of unity and summon staff to the flag. "We have brought together seven distinct companies each with great synergy and vision, but it is a massive undertaking to align all of these different businesses and processes," said Tench. "We recently went through a company-wide effort to develop Mission, Vision and Values statements that resonate with all employees. A group of volunteers representing every geography and team across the company have joined our Culture Committee to draft these new statements. We are proud of the work this team has accomplished in a short space of time."
Tench cares about his people and, as we have seen, is thinking afresh in areas of integration and unity. "The hardest part of scaling a business through M&A is the integration of our team members, especially in a people-based business," he added. "At the start of this investment I was interested in growing a services organisation which means working closely with the people in this company. It's not widgets or ëthings' that make our business successful, it's the people who are part of the team. I want to make sure that every decision we make provides greater opportunity for our team to grow and learn. Culture was the most important aspect of every acquisition. If there was a bad culture fit we moved on."
The most successful business leaders do not leave their people ?uncertain of their destination. They must have a clear and coherent message, which Tench does not lack. He is just as clear on the growth potential of cloud technologies and digital platforms such as Azure. "The mainstream adoption of cloud is encouraging and directly supports our investment in the Microsoft ecosystem," he stated. "The opportunity is massive to grow alongside Microsoft and deliver transformational solutions to our customers. A key aspect of helping customers transform their business is focusing on the full lifecycle of infrastructure and application transformation, not just one-off engagements. Being a true partner to our customers means helping them manage the environments and applications we build and deploy."
Another trend that is gaining momentum and will continue to grow is the focus on the Internet of Things and advanced analytics driving digital transformation, observed Tench. "New Signature is working with customers to help them solve difficult business problems through analytics," he said. "Some of the most interesting problems we have been solving are around discrete manufacturing and helping customers save millions by optimising their operations through innovations like Azure Machine Learning. New Signature's offering, Six Weeks to Insights, provides insights from the data generated by the connected devices and systems."
Tench explained that Microsoft wants partners to operate more deeply as trusted advisors through developing transformation roadmaps (such as Six Weeks to Insights), delivering complementary software solutions and products, and developing meaningful IP on top of the Microsoft platform. "Another great example of this is the New Signature Cloud Management Portal which helps customers glean meaningful insights into their spend and usage for Microsoft Azure and Office 365," he added. "Microsoft is also looking for partners to provide ongoing managed services to customers to help them operate and consume their investment appropriately."
The opportunity to create a new force in Microsoft that bestrides the globe and continues to scale holds long-term appeal for Tench, a shrewd leader whose mind is fixed on delivering business transformation. "We are building a team that enables us to scale our global business and deliver transformation to customers," he commented. "We are also evolving our operating model to more closely align with the ways our customers want to engage; and staying ahead of our competition by dedicating our company to continued learning and professional growth."•