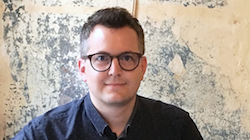 Today's collaboration-driven corporate culture is transforming not only the way people interact at work, but also the dynamics of distribution and value creation in the channel, says Philipp Bohn, Vice President for Circuit at Unify and CEO of blueKiwi.
When French IT service provider Atos acquired Unify in 2015 it brought together its own cloud offerings, Unify's Circuit platform and blueKiwi's enterprise social collaboration software (Atos bought blueKiwi in 2012). The unification of these complementary technologies was a clear sign of Unify's product and services strategy around Circuit and Bohn, who is at the vanguard of product development, naturally has deep insights into what makes the market tick, where it is heading and the future role of integrated enterprise collaboration platforms. "We expect there to be some healthy profits from integration services based on the APIs and other interfaces new collaboration platforms provide," he commented.
"Messaging and collaboration applications have completely changed the way in which teams work together. As these apps were established first in our private lives, it comes as no surprise that people were desperate for the same functionality in a business environment. The next step for these applications in the enterprise will be providing additional integrated functionality such as voice, video and screen sharing."
The channel's digital value add and value creation is moving away from pure distribution logistics, instead heading towards areas such as consulting, change management and user training, believes Bohn. "To create more value in the evolving digital ecosystem the channel needs to ramp up and develop new consulting and software development skills," he added. "For example, developers that are able to build basic or deeper integrations based on their customers' needs will be an invaluable asset for the future.
"A rethink of the business channel model is a necessity too. Less revenue should come from distribution services and hardware maintenance, instead it should flow from more recurring and flexible cloud services, preferably with monthly billing options. This enables customers to adopt a service that meets the specific needs of their company. The strategic challenge is to complement the traditional hardware distribution model with new, flexible cloud-based services."
One of the main challenges for channel partners in the more traditional communication space is how they compete with the established IT and consulting partners. More often than not, IT partners have built-in research, development and consulting skills, so are often ahead of the curve with these new and emerging technologies. "Alongside this, traditional channel partners will also compete with 'born-in-the-cloud' rivals," noted Bohn. "Their business models have been built with the cloud in mind, so will offer recurring revenue, optimising customer lifetime value, and providing ongoing consulting services."
First and foremost, customers need support in finding the right communication and collaboration tools which suit the individual needs of the business and end user demands. "Operating in such a dynamic, digitised and growing market, channel partners play an integral part in not only finding the right tools for customers, but assisting the user in adopting, integrating and working with them," commented Bohn. "Channel partners are vital to the roll out and must offer options to customers, such as user training, change and communication management in order to secure adoption and ultimately the success of the newly introduced tool. It is no longer enough to just roll-out a product, channel partners must take a hand in improving and maintaining usage."
Unify is following through with its stated intent to become an indirect business and Bohn says 100 per cent of Unify's SMB business and 90 per cent of its enterprise business is occurring through the channel. "This will become our natural go to market," he confirmed. "In the mid-market and large enterprise space we will continue on the journey to enable our channel partners. Our High Touch resource will also become more vertically focused. This means we can be increasingly relevant as 'subject matter experts' to our prospects, customers and partners."
From an investment perspective, a key focus for Unify is Circuit, its primary collaboration platform. "We continually evolve Circuit's functionality, scalability and integration options into a broad ecosystem of cloud-based applications," explained Bohn. "With Circuit and OpenScape Cloud we provide partners with a value-based offer that can be targeted both horizontally and vertically. Our partners will benefit from a cloud offering that allows them to on-board new clients, protect and develop their Unify base and re-monetise their non-Unify customers. This delivers a significant growth opportunity for our channels and Unify."
Bohn also pointed to significant investments around CPaaS (Collaboration Platform as a Service) with easy access to APIs. This will enable integrations between communication and business processes, for example in file storage or customer relationship management solutions. "Voice assistants are another exciting area of innovation," added Bohn. "Our heritage is in voice and this type of technology will soon become a key interface to Artificial Intelligence and other smart systems in the enterprise market. It's our responsibility to make sure we help lead this space, leveraging and integrating those platforms."•