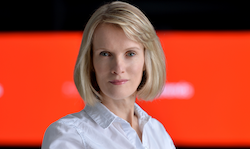 Helen Freestone, Director of UK Partnerships & Alliances at Vodafone, ranks highly in the league table of channel leaders. Dedicated to duty, people and partner-centricity, she displays all the traits of stand-out headship required to lead in disruptive times.
Freestone's passage from property lawyer to Vodafone top executive via a Microsoft directorship (and more in between) is a remarkable story of realisation, determination and ambition - with an injection of daring. "After more than six years of training in law it was not an easy conversation with my parents to tell them I wanted to follow my dream into technology," she said. "My Dad has just about stopped introducing me as his 'daughter who used to be a lawyer'.
After her epiphany Freestone moved away from law and immersed herself into the global technology industry where she amassed 20 years experience working in the private and public sectors. She is now responsible for leading the activity across Vodafone UK's Partnerships and Alliances business, which includes B2B partners, ISPs and industry partnerships. "Vodafone is one of Britain's greatest success stories so when the opportunity to lead Partnerships & Alliances came up in April I had to go for it," she added. "There is something special and exciting about working in the partner channel where entrepreneurs have risked everything to build their businesses. On spending time with them, listening to their aspirations, their challenges and feedback, I knew there was an opportunity to collaborate and grow our respective businesses. It is the energy and excitement of working for these companies that I find incredible."
Freestone has triumphed in all tasks of leadership and her past experience adds polish to the gleaming prospects she currently has in her sights. "I was inspired by the combination of opportunities and challenges, and also the chance to bring my wider experience - for example, from my time at Microsoft - to the table," commented Freestone. "I was part of Microsoft's journey from an enterprise technology supplier to a leading cloud solutions provider that developed both a consumer and an enterprise voice.
"My four years at Vodafone and eight years at Microsoft have shaped me into a creative, resourceful and focused leader. People and culture are a particular passion of mine and I pride myself on building highly engaged customer-focused teams that strive to over-achieve their targets. My core goal right now is supporting partners to face and take advantage of a rapidly changing market. This was one of the reasons for launching the new Vodafone Partner Programme at the beginning of the year."
Vodafone's partner programme has been in action for seven years but the revamped version is a converged scheme open to all VPS partners, both fixed and mobile. With a focus on rewarding capability and customer experience rather than volume, Vodafone replaced the Platinum, Gold and Silver tiers with new capability tiers called Approved, Specialist, Advanced and Total Communications. "Whatever a partner's ambition or capability the new structure enables them to find a level that suits them and offers the appropriate level of support," explained Freestone. "We have also created a suite of training and certification materials. For the first time, partners can gain certification across the Vodafone fixed, mobile, converged and cloud portfolios."
A third of Vodafone's partners have already used the marketing tools, assets and investment. And one partner has projected a 10-fold return in revenue on a joint investment in their social media campaign. "We introduced a new approach to how we work and support indirect B2B partners with this programme, and put our business customers at the heart of what we do," added Freestone. "Already, we've invested around £1 million in the programme during the last 18 months, and another half a million is committed."
With Vodafone's new programme firmly in place its direction of travel is plain to see, with new disciplines, structures and rewards that reflect value and growth in the fast evolving market around us. "We are at an inflection point in our industry," observed Freestone. "Things are moving fast and no-one can predict the future. However, what we can do is equip our partners with the tools, knowledge and skills to take advantage of any market change, no matter how quick or unexpected. In return, our partners give us real-time market insights."
Peer behind the market's surface layer and it becomes obvious that customer expectations and working practices have transformed, with digitalisation impacting on businesses of all sizes across all industries. "The pace of change is greater than ever," added Freestone. "While it's a challenge, it's also an exciting time if the channel can embrace and capitalise on the transformation. We're seeing a huge thirst for knowledge on how to sell, deliver and manage new technologies such as UC and the IoT in order to outperform competitors.
"Ambition remains high in the channel. Partners want to better understand their customers as well as explore new services and technologies to fundamentally grow their business. Therefore the technology that we and our partners provide to customers is more than communications, it's about working practices that fit with a modern age and a modern way of doing business. Then, it's about empowering partners with a programme that gives them the knowledge, tools and skills to better sell and service their customers."
The integration of communications is being realised across all types and sizes of businesses, whether it's the convergence of landline, mobile and communications applications, or across cloud and IoT services to create new business models. Organisations are looking for ways to deliver a greater customer experience and be more responsive to customers. Many businesses are looking for new innovations to drive more economic service models, and partners need to master the technologies that the new market direction demands.
"Businesses are on a journey that is driven by digitalisation, and our roadmap with partners mirrors this path," stated Freestone. "At the same time, market changes are providing many of the building blocks for the IoT, including the networks and SIMs that are opening the door to a new, highly automated data-driven world. Partners have an important role to play in this landscape. Their knowledge of industries, geographies and businesses means they are ideally placed to help companies digitise their operations."
Freestone's can-do attitude will ensure that the needs of Vodafone's partners are absolutely met no matter the challenges that may lay ahead in an uncertain market. Her capacity to staredown and overcome significant hurdles was displayed early in her career when she qualified to practice law in Commercial Property, an achievement that would have come as no small surprise to her erstwhile doubters. "I have a form of dyslexia," said Freestone. "As it was not spotted until I was at university, at school my teachers would either tell my parents that I was lazy or not bright enough, or that I would never amount to anything. I now don't believe anyone who tells me I cannot do something."•