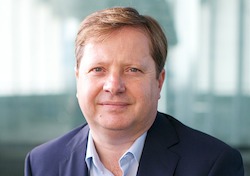 Comms Dealer has announced an acclaimed line-up of keynote speakers for this year's Comms Vision Convention at the world famous Gleneagles Hotel, 8th-10th November.
Conference Chair is confirmed as Andrew Lippman, Associate Director and co-founder of the globally renowned Massachusetts Institute of Technology (MIT) Media Lab and one of the world's foremost researchers on the evolution of digital technology. He is also a Senior Research Scientist and co-Director for Digital Life. Andrew's highly animated and engaging approach to discussing the latest trends and research will give Comms Vision conferees compelling insights into the future of communications technology.
In a rare conference appearance TalkTalk Executive Chairman Sir Charles Dunstone (pictured) will take part in an exclusive conversation and share his thoughts and experiences on challenging the status quo and stepping outside the norm, while creating a business culture that fuels growth and puts the customer first. "I'm looking forward to this year's Comms Vision at Gleneagles in November and in particular to having the opportunity to get to know our partner community better," he said. "Having worked in UK telecoms for over 25 years, I love the industry and have always found these events a great way to meet people and explore how to do more business together."
Also keynoting is Adrian Tucker, Chief Technology Officer, Public Sector/Retail, who spearheaded an 18 month technology transformation for the Department for Education. He will show how the project changed the culture of mobility and ways of working across the department; and discuss the challenges of realising opportunities through new technologies and how the hurdles were overcome. Adrian will also explain why digital is more about exposing value chains than making business processes faster; and why it's important for technology suppliers to develop a collaborative partnership with customers as a prerequisite to easing the transition to digital.
David Dunbar, Director at Workmodes Consulting, is well known for leading the development of BT's flexible working strategy, and as Head of Digital Workplace and Transformation at Nationwide he was responsible for planning and driving the digital transformation for 20,000 people. In his keynote, David will illustrate why a strong digital workplace strategy is crucial to the success of transforming organisations towards more agile, more flexible workplaces through technology, the physical space and culture.
Optimising the workforce through technology is also a big theme for Euan Davis, who leads the Centre for the Future of Work in Europe at Cognizant Technology Solutions. In his Comms Vision keynote session Euan will explore the future direction of workplace digitalisation, how technology providers can help to deliver the future of work, and show why all enterprises must rethink their operations in terms of technology, process and skills to create value and survive.
Survival is ultimately a matter of leadership, therefore 8x8 will introduce Mark Rhodes, author and international leadership speaker, whose keynote will emphasise why the future success of digitalisation in the workplace is as much about effective leadership development as it is technological innovation. He will explain what transformational leadership means in the more complex digital workplace, and why business and cultural change is imperative and can be achievable without having a negative impact on customer service. Mark will also outline new management skills and offer guidance on creating an organisational culture which together will unlock leadership success at a time of unprecedented workplace transformation.
A key driver of this transformation is the rise of SD-WANs and their impact on the UK ICT market, which will be disruptive and seminal, says Mark Lewis, EVP of Products & Development at Interoute. In his Comms Vision keynote, Mark will highlight the power of SD-WANs to digitally transform businesses, and shine a light on how giving CIO's what they want with a SD-WAN strategy will create new business opportunities for the partner channel. Mark will also outline where SD-WAN fits into the next generation of IT infrastructure - the new Cloud Fabric.
Gamma CEO Bob Falconer will elaborate on why digital transformation starts with the channel partner, and discuss how the channel can more effectively expand on its capacity to foster customer ties and derive greater margin, value and differentiation from innovative real-world network-based solutions. Building on this strand, Steve Best, Managing Director for Product Management, Strategy and Regulatory Affairs at BT Wholesale, will explore how resellers can successfully become a competing force in the new digital enterprise. He will discuss how the channel can respond most effectively to the new ICT ecosystem and on-demand world, driven by the rise of M2M, the IoT, growth in bandwidth, and new technologies such as NFV and SDN.
CityFibre, the disruptive infrastructure builder, and Entanet, the channel-centric connectivity wholesaler, are united by their shared vision on the essential role of full-fibre in serving the growing needs of the digital workplace. In their session, CityFibre Director of Strategy Mark Collins and Entanet CEO Elsa Chen will rally the channel to embrace the power they have to deliver full-fibre at scale and ultimately help to make Digital Britain a reality.
Comms Vision's enlightening line-up of keynote speakers and panel sessions (see box opposite) embrace all of the key elements that make up the overriding theme at this year's conference - 'Workplace and customer experience - Redefined for the digital age'. "We will explore the trends that are currently shaping and redefining the digital workplace, and examine the role of the partner channel and service provider community in bringing workplace and customer experiences fully into the digital age," commented Stuart Gilroy, Comms Vision Content Lead.