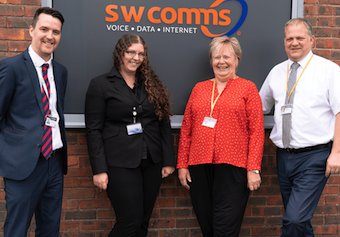 Despite what it says on the tin, South West Communications Group also has a long held presence in the eastern region of England, three decades to be exact.
First set up to look after a large customer in west Sussex by Sales Training and Development Manager Lynne Howard, the south east office in Portchester Business Centre near Portsmouth marked its 30th birthday this month.
Sales Manager Daniel Fuller-Smith said: "Despite our very obvious roots in the south west we have multiple customers in Hampshire, Surrey, Berkshire, West Sussex and East Sussex.
"Reaching 30 years illustrates how established we are in these areas and our general longevity in the industry."
Sales Director Sarah Flowers added: "Although our headquarters are in Exeter, we have maintained our Hampshire base to give us easy access to our existing and potential new customers."