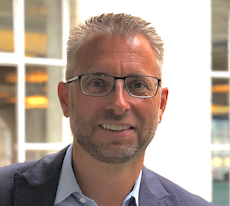 Acquisitions truly expose the growth ambitions of scale-up ICT providers and their appetite to gain ever wider competences, none more so than Optimity's purchase of Pebble IT in March this year, according to CEO Leeland Pavey.
FPE Capital backed Optimity acquired Pebble IT in early March, boosting its influence in the London managed services arena and augmenting its capacity to deliver integrated ICT solutions. The deal also extends Optimity's geographical reach. "Our priority is to fully integrate and tick the 'done, done, done' box!," stated Pavey.
Pebble IT is a managed IT services provider specialising in cloud, security and compliance, infrastructure and consulting services. Its tech partners include Google, Microsoft, Cisco and Sophos. The company has grown revenues 94 per cent over the last five years, and Pebble IT's MD David Osen joined Optimity as Chief Information Officer following the transaction.
London-based Optimity was backed by FPE Capital in 2016. "Being private equity backed our plan centres around growth," stated Pavey. "We have an integrated and complementary product range and have historically been concentrated on the London region. I expect that more of our business will be national and international based."
The acquisition gives Optimity the ability to deliver full end-to-end business IT solutions, which Pavey says will enable the firm to accelerate growth in IT and cloud services. "We can use our own connectivity network right the way through our product stack of managed Wi-Fi, firewalls, hosted telephony, cloud infrastructure, security and end point device management to truly help integrate our customers' IT infrastructures," he added.
As products become more integrated, so will the companies that deliver them
Optimity began its commercial life almost 20 years ago as a fixer of PCs and later developed into selling IT and telco services, and more recently rolling out fixed wireless access networks as an alternative to fibre optic cable. The business was established by Anthony Impey who was CEO until Pavey took over the reins in 2017. Today, Optimity employs 70 staff, serves over 1,000 customers and generates circa £8.5 million revenues.
"The company grew successfully due to the entrepreneurial style of leadership that existed," said Pavey. "Operationally this became difficult to manage, so three years ago we deliberately decided what products we would support, focus on and become good at. This meant saying no to some deals as we defined our product portfolio. The process gave us great visibility into our product set, what we need to develop, what skills we need to train and margins. It also helped to define our go to market strategy."
This all has a telling influence in the way Pavey is driving the company forward. And the acquisition of Pebble allows Optimity to manage the entire suite of IT connectivity, hosted, cloud and device management services. "Our interest right now is to develop our existing products," added Pavey. "And our growth strategy over the past 12 months has been to broaden our offering down the chain from connectivity, right the way through to end point device management and everything in between. We see a need for in-building mobile coverage which is on our product development and partnership roadmap.
"In recent years the convergence of telco networks and IT has been a natural evolution and I have driven this convergence within Optimity. With our customers we see the move away from private, office infrastructures towards cloud-based systems, remotely and securely accessible. This is driving our strategy towards agile, secure, cloud-based products together with the connectivity infrastructure needed to supply them. As products become more integrated, so will the companies that deliver them. One feeds the other."
Pavey set off down the telecoms road 30 years ago when fibre cable first started to appear. "My career has always centred around telco infrastructures," he stated. "I've built infrastructure networks across Europe, set-up large call centres as well as simple administration teams. But at the heart it has always been about building great teams of people."
Just a minute with Leeland Pavey...
Role models:
My father for his work ethic, and my mother for teaching me the importance of family life
What talent do you wish you had?
To run faster
Tell us something about yourself we don't know:
I'm a keen runner and cyclist and have completed a mammoth mountain stage of the Tour de France
What do you fear most?
Not finding answers to control the uncontrollable
One example of something you've overcome:
The dotcom bubble burst in the early 2000s
If you weren't in ICT what would you be doing?
I'd be a pilot
In hindsight:
I would have worked abroad more
The biggest risk you have taken?
I'm not a dramatic risk taker, although many decisions could be counted as a risk
Name three ideal dinner guests:
Billy Connolly, a hilarious story teller; Muhammad Ali, a childhood hero of mine; and Pink Floyd for the after dinner show
Your biggest career achievement:
Building high performing teams
Industry bugbear:
I would accelerate the integration of cloud-based systems. There is too much fragmentation