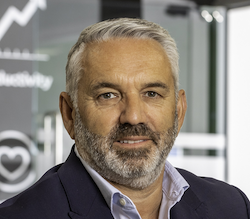 Perhaps the biggest hint of developments to come at Network Telecom stem not from its acquisition by a European investment powerhouse last year but the appointment of Duncan Ward as CEO three months ago.
Ward's prior work experience speaks volumes and had a direct influence on his decision to join Network Telecom as CEO in April this year. And like with other companies, he aims to elevate Network Telecom to the next level and beyond. It is certainly the case that turning strategic vision into reality is a potent skill of his; and in this respect his role in the creation of Orange Business, and how that relates to his current ambitions, is telling (more on this later).
Telford-based Network Telecom was acquired last September by Waterland-backed Enreach, which is based in the Netherlands, strengthening the parent company's position in the UK IT and comms market. It is also notable that German UC vendor Swyx merged with Enreach in July 2018 and acquired French UC and FMC provider Centile at the same time. Enreach is also the parent company of Voiceworks and ipnordic, and acquired comms and IT service provider Crystal Networks in the Netherlands, bolstering its play in the European UC market.
"The original strategy was to be the best in class telco in the midlands, but as part of Enreach we are looking to expand across the UK and Europe," said Ward. "Our growth plans are now supported by a network of sister companies across Europe, all with extensive product portfolios, an entrepreneurial spirit and expertise."
The original strategy was to be the best in class telco in the midlands, but as part of Enreach we are looking to expand across the UK and Europe
Network Telecom was established by Paul Maxfield in 1997 and provides telephony, hosted voice, lines and calls, connectivity, mobile and IT services to circa 2,400 small businesses. The company launched its NT Cloud hosted solution last year along with developments to its NT Multimedia desk phone. "In the next couple of months we will be expanding our cloud telephony offering to include a new fully hosted solution," revealed Ward. "Integrating with our touchscreen NT Multimedia phones and providing an intuitive user portal, this will be a game changer for our customers. Watch this space!"
The new market reality holds that traditional CPE could become a thing of the past; and it is Ward's view that if Covid-19 taught us anything it is that the cloud cannot be ignored, nor customer migration discussions and strategies delayed. "Cloud services are the absolute solution for the future, providing flexibility, efficiency and versatility to allow businesses to continue regardless of the circumstances and wherever their employees are based," added Ward.
Prior to joining Network Telecom he was COO for comms provider Toople. Previous positions include being Managing Director for mobile software company Bluestone Media, Divisional Managing Director for Fujitsu Services and Senior Vice President at Orange where he launched the Orange business brand.
"In bringing Orange Business to market I built the brand from inception, built the sales and marketing team and introduced a customer experience to give businesses a level of service they lacked in the past," stated Ward. "The strategy worked and we took over 20 per cent market share, much to the surprise of some of the main players. My role at Network Telecom is not dissimilar to the opportunity I had at Orange. I was given the chance to build and bring a fresh offering to the business markets.
"The opportunity at Network Telecom was to join an established and successful business that, apart from locally, remains relatively unknown. The portfolio is exciting and I now have the chance to bring it to market nationally and build an even bigger product and service portfolio. We will continue to have a strong presence and maintain our headquarters in Telford – but growth is necessary.
I've always been excited by fast moving technology and have never deviated away from the industry
"I am strongly focused on ensuring the growth of the business, bringing more top quality talent on board and vastly increasing our services and the entire customer experience. People are important and I believe in building a team with a skill set better than mine and looking after them well. Some decisions are not popular ones, but it's the way you make them that makes the difference to productivity, loyalty and overall results."
During the last year Network Telecom's staff numbers have grown by over 20 per cent, turnover was up 22 per cent and profit climbed by over 30 per cent. "We plan to build on these numbers considerably as part of Enreach," affirmed Ward. "The Covid-19 pandemic has made businesses rethink and as they begin to return to what we now call 'new normal' and flexible working is set to stay for the long-term, our unified communications solutions are positioned to provide them with the versatility they now need. Our biggest opportunity is to educate SMEs on the adaptable technology we offer and how it can benefit their businesses going forward.
 
"Businesses are of course concerned about flexibility and remote working, with many turning to cloud solutions for the answers. But, with this versatility comes the need for robust business continuity and disaster recovery plans. Organisations want to be prepared in a market that is now being made to think differently. This is at the heart of our product offering at Network Telecom."
Thus, Ward has identified the need for agility in both ICT provider and end user organisations. It's this requirement to react quickly to fast moving market environments, where sitting on one's hands is not an option, that has kept Ward's career path firmly on track in the comms sector.
"I've always been excited by fast moving technology and have never deviated away from the industry," said Ward. "I have learned a lot, seen many changes and been lucky enough to travel the world as part of the comms sector. All of this will come into play in my role at Network Telecom."
Just a minute with Duncan Ward...
What talent do you wish you had?
To be able to play the piano.
What do you fear most?
Failure.
Best piece of advice you have been given?
Listen before reacting.
Name three ideal dinner guests:
Barack Obama, Bruce Springsteen and the Queen.
Your greatest strength, and what could you work on?
I can passionately persuade people into agreeing to most things, but I can sometimes forget some of the smaller, but important details while working to get a job done.
Tell us something about yourself we don't know:
I am a fully licenced boat skipper.
One example of something you have overcome:
Being able to say no.
If you weren't in the ICT industry what would you be doing?
Sailing a boat.
Lessons learnt?
Enthusiasm can sometimes overtake more pragmatic decision making and you have to sometimes balance speed with making the right, thought out choices.
Top tip for resellers:
It's a new world with a new way of thinking. Be versatile and think laterally about all the opportunities that are now in front of people within this industry.
How do you relax when not working?
With a fine bottle of red.
The biggest risk you have taken?
Starting a business in south east Asia. The cultural difference was vast but I loved every minute of it.
What could you not do without in your job?
The backing of my family. I am away from home a lot and wouldn't be able to do what I do without their understanding.