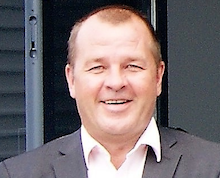 Pace Telecom CEO Jamie Hughes has embarked on another expansion period with acquisitions and channel development dominant aspects of his growth strategy.
Wrexham-based Pace Telecom began its commercial life 25 years ago in Hughes' back bedroom supported by a second-hand fax, a 'clapped out' car and the purchasing might of a £50 note. Its founding mission was to purvey photocopying machines but the incorporation of mobile phones soon followed. Come 1998 when the mobile market shifted towards pay-as-you-go Pace Telecom was operating out of seven outlets – then Hughes set about repositioning the business. "We became a licenced fixed line communications supplier," he stated. "In 2002 we were the first WLR provider in Wales."
Four years later Pace Telecom set down the acquisition trail and snapped up 18 telecoms businesses over a three year period. In 2012 Hughes saw that SIP would become the standard for UK telecommunications and launched his first cloud offering in 2014. "During the last six years we invested over £1 million to prepare our business as a go-to place for everything SIP and hosted UCC," he added. "Within the next three to five years we aim to treble turnover and increase our workforce to over 100 people. We have spent the last seven months converting our offices into a state of the art technology hub and we're poised to target more acquisitions later this year."
For three years Pace Telecom has worked with France-based comms provider Centile and developed its own infrastructure across a number of data centres. According to Hughes the company's comms platform is an open invitation to any customer to exploit the cloud and its many advantages. 
"We have been migrating customers from PSTN to SIP and Pace Cloud for two years," he explained. "Pace Cloud is our own unified communications platform and 20 per cent of existing customers have already migrated. With the full bundle now live we should see a further uplift in migration."
Pace Cloud offers basic PBX to presence, instant messaging, video collaboration, screen sharing, call reporting, call recording, CRM integration and fixed mobile convergence. The solution serves customers with two users through to 500 and is said to be 'infinitely' scalable, providing a foundation for Pace Telecom to extend its portfolio into IT services and managing customer transitions from premise-based servers into the cloud. Notably, the company's role as a digital champion was recognised last month by Secretary of State for Wales Alan Cairns who opened its remodelled offices.
The extent and thoroughness of Pace Telecom's preparations and future planning raises the question of how many resellers will struggle on the digital stage. "With the ISDN switch-off in mind many of our competitors are finding themselves in the same position we occupied six years ago," commented Hughes. "Resellers that lag the market will run up against hurdles. Perhaps the challenges will be insurmountable for them unless they have a robust SIP and hosted UCC offering. Without that it will be more difficult to survive. 
"Pace Telecom's primary growth strategy has always been via our partner channel and acquisitions. Over the coming two years this will be accelerated as we acquire smaller businesses wanting to offer customers more than their current capacity and abilities allow."