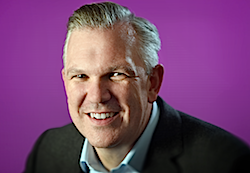 As Justin Harling, CAE Technology Services CEO, charts the company's journey towards becoming a £100m revenue business this year we see ever more clearly the ongoing growth potential of a long-established IT giant breaking into a gallop.
In its financial year ending June 2018 CAE broke through the £100 million barrier, almost doubling the £56 million generated in 2015. Harling now plans another revenue rise of 20-plus per cent next year. Also trending upwards is CAE's headcount which sits at just over 280 with a forecast of 300 by June 2019. "During the past three years we have been in high growth mode and there is no shortage of opportunity in the market," said Harling. "We are having to look wider to find the most talented sales and technical resource and make sure we have the right systems in place to support our growth."
CAE Technology Services was founded in 1992 and its biggest strategic step-change came in 2004 with its first MBO. This was followed by Angel finance and a restructuring that opened a new front and defined the management and ownership team today. CAE's customer base is circa two thirds commercial and one third public sector and it targets the higher end of mid-market and lower end enterprise. "These customers are experiencing the greatest change with established IT teams under pressure to deliver against a new digital agenda," stated Harling. "It is in this space that partnership and flexibility are the most important factors sought by customers. We now have a service led approach that resonates with the digital transformation agenda."
CAE's proposition comprises the key technology areas of networking, data centre and the digital workspace, all with a security wrap. Each area has a key vendor partner – Cisco, Dell EMC, Microsoft and Palo Alto – with a number of complementary and competitive propositions to ensure solutions are always available while maintaining a level of vendor independence. "We start with a service led approach to deliver a framework for digital transformation for IT infrastructure – the move from old to a new style of IT," added Harling. "Some businesses are struggling to implement change and take a defensive stance in terms of trying to protect outdated revenue models. Growth has come from attacking these and exposing situations where providers may not be acting in a customer's best interests. This approach has entailed significant levels of investment across the business."
Customers are experiencing the greatest change with established IT teams under pressure to deliver against a digital agenda
Harling's main priority is to continue investing in growth where it adds value. The challenge is finding the right balance between the level of investment and current performance. "There is so much we would like to achieve but we can't do it all at once, so we're having to make hard decisions on what to prioritise," he said. "We are not opportunity constrained and our relevance to customers has never been greater. The same applies to vendors. They will need companies like CAE to take solutions to customers effectively. What those solutions are will evolve over time and it is the ability to adapt that is strategically important over the long-term.
"The portfolio will continue to evolve and by introducing greater intelligence through systems and technology we will be able to get our service to an increasing number of customers without the corresponding increase in people. We are committed to a strategy based on creating intimacy and that will always need the very best talent with the right combination of technical and customer service skills. It is the level of intimacy we can create with customers that defines our role with them."
While Harling loves to champion the impact of intimacy on positive client relationships, snuggling up to new technologies is not so clear cut. "The scope is huge, so selective investment decisions are required," he commented. "Fear Of Missing Out is not a development strategy so we often have challenging decisions to make. Take the security market: It's moving fastest and there is an exciting number of creative solutions that we would like to integrate into our proposition. 
"Data centre management and orchestration is another area that develops quickly with a number of different strands to bring together. That gives us an opportunity to bring the requisite elements together. We also see the rise of software in networks, multi-cloud managed data centres and a play into dev opps for app delivered services. Software is the catalyst for change."
How talent is brought into the industry still isn't good enough. We need more diversity and inclusivity
Harling's early interest in IT – first sparked by the purchase of a BBC Micro – was later fuelled by a history degree which included a computing module. A spell in accountancy followed university and the combination of these experiences put Harling on a career path in IT armed with a rounded experience in both technology and business. He quickly came to believe that a business's sole obligation to customers is to deliver impeccable service, a commitment that continues to sustain CAE.
"Customers are better educated and skilled in core infrastructure areas but the need to engage with the wider business around digital capabilities means partner skills are still in demand," he noted. "The theory used to suggest that the money was in the complication but we firmly believe that it should be in the simplification – that way there is shared benefit."
Harling believes growth also comes from getting to know customers better than anyone else and he is shaping his strategy according to that relationship. "It is about fully understanding customers and having the staff, process and systems that means customers love what we do," he said. "This fundamentally means an organic growth strategy that maintains our culture and helps us attract skilled people by enabling them to flourish in the environment we offer. The way talent is brought into the industry still isn't good enough. We need more diversity and inclusivity."
Just a minute with Justin Harling...
Role model: 
I take a small piece from a wide variety of people
What talent do you wish you had? 
Being able to DJ and bake the perfect macaron 
What do you fear the most? 
Running out of cash and mushrooms 
Tell us something about yourself we don't know: 
I have broken fingers on five separate occasions 
If you weren't in comms what would you be doing? 
International book dealer or celebrity baker
Your greatest strengths and what could you improve on? 
I can fuse together creativity with an analytical mind. I could always have more patience
What is the biggest risk you have taken? 
The first MBO was stepping into the unknown in so many different ways
How do you relax? 
Spending time by the sea and reading a book
Name one thing you couldn't do without in your job: 
The Internet 
Name three ideal dinner guests: 
Henry VIII, he oversaw one of the greatest periods of change in this country and has been a specialist study area of mine; Stephen Hawking, an extraordinary mind and wicked sense of humour; and Cleopatra, a world defining combination of brains and beauty
In hindsight: 
I would have pushed harder with greater courage at times when there was doubt
Top tip for resellers: 
Listen, whether that's to customers, colleagues, friends or family