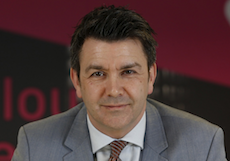 Vapour Cloud CEO Tim Mercer's decision to go it alone shows us a man with the courage of his convictions no matter the risk.
The rise of West Yorkshire-based Vapour Cloud owes far more to the courage and conviction of its founder than can be lauded in this article. It is beyond words. Who else would trade in their wife's car to help fund a start-up? In hindsight, what was a risky strategy with no back-up plan now makes perfect sense as Mercer puts Vapour Cloud on the road to impressive growth. Indeed, Mercer has delivered what a no-risk approach could not. "In 2013 I sold everything and my wife gave me five years to make it work," he stated. "Failure was not an option. But I always knew I'd own my own business. I had a knack for spotting a market niche and the drive and passion to make it work."
From the outset there was no shortage of ambition and discipline to get the business moving. "I needed funding and came upon the Finance Yorkshire Dragons' Den style tendering process," explained Mercer. "I pitched the same core services that we offer today, fuelled by next generation WebRTC capabilities, and was extremely honest in outlining the £1 million I required to build a network and make my vision a reality. We attracted third party investment from Seneca which totals £4 million to date and our growth story began. 
"The first year was challenging, not least because I'd sold my wife's car. But organisations slowly began to trust us with their comms infrastructure. They put their investments on the line by going with Vapour rather than a more established yet traditional provider. But the fact that these customers remain on board today – and they have re-signed for a second term – speaks volumes."
Mercer's intention has always been to provide agile business communications without 'baggage and corporate restraints'. "The focus has to be on great technology delivered with even better service," he stated. "It sounds simple, but what began as a leap of faith has satisfied a market gap. Having experienced poor customer service delivery within the IT space I realised there was a huge opportunity to exploit. I was also convinced that the cloud revolution was coming."
Ever since Mercer embarked on his journey there has been no clear sign of self-doubt because he is rooted in the reality of his own and Vapour Cloud's capabilities, which perhaps makes his growth projections more compelling. "My longer-term aim is for us to become a £15-30 million recurring revenue based organisation delivering the same services but with a best-in-class portfolio that will inevitably look a little different as we develop, test and release new cloud products," he stated.
"We've established a 96 per cent net recurring revenue rate to date, so our business development model is easy to maintain. We had a 64 per cent seed of growth in 2017 and hope to realise 65-80 per cent by the end of this year. That's if we focus on organic growth alone – however we recently announced a £10 million acquisition trail to accelerate our expansion with a buy and build strategy."
Mercer is seeking to acquire a northern IT security company, ideally with a Microsoft public cloud speciality and Partner status, plus a traditional PBX specialist. "These two acquisitions would bring people, technology and a bigger base into our business," he added. "My priorities are to drive growth, aided by our buy and build strategy, without ever weakening service levels. We'll use our investment fund to fuel product development and we'll look for more people. Great talent is always hard to find. That challenge feels extremely real as we look to the future."
Mercer now has a team of 31, over 100 clients and has set his sights on £12 million turnover by 2020. But while growth stats can often define a business journey, according to Mercer there is a bigger story around the people he's recruited, many of whom he has known for a long time, including Finance Director Jason Sharp and Cloud Director Steve Dempsey. "Other colleagues are at the start of their career but they've all got something special to contribute," commented Mercer, who began his own career in the Forces (an experience that taught him what it truly means to be a team player). 
Following a seven year stint in the army, including active service during the Gulf War, Mercer took on a number of sales jobs and in 1996 moved into a commission-only role for a managed printing company in London before heading home in 1999. "I secured a job selling data networks with TeleWest," recalled Mercer. "It merged to form NTL and then Virgin Media. By 2011 I'd worked my way up to the position of Regional Sales Manager before deciding to go it alone. We took a huge risk and put everything we had into making Vapour work. The cloud revolution came and a satisfying outcome of our achievement is employing a talent-rich team that's hungry for more.
"We were early adopters of cloud technology which, while a risk at the time, now sees us pick up sizeable contracts. The market has shifted and clients are seeking cloud-first solutions. They don't want to work with organisations that just dabble in this complex space. They want to invest in businesses that live and breathe this world, and have done so all along. Our client base is made up of growing SMEs and blue chip brands that are familiar household names. I love this mix." 
Vapour's solutions sit under three brand names – Hollr (unified voice comms), Sanctm (secure storage and backup) and Tunnl (network connectivity). How these products and services take shape and are deployed differs depending on the brief and budget. "We still remain true to the services we wanted to offer at the start – secure voice comms, network connectivity and storage," noted Mercer. "That will not change. But our cloud product suites are evolving and becoming more exciting. We invest constantly, and the breadth of our offering means we can now attract clients of all shapes and sizes." 
Mercer has also worked hard over the last two years on developing channel partnerships, a model that will be pivotal to Vapour's future expansion. "I don't want 500 ordinary partners, I want 15-20 awesome ones," added Mercer. "If we get our next partners right and give them the tech they need to satisfy the requirements of their base, the mutual growth will be phenomenal. We know what we're good at and we want to help partners concentrate on where they can add value. Together we'll secure the big deals. We've helped generate £2 million of additional revenue for one partner since 2016. There are two huge new channel collaborations that I am keen to reveal to the market. But all I can say right now is 'watch this space'."
Mercer's strategic planning policy has to date got everything right, so it would be wise to take note of where he thinks the industry is heading. "Digital transformation is a growing element of our marketplace, moving into more secure services," he observed. "Unified and multi-channel comms is becoming pivotal for many organisations, particularly those with contact centre operations. The on-premise to SaaS shift is also paramount, and we're investing heavily in securely recorded video.
"Against this backdrop organisations are moving away from one-size-fits-all vendors in favour of defined sector specialists, which suits us fine. This is why our partner-led approach to servicing client tenders is currently working so well. The real potential lies with organisations that place innovation at the heart of their roadmap, rather than just talk about it. Customers are getting savvier and they don't accept things at face value any more."