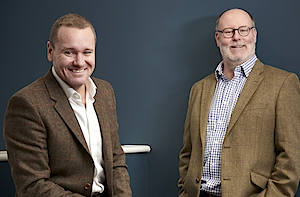 For White Horse Telecom to fulfil its growth potential it must close the gap between MD Paddy Coppinger's expansion ambitions and his firm's operational capacity to realise them. In this Phil Donigan is the harbinger of a step change.
The appointment of Donigan, who was formerly STL Communications Sales Director, will shift White Horse Telecom's structural and strategic plates, and inject a potency boost as he seeks to take the company to the next level of sustainable and profitable growth. "I've known Paddy for a few years, we get on well and I've always admired what he's achieved with White Horse," stated Donigan. "The opportunity to join the business offered a fresh challenge and it was a 'now or never' decision. I'm currently immersed in systems, structures and procedures, but going forward we'll be focusing on growing existing base revenues through diversifying our product and service portfolio, as well as new customer acquisitions."
Donigan entered the comms reseller sector over 20 years ago, spending almost two decades at STL where he rose through the ranks and accrued priceless business experience. "I'm well versed in what's involved in taking a business from an established and strong starting point into sustainable growth," he said. "I've also experienced supplier and partner management. These are well aligned at White Horse but there are new partnerships that I'll be looking to implement to broaden and strengthen our offering. 
"Furthermore, with the recent acquisition of fresh and experienced resource, new channel partnerships will almost certainly result as well as the strengthening and development of key existing relationships. Partners have proved critical in delivering and supporting solutions, allowing us to punch above our weight. Our portfolio will also develop. However, we'll still be focused on driving forward with the products that have formed the bedrock of the business up to this point – it's an evolution, not a revolution."
Donigan and Coppinger are unified in their vision of White Horse Telecom's journey and how to most propitiously go about strategising the road ahead: "I've come from a business which we scaled significantly in recent years and that's the ultimate goal with White Horse Telecom," stated Donigan. "It's about spreading the load, allowing both of us to be more strategic in our activities and adding scale to the business sustainably, without losing the customer-centric ethos and strong reputation that White Horse has developed."
I can't wait to do it all over again with Paddy and the White Horse Telecom team
Hungerford-based White Horse Telecom was established in 2006 by Coppinger following a spell working at carrier level. The business has grown steadily from the outset with a number of significant customer acquisitions under its belt. Donigan's arrival has now raised expectations in the power of White Horse to lead the field in its chosen markets, and his experience at STL brings a retrospective understanding of how to make an organisation more effectively deliver its goals. Such endeavours were manifestly displayed during Donigan's rise to influence at STL Communications. "Playing a significant part in STL's growth from a fairly small operation to the sizeable, high profile and well respected organisation it is today makes me proud," he said. "I can't wait to do it all over again with Paddy and the White Horse Telecom team."
Donigan will build on White Horse Telecom's achievements to date and show the channel - and customers - a roadmap that meets the demands of the market. "We are targeting a significant increase in revenues, the customer base and the team," he commented. "Growth will come from a select group of products and services and our choice of supplier will be absolutely key to success. We'll also expand the team. Paddy and I are committed to showing that it's possible to grow a comms reseller business successfully and sustainably while being first and foremost the 'good guys'."
Donigan is pursuing his goals with a fresh perspective, again shaped by previous experiences that now serve to clarify his modus operandi going forward. "In hindsight I'd have been bolder with some of my decisions around the delivery of new next generation products," said Donigan. "If I had my time again I'd have thrown more effort and focus into these and not spent so much time on maintaining an ageing base of hardware products. I'd also have hired differently, investing more heavily in specific skill sets rather than trying to 'grow my own'. Now, I see our opportunities in embracing new technologies where appropriate, commercialising them and growing the business."
Partners have proved critical in delivering and supporting solutions, allowing us to punch above our weight
In Donigan's book there's never been a better time for resellers to add value for their customers. "In a market that's becoming overcrowded with similar products we have an opportunity to simplify things for our clients and offer genuine best of breed services," he added. "Our key opportunity to demonstrate value lies in our service proposition: We're with our customers all the way – that's the White Horse Telecom message."
Donigan hopes to open a yawning gap between White Horse Telecom and its competitors in the hosted telephony and Ethernet arena over the way solutions are planned and implemented. "We deliver leading edge solutions that require a low touch once implemented," he explained. "That's one of our main points of differentiation in that every solution delivered is meticulously planned, ensuring a smooth migration. We've established a significant base of hosted VoIP clients in recent years and become experts in delivery methods, with Ethernet now forming a major part of our customer offering. We're focusing on developing our established portfolio with some other key products and associated service offerings, including cloud computing and backup. We're also focused on mobile services, especially integrated 'joined up' mobile solutions."
The message of Donigan's appointment has been well heeded, but to make himself heard in certain far-off quarters he turned up the volume on what he rates as his overriding industry bugbear. "I'd encourage some carriers to recognise the real value of the reseller channel," he emphasised. "We are the experts when it comes to customer engagement, experience and ultimately satisfaction. Carriers are good at product – that's what they do. The VAR channel 'does' customers. That's why we exist and there's an opportunity for some of the major networks to recognise this and focus more on businesses like us to deliver their services in true partnership."
 
Just a minute with Phil Donigan
Role model
I take inspiration from people every day
What talent do you wish you had?
To be more comfortable public speaking. I'm told I'm good but it doesn't come easily to me
What do you fear the most?
Failure
Tell us something about yourself we don't know
I've been a keen amateur Triathlete
Name three ideal dinner guests
Jenson Button, the guy's a formidable competitor and winner but also a top bloke; Steve Coogan, I'm a massive Partridge fan; and Eric Watson, one of my key influences while growing up in the Middle East. He was my school teacher and looking back, the nearest thing I've had to a mentor
Your strengths and what could you work on?
Tenacity is a strength, which can also be a weakness in terms of picking battles and knowing when to let things go. But I'm terrible at remembering peoples' names
How would you like to be remembered? 
As someone who succeeded but did it in the right way
Name one thing you couldn't do without in your job. 
My laptop and softphone
Best piece of advice you have been given? 
Don't fall out with people. You never know what's going to happen in the future
What possession could you not live without? 
My car
Give one example of something you've overcome 
I didn't go to university whereas the majority of my friends and peers did. I don't actually see this as a disadvantage, providing you have a vision of what you want to achieve
If you weren't in comms what would you be doing? 
Something to do with property and/or cars
The biggest risk you have taken? 
Leaving an established, successful and long-term position to pursue a new opportunity
How do you relax when not working? 
Time with my partner and children, as well as exercise
Top tip for resellers 
Successful selling is not about price