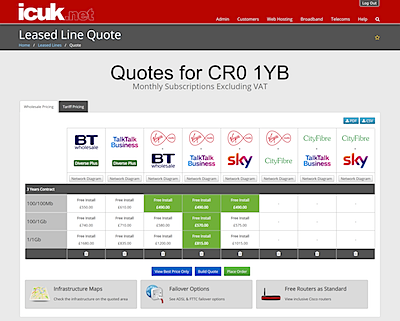 A new quoting tool for resilient and failover leased line circuits has been introduced into version 19 of ICUK's control panel.
"The tool enables users to see in seconds the resiliency options that can be delivered while taking into account fibre availability and the POP locations," said Director Paul Barnett.
The company utilises multiple fibre providers to the client while achieving physical resilience within ICUK's network and redundant hardware on site.
"ICUK works with seven fibre and two broadband carriers which combined with a growing number of ICUK POP locations enables us to offer true resilience," added Barnett.
He also noted that ICUK has witnessed a growing trend with businesses not just taking up Ethernet but pursuing resilient designs because downtime is too costly for them. 
"Regardless of whether a budget can extend to a resilient Ethernet connection, or simply making use of available broadband technologies for failover, our quoting tool now presents all options," he stated.
Neil Barnett, Head of Business Development, added: "The new tool ensures that our reseller can be confident that true resilience will be delivered with the quotes displayed. If a combination doesn't deliver diversity and resilience, it doesn't appear. Pricing is kept simple and can be increasingly justified for any Internet reliant business."