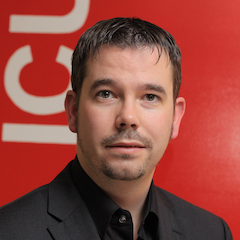 ICUK's product development and innovation prowess is thundering into view again with the launch of a new VoIP platform that Director Paul Barnett says delivers a genuine breakthrough.
Creating winning products that empower and enable partners is core to ICUK's success and its new VoIP platform continues the innovation theme that has defined the business since it began its commercial life in 2001, established by Barnett and Leslie Costar who were school friends with a shared interest in computing and networks. The company then resold dial-up Internet from CIX (which was formally owned by Legal & General, Telnor and Pipex and acquired by ICUK in 2011) and went on to resell broadband, web hosting and traditional telephony. "We hated every second of that experience," stated Barnett. "We were rebadging another service and when it came to in-life support we had no visibility or control."
Development rates are relentless and primarily driven by feedback from our reseller base
It became obvious to Barnett and Costar that product development and innovation would create a competitive advantage and ICUK has taken a refreshing approach ever since. "We decided to mis-spend our youth on developing the platforms that didn't exist for resellers," added Barnett. "We built our own network and started working with carriers directly for connectivity. Fast forward 21 years and our control panel is regarded by some as the best in the industry. We offer a single unified control panel, fully developed by in-house developers that gives our army of 850-plus resellers the ability to resell, rebrand and support connectivity, telecommunications and web hosting services."
The control panel has been key since day one. It allows staff, resellers and their end users to see and interact with ICUK's services with a high degree of confidence. "By empowering others, and sharing information, we have not felt the need to replicate the large teams that our competition have amassed," noted Barnett. "Some of the world's largest companies and brands have bought into this philosophy and we are supporting their communication requirements."
ICUK is a small team largely focused on development and technical support. There are no sales staff nor account managers, so development rates are relentless and primarily driven by feedback from its reseller base. "Development-wise we have been split across existing platform progression as well as building our in-house VoIP platform, and sowing the seeds of other projects," said Barnett.
ICUK has been successful with WLR3, being one of only a handful of directly integrated parties with no dependency on third party integrators. "Ensuring that we could offer our WLR base a proposition to move their lines and calls too was a logical step for us," added Barnett. "As with all our platforms there is an internal reluctance to simply resell or rebadge another solution. What you are seeing is very much an ICUK product first and foremost."
Much feedback from ICUK's existing base, combined with competitor analysis, went into the VoIP platform's design. "Looking back, the thought processes were staggering," explained Barnett. "As a new entrant to this space, and with a blank sheet, we wanted to ensure our solution addressed the frustrations experienced by resellers using other VoIP platforms. By putting fixes in place we could quickly form a tick list as to why our platform may be selected over more established entrants.
"Furthermore, we didn't want VoIP to be a burden on our support team. The design had to be intuitive and inviting, and in doing so we wanted to deliver something that wasn't met with 'how do I...?' type questions. We have met those aims. Less than two months since launch we had over 2,000 subscribers and not once have we had a reseller ask for training sessions, or a request to be walked through the process. This is testament to our design philosophies."
Copious efforts are now being made towards launching an API for the VoIP platform, an in-house developed softphone and Teams integration. The company is also assessing mobile data solutions to sit in its connectivity portfolio, complementing existing technologies and providing opportunities linked to the the WLR switch off.
ICUK can rightfully claim a distinct pedigree, and its rich and innovative heritage has become a hallmark. "We continue to design intuitive and advanced wholesale platforms for communications and connectivity," added Barnett. "They were started from the ground up, often adopting difficult paths to market, but what we have is genuinely innovative. We very much enjoy what we do and have built a great loyal team who share our enthusiasm. We are independent, debt free and have no external parties influencing our future in contradiction to the merry-go-round that this industry seems to be. Our success will continue as long as we remain true to our philosophies. We enjoy being a small team and have no ambitions to replicate the call centre culture of our competition."