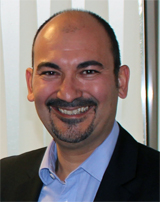 The result of Tollring's astute partnering strategy is that Managing Director Tony Martino has gathered ever more cards to his pack and become a player on a wider stage.
Martino arrived in the UK from Australia in 1994 after completing a computer systems engineering degree. He spotted an advert in the Evening Standard for a technical service's role with the fledgling Tollring and got the job. Its CEO and founder, Chris Mennie, had a big influence on Martino. "Tollring was founded on technical knowhow and we gelled from the outset," he said. "My technical perspective was a great fit with Chris' sales expertise. Working at Tollring has been the best job I've had. In fact, it's the only job I've had."
Mennie left the company in 2002 when Martino led a management buyout and took over as Managing Director. "My Italian origins mean that I'm passionate and family is very important," said Martino. "This includes my Tollring family. Everyone has a part to play wherever they sit in the company. As the business grows this will become more challenging but I'll do my best to ensure we don't lose the family ethos."
Tollring is a well-established software developer specialising in telecoms management, billing and call recording solutions, delivered on-premise or via the cloud. The firm's product suites are all developed in-house and Martino prioritises high levels of re-investment into product development and infrastructure.
Headquartered in Uxbridge and with offices in the USA, Australia and India, Tollring has 35 staff and year-on-year profits driven by incremental organic growth since 2010. Partnerships with Samsung, Mitel and BroadSoft extend Tollring's global reach. And its solutions are delivered through 850-plus channel partners including ICT resellers, SIs, SPs, BPOs and phone manufacturers. Almost 6,000 companies across the UK, Europe, USA and Australia depend on Tollring's solutions that report on an estimated 470,000 business phone lines and telecoms devices. "Investment in staff, product development and marketing is on the increase," said Martino. "We are currently experiencing incredible growth and we expect this to continue over the next two to three years."
Managing growth involves meticulous professional judgment. It must balance the requirement for seamless efficiency against uninterrupted service levels for new and existing partners across the world. "We will take what we've learnt in the UK and replicate it in global markets, but managing this growth is currently our main challenge," added Martino. "It is far more challenging than we first thought. As our brand gains better recognition we need to be efficient as we expand into new partnerships around the world. The big question is how best to service our new partners. Our solution is to recruit good people while ensuring our products and services are designed to be easy to support. This means empowering our partners to become true experts and helping them to take our products to market."
Tollring's products revolve around what the firm is good at - telecoms analytics. The potency of analytics lies not just in the bulk gathering of data but in how that data is used. "This is a broad area and we are constantly looking at how we can evolve our proposition and build on our current product set," said Martino. "The focus is always on data collection and bringing valuable insights for our clients."
Other areas of development are Tollring's call recording technology and bringing fraud management solutions to market. "Our partners have fed us their requirements," he explained. "Fraud continues to be a real problem, particularly around the adoption of SIP and the cloud. We are developing some advanced fraud monitoring capabilities along with the ability for resellers to quickly provision our services to their customers. Our overall approach is to develop and market products that are aligned to a specific technology and then white label them. This in-skin approach has proved hugely successful with Samsung and we are now mirroring that with Mitel and its channel to take our products global."
Martino's white label strategy enables Tollring to develop long-standing partnerships, and the 10 year relationship with Samsung is a testament to Tollring's ability to keep its products relevant to the market. "The latest ICS Online solution enables us to repeat this approach in a simpler way and offer our white label solution to all of our resellers," stated Martino. "In turn, they can offer our services under their own brand. They can differentiate their offer by avoiding me-too products and ultimately have more engaged conversations with customers that don't revolve around price."
Tollring has been having such conversations from the outset. In the early 90s, with three staff working in Piccadilly, Tollring delivered telecoms billing solutions to its London-based clients. While these were not sophisticated by today's standards they were cutting edge at the time. "For the old techies like me, our applications were written in DOS and connected to a PBX system with a RS 232 serial cable," recalled Martino. "On the back of this we provided some innovative telephony billing applications. This was during the rise of serviced offices and we successfully delivered billing and communications management tools for these new office facilities."
The extent of Tollring's commitment to lasting relationships is revealed in the values that have guided its partnering policy for over 22 years. Tollring was selected as a software applications partner for Samsung Business Communications in September 2004, providing a white labelled version of the iCall Suite. This was a significant milestone for Tollring and a turning point for the business. "Samsung has remained a long-standing partner," added Martino. "The success of our Samsung relationship helped to define our strategy on how we take our products to market and we have since mirrored this relationship with other partners."
The OEM partnership with Samsung expanded to Europe in 2005 and in 2011 to Australia. Two years later Tollring formed an OEM partnership with Samsung Telecommunications America. In 2011, a partnership was formed with the sole UK distributor for Ericsson-LG, Pragma Distribution, to provide integrated call management, contact centre and call recording solutions for the iPECS PBX range.
In another significant move Tollring linked up with BroadSoft in September 2014 and joined the BroadSoft Xtended Developer Programme to introduce iCS insight to the BroadSoft Marketplace. The OEM agreement with Mitel followed in April 2015 under which Tollring delivers cloud analytics on the MiCloud hosted telephony platform. "Mitel has recognised how important Business Intelligence (BI) is for its customers so will provide iCS Online to its channel partners as a white labelled solution," commented Martino.
Modern technology is eroding business models once seen as pillars of the comms industry, prompting companies such as Tollring to shift tactics and adapt to survive. The chemistry of comms is in constant flux, and the adoption of SIP and the move to the cloud has had a major impact on Tollring. "We've been able to capitalise on these developments, for example, with our cloud-based call recording IP that is fully owned by Tollring," explained Martino. "The evolution of BI also had an influence on how we have developed. One of our core skills is the management and presentation of data in real-time to our clients. So the fact that BI is a key driver for businesses is a big factor in our growth and success."
According to Gartner a CIO's top three priorities are BI and analytics, followed by the cloud and mobile. "We are aligned with these priorities as we work to ensure our analytics are available on any device at any time," said Martino. "The key is not just telecoms but unified communications. We are looking to offer some new cloud and UC services such as Skype for Business analytics that will have a strong partner focus."
End users are also investing heavily in sophisticated CRM systems and a priority for Martino is to ensure Tollring's analytics can be accessed by them. "We will be enhancing our APIs and making them more accessible and available," he added. "We will evolve our products so that customers can extract and consume our analytics as easily as possible but not necessarily via our own systems."
Also in the pipeline is a new version of ICS Online and Desktop planned to launch in March. "We've made significant enhancements around the user experience and updated the portal so partners can better utilise our services," said Martino. "The new products will help partners to understand their customers better and will give them greater insight into how customers are consuming their services. In June we will also introduce the fourth iteration of the IC360 telecoms and expense management solution within the reseller space. This has a strong end customer proposition so resellers can look at all telecoms expenses within an estate and see how customers are using their services.
"And while there are excellent billing providers in the market, we are also looking to partner with these providers to enhance the offering that partners can take to their customers. The key focus is consolidated billing and utilisation of services to ensure our partners and their customers have a full understanding of their entire telecoms infrastructure."
Tollring's analytics and BI services help resellers to stay relevant by enabling customers to measure efficiencies from their transformational projects. "We urge partners to understand our product portfolio," noted Martino. "I'd like those in the channel who have known us for many years to see our products with fresh eyes and fully consider the huge range of opportunities that are now available to them. We have secured access to new markets, now we need to ensure that our audiences are informed and understand what we have to offer."•