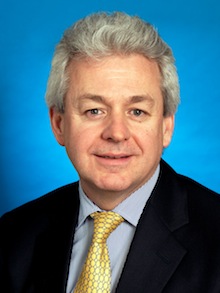 There is no argument against selling integrated solutions: Convergence should be mainstream for all resellers and positioned as the de facto proposition, according to Daisy Wholesale which last month showcased the growth potential of resellers who understand the value of its new One and Only Convergence Solution and Sales Academy.
A hundred telecoms and IT resellers descended on the BT Tower on 20th February to witness the launch of Daisy Wholesale's One and Only Convergence Solution - which incorporates four new products and came to life in partnership with BT Wholesale. According to Daisy Wholesale's Sales Director Garry Growns (pictured) the challenges faced by resellers seeking growth in the converged comms and IT space are now dwarfed by the opportunity he presented to delegates, with the market potential unlocked by a combination of Daisy Wholesale's new SIP, SD-WAN, Broadband Quality of Service (QoS) and Unified Communications app - which alongside hosted voice and mobile form the overall proposition which has been optimised from the ground up for the channel. "We know the convergence opportunity is huge, with 70 per cent of businesses planning to deploy hosted cloud solutions," stated Growns.
He urged voice, data and mobile resellers to end any hesitancies over selling converged solutions and he says Daisy's new Sales Academy - set to launch during the first quarter of its next financial year - will help to give them a leg-up into the converged world and also accelerate a growing trend he sees in the Daisy Wholesale partner base, which now numbers circa 1,400 resellers. "Many partners have already recognised the changing market and are taking four or five of our core products," stated Growns. "Our One and Only Convergence Solution and Sales Academy will make this process easier and accelerate the momentum of this trend. We want to help partners grow their businesses by grabbing the convergence opportunity with both hands."
Not to do so would be absurd, he believes, when you consider the substantial number of businesses open to temptation. "ICT buyers want what's best for their business," added Growns. "They don't buy technology just for the sake of it, they buy because it gives them great business benefits. Our One and Only Convergence Solution gives businesses of any size the ability to access data anywhere, any time on any device without the high cost of large capital contracts. ICT buyers are attracted by the commercial terms, 30 day contracts and no requirement for a huge capital expenditure, with all the features they need on top. End users are becoming more savvy and realise that it is not just technology they are buying, but business benefits."
According to Lauren McManus, Head of Marketing and Communications at Daisy Wholesale, the Sales Academy is also designed to help resellers overcome the challenges they face in addressing the markets served by the new proposition. The education programme is mainly offered online with some face-to-face sessions and made up of three core elements - market awareness, product knowledge and sales skills.
"The purpose of the Sales Academy is to ensure that resellers understand the nature of our products, what they do and the part they play in delivering a converged capability," explained McManus. "We also cover market awareness and help our customers' sales and marketing teams to understand how the market is changing, the opportunity at hand and the business benefits of adopting a converged approach."
The training is accessible through an intuitive portal and available at any time to those wanting to use it. "Learners are not required to take full or half days out of the office," added McManus. "Once the learning is completed there is an assessment for each module and accreditations are awarded on passing the test. There is no lengthy commitment and absolutely no cost to the reseller."
Growns noted that Daisy is providing its learning and development platform through an established third party which he says is best of breed and tailored to partners' actual requirements. "The considerable investment we are making will be repaid by the success of our partners in this arena," he added. "You could say we are putting our money where our mouth is. This is a great opportunity and if we help our partners get it right, we all benefit and success will be mutual."
Some resellers will always prefer to concentrate on providing just data or voice connectivity, observed McManus. "But the market is evolving and converging," she re-emphasised. "In future we will see fewer data-only or voice-only resellers and more converged solution partners, which is why we are giving partners the products and training they need."
Daisy claims to have made it easy for resellers to lay their hands on its convergence offering, with much work going into simplifying and streamlining the quoting and ordering operation. "These processes are light touch, portal-driven and intuitive," added McManus. "Where appropriate, solutions are built online by selecting component parts such as licences. Sales teams can obtain pricing online for standalone single products, or they can build specific solutions and then get a price. The ordering process is a straightforward extension of this. Having it all online eases and speeds up quoting and ordering."
Growns also asserted that the benefits to resellers of a recurring revenue model are just as palpable, and he believes that capex-based sales are largely unsuitable for partners seeking long-term growth in the modern integrated marketplace. "Converged solutions give resellers a monthly recurring revenue stream," he explained. "And our 30 day contracts are attractive, removing the need for significant capital expenditure and avoiding the risks of being locked into a long-term contract.
"We are targeting telecoms, IT and mobile resellers seeking long-term growth in the convergence arena, and have been working on some of the core products for a couple of years now, refining our proposition to create a solution designed specifically for the channel.
"Each component part fits together to meet the broad requirements of end user customers. We are mega-excited about the opportunities that the One and Only Convergence Solution and supporting Sales Academy present. We truly feel this is one of the biggest comms channel opportunities for many years."•