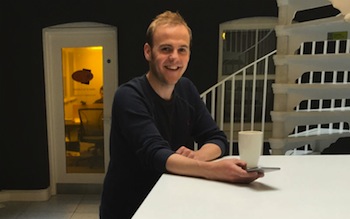 Intel-backed foundational wireless charging solution provider Chargifi is a prime mover in the emerging wireless charging sector, and partnerships in the ICT channel are key to its expansion strategy in the UK and Europe, explains co-founder and CEO Dan Bladen.
The rise of Chargifi is emblematic of the emerging wireless charging sector. The company was co-founded by Bladen and Charlie Cannell in 2013 and from their London headquarters they orchestrate operations in 13 international markets, enabling users to wirelessly charge their mobile devices. In leveraging Chargifi's patent-protected technology venues can smarten up wireless charging transmitters with intelligence to monitor their usage and performance, manage and improve the experience of users and accelerate their deployment when needed. Global brands using the Chargifi platform include Intercontinental Hotel Group, Grand Hyatt and Pret a Manger. Other notable client projects are Twickenham Stadium, the BT Tower, shopping and city centres, restaurants and offices.
Chargifi recently partnered with ITI Network Services which has since deployed wireless power to its multinational client portfolio, allowing the MSP to build its own wireless charging businesses. Chargifi has also partnered with DTP Group which operates in the education sector and has a particular focus on the corporate campus as well as student deployment. "We believe that wireless has the potential to do for power what Wi-Fi did for connectivity," said Bladen. "We are cutting the cord on power supply and giving people and venues a way to harness and embrace the benefits of wireless power. We see the roll out of wireless power as complementary to the evolution of Wi-Fi technology. Our partnerships reflect this development."
Chargifi builds the foundation technology that enables organisations to transform the way they manage, monitor and monetise power, and its IoT platform specialises in the control and enterprise management of wireless power infrastructure. "Through these services we are able to provide MSPs and resellers with the tools and ability to take wireless power to market at scale," stated Bladen. "We are working with MSPs wanting to offer wireless power in the same way that they have provided managed Wi-Fi in the past."
'We see the roll out of wireless power as complementary to the evolution of Wi-Fi technology. Our partnerships reflect this development'
For retailers, hospitality businesses, venues and restaurants, the market is growing more and more competitive and operators are increasingly keen to engage with their customers over the long-term, ensuring greater retention rates. "Comms resellers must provide new ways for customers to engage with their end clients," stated Bladen. "Wireless power assists with this by aligning with existing in-venue Wi-Fi solutions and providing accurate presence data to help the venue better understand customer behaviour. Personalisation is key and a wireless power solution helps vendors to tailor their services for customer retention programmes on an individual basis."
Chargifi is able to access and act on insights that Wi-Fi alone cannot, claims Bladen. The Wi-Fi aspect involved in wireless power gives behaviour insights while charging location data provides an added dimension that acts as a value add to inspire loyalty, he explained. "This might be through locational data or marketing insights according to the MSP or reseller, but it presents the full 360 degree picture of the customer on a digital and physical level," commented Bladen. "Information is currency for today's markets and a huge part of this is the race to both win and maintain new customers."
According to Global Marketing Insights, the wireless charging market is set to be worth $25 billion by 2023. Handset manufacturers are jumping on board: Xiaomi announced its new model last month marking another acceleration in adoption. "As a society we have become more reliant on power to enable our devices, meaning that there is a real need to provide people with power where and when they need it - wirelessly but also seamlessly," said Bladen.
"Mobile devices are an intrinsic part of our lives and free Wi-Fi and wireless charging on-the-go is becoming the norm. We're seeing this across a number of sectors including travel and hospitality. Whether travelling by train, plane or automobile, shopping, eating out, staying in hotels or visiting an entertainment venue, the potential for wireless power to improve the customer experience is enormous."
Chargifi's IP covers 'cloud-connected' wireless charging for devices from smartphones all the way through to electric vehicles and drones. Its platform enables brands to monetise their investment in wireless charging by providing a connection between them and their user as they charge. By integrating apps, businesses can understand more about their customers, analyse their behaviour while in their locations and contextually engage with them during the charging process.
"Wireless power solutions also have the ability to gather unique and rich data from customers as they use it, allowing brands to understand exactly where their customers are on a micro level," explained Bladen. "This opens up a whole host of possibilities like in-seat ordering of food from restaurants or on-board retail outlets. With users in such close proximity, it's this level of insight that maximises on conversation rates.
"Brands can communicate directly with those powering their devices and offer personalised communication that targets them exactly where they stand. From an MSP and reseller point of view, this makes for a flexible offering that can be adapted across all client sectors, while also providing a direct link to RoI."
There was a time when wireless technology conversations were just about Wi-Fi. Not so now. "Wi-Fi and wireless power will become more entwined," said Bladen. "Wireless power technology will also overtake Wi-Fi in the innovation stakes because without Wi-Fi devices are limited, but without power itself they are completely ineffective."•