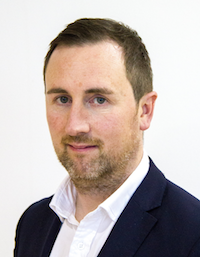 Node4's appointment of Andrew Wilson as Director of Channel Sales early this year was a clear sign of strategic intent. Here, Wilson discusses his channel strategy and underlines Node4's status as a growing force in the mid-market.
Wilson was drafted in by one of the UK's first ISPs straight out of university and he counts himself fortunate to have worked alongside some of the industry's early pioneers, an experience that later helped him to spearhead the launch of Virgin Media Business's ultrafast broadband products to the channel for the first time when many thought it wouldn't work. Other subsequent roles include positions at C&W and more recently Daisy Group where he helped to deliver growth across a variety of channel verticals by introducing data and VoIP solutions to the base.
Wilson moved from Virgin to Node4 in January this year and his immediate task was to educate the channel about the growth of Node4, especially through its new 'hidden in plain sight' campaign that promotes the company as far more than just a data centre provider. "We've transformed to become an IT provider of cloud-based technologies targeted at the mid-market," stated Wilson.
Node4's channel business, called Partner Markets, is responsible for 40 per cent of the organisation's turnover. "It's a significant part for the business," added Wilson. "With a focus on the mid-market community the channel is one of the key areas of our growth strategy. Too many organisations fail to look at their partners' customers and their challenges. But we believe that our heavy investment in mid-market research will be key to our partners' success.
"It's about enabling partners, no matter what size or shape, to address the needs of mid-market customers. We have a number of proof points in terms of the value we add to these size businesses, so we are taking that into the channel to help our partners understand and address increasingly savvy and demanding customers."
Based on its research and experience Node4 has swung its attention onto three primary business challenges - cloud/IT transformation, workplace optimisation through UC and collaboration, and challenging convention on layered IT security to help businesses focus on their risk profile rather than product and threat.
"Enabling partners is key," commented Wilson. "Our business offers a complete end-to-end solution with a fast-growing services portfolio. We have more than 60 accreditations from Cisco alone, multiple accreditations from Microsoft, Fortinet, Netapp, Zerto and most recently Veeam. So we are keen to ensure that the channel gains access to this portfolio along with the support they need to grow their own businesses."
Alongside its well established products and services portfolio Node4 is keeping abreast of IoT and AI which Wilson says will be 'massive'. "The industry moves quickly so resellers need to be educated on developments such as IoT and AI, and maintain a constant view of the security landscape," he added. "As the landscape evolves and data becomes an even more important commodity, the approach to detection versus protection is sitting high on our agenda."
Also top of Node4's to do list is maintaining the beating drum of its 'hidden in plain sight' message which the company hopes will soon be redundant. "The channel will become well aware of our position as an IT provider of cloud-based technologies to the mid-market," stated Wilson. "We will get to this position through the evolution of our solution set, meeting end user challenges, partner enablement and customer loyalty."•