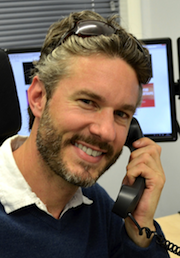 It is a stroke of good fortune for Clarion that its mission is also its biggest opportunity - to change the culture of re-use and waste in the phone system marketplace, according to Managing Director Tom Hunt.
Clarion's responsibility dovetails neatly with its commercial ambitions and this perfect fit is reflected in Hunt's long-term association with CEO Ben Bradbury with whom he has been a friend since childhood. Prior to joining Clarion in 2003 Hunt worked as Chief of Staff for an MP for four years focusing on environmental and technology issues. This experience was transferred to Clarion and helped to establish the company as an 'envirotechno' trailblazer with Hunt and Bradbury leading a phone system hardware re-use revolution across 50 countries - and they recently refurbished their millionth handset.
Clarion was set up with just £7,000 and currently generates circa £4 million annual turnover and employs 40 staff. The company moved from London in 2013 to 40,000 sq ft premises in Billingshurst, providing enough space to set up a remanufacturing plant. "We now have a state of the art test, refurb and repair centre and process over 3,000 IP and digital handsets a week," said Hunt. "Our current challenge is convincing people not to be wasteful and that high quality Grade A refurb kit is not the same as second hand. We are often stripping out motherboards, relaminating and recasing handsets. That is why we call it better than new.
"Our products go through an extensive refurb bench testing process and are given a warranty that is double the length of a new one. We also replace faulty handsets the next day, unlike manufacturers that require phones to be returned for repair which can take weeks. Our resellers don't pay to have their handsets maintained, which gives them more margin to play with when they are quoting for maintenance. Furthermore, to underscore our commitment to the refurb revolution we invite people to take part in our Pepsi Cola challenge by sending out new and reconditioned phones so they can make their own judgement."
Clarion began its commercial life at a time when the market was awash with VC money and cash was being spent on the very best of everything to set up new businesses. This extravagance played into the hands of Clarion's founders. "When the bubble burst much more used kit came onto the market and we approached receivers and liquidators to purchase it, paying a fair value and indirectly returning more money to creditors while creating a market for people who needed heavily discounted comms," said Hunt.
"Reusing the equipment meant that it was not being sent to landfill, which was still happening back then. Today, with our suppliers and purchases worldwide, we know what is in demand and what is coming into the marketplace and can create fair value so that both parties gain."
What stood out most to Hunt was the extent of waste and the opportunity to create something remarkable in a new market. "Companies pay a high price for new kit that devalues quickly," said Hunt. "If a company goes bust the chances are that its ICT kit will be skipped. On the flip side, companies wanting to get off the ground need comms equipment but their pockets may not be deep enough to buy new products. We saw a market for trading used telco kit so we also started scooping up deals at the auctions."
Clarion's first purchase was an old Argent Branch system with many DT3 handsets bought from an auction house in Croydon. "I had a buyer in mind so I could outbid others who were chancing their arm for a bargain," recalled Hunt. "I carried it away with difficulty in four hessian sacks and managed to get it into the car. Since those 'rag and phone' days we have developed into a fully fledged partner to the telecoms trade providing telephone systems, cards and handsets, plus repair services for resellers. We configure IP handsets for hosted providers and ship emergency maintenance parts to our customers around the globe.
"The icing on the cake for our customers is that the Grade A reliable equipment we provide is also helping them to decrease their carbon footprint. This helps them target sectors such as the NHS and Local Government which are some of the fastest growing markets for refurb in the UK. We also give the money we make from recycling to MIND, a charity close to our hearts."
Clarion's all singing and dancing refurb and repair facility houses a team of engineers who provide technical advice to resellers; while the sales team supports resellers in winning hosted and on site telephone system deals. Hunt explained: "We do this in two ways: By buying back the old telephone system and allowing the reseller to subsidise the deal, and we help them undercut the competition. Most deals on new kit come with a discount, let's say 20 per cent. If we then provide the handsets at 80 per cent off the new price resellers win the deal."
Perhaps not surprisingly, manufacturers and distributors were perturbed by the attraction of Clarion's proposition to resellers, and it didn't take long for some to follow its lead. "Cisco and Avaya entered our market with their own certified refurbished offering," stated Hunt. "This move by the manufacturers has helped to expand the market, reinforcing the message that refurbished is just as acceptable as new."
A key growth area is the supply of IP handsets for use on hosted platforms. "We have several partnerships with hosted providers and resellers," added Hunt. "They send us their equipment and our engineers configure it as they wish. Servicing hosted VARs is the fastest growing part of our business. We continue to stress to them the importance of the benefits of equipment re-use to win business and save their clients needless expenditure, and to take some responsibility in protecting the world's resources by reducing their carbon footprint. We stock every type of IP handset.
"There is no doubt that most if not all business comms will soon be in the cloud. But we should not be getting ahead of ourselves. For years we were told that the introduction of IP would mean the death of traditional fixed line business. That was back in the mid-noughties but look where we are now. There is a huge chunk of the market still invested heavily in on-site telephony. So we continue to focus on supporting our resellers in providing heavily discounted refurbished telephone systems and handsets to their large corporate clients and the public sector."
Hunt cited one such example, an organisation with a legacy system which is rolling out 5,000-plus refurbished handsets saving the business over £330,000. "There's plenty of margin to be shared between us, the reseller and the customer," said Hunt. "But large corporates and the organisations our clients service and maintain are now moving their data into the cloud. The voice will soon follow. The big question is whether they go straight to the headset/PC set-up or keep the handsets. Current trends suggest the latter. But we are also moving more into the headset market."
Another growth area is the repair division. "We have a team of qualified engineers with a broad range of technical skills," said Hunt. "Some of the vendors support us and provide their schematics, otherwise we work it out. One of our next steps will be to roll out a 3D printer division for helping produce hard-to-find parts."
Hunt advises resellers to embrace refurb whenever and wherever possible. "Being a reseller is about adding value, and with a reliable refurb and repair partner resellers are adding a significant amount of value to their offering," he commented. "In simple terms, resellers gain a competitive edge and reduce their carbon footprint."•