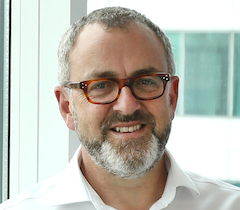 Nextgenaccess Managing Director Mark Weller has brought the company to the most significant inflection point in its history – a major expansion of its channel strategy and full fibre network.
Weller has set himself a single task - to deal with the UK's digital deficit through the application of current strategy informed by past working experiences – notably in rail fibre and as an architect of business growth who can see how the comms infrastructure landscpe lies. He was a former property surveyor who moved into telecoms in the early 1990s following a dip in the commercial property market which coincided with the emergence of the first generation of analogue mobile networks. Having read all the signals Weller set up Cellular Design Services in 1995 which tested and acquired mobile sites. The company became a market leader in the UK and Benelux, growing to £12.5 million at the time of its sale to a merchant bank in 2002. 
Weller remained active in the telecoms and mobile sector and in 2012 sourced the funding to acquire Alan Dick Communications which managed the UK's rail fibre and rail GSM networks. Its turnover increased from circa £4 million to £22 million prior to its acquisition by Panasonic in 2016. "My expertise is in trackside rail fibre and surveying, these are essential when it comes to evaluating the potential of our existing and planned fibre network infrastructure routes and sites," stated Weller. "By tapping into the thousands of miles of UK rail fibre infrastructure we can quickly and cost-effectively bring full fibre within reach of underserved businesses in strategic areas of the country network, and support increased network capacity for mobile operators as 5G comes into play." 
Nextgenaccess was established in 2013 with a mission to 'connect the unconnected'. Gaining Code powers and Physical Infrastructure Access (PIA) in 2016 changed the competitive landscape in Nextgenaccess's favour, enabling it to get involved in an increasing number of high value projects based in large part on having access to Openreach's duct and pole infrastructure. "The PIA regulations have transformed the business case for us and minimises disruption and lead times in providing alternative services," added Weller. "We were an early adopter of PIA and have the technical expertise and knowledge of Openreach's infrastructure to deploy new fibre where it's really needed, or where a carrier actually wants it."
My expertise is in trackside rail fibre and surveying, these are essential when it comes to evaluating the potential of our existing and planned fibre network infrastructure routes and sites
Rather than resell the legacy networks of incumbent suppliers Nextgenaccess is extending its existing 10Gb fibre core network by a further 1000km over the next three years. A new route will typically have at least one anchor tenant. "We will open the route up for businesses through carriers and channel partners in the vicinity using PIA to provide access," noted Weller. "We can then offer layer 2 access services to the Internet or appropriate meet-me point." 
He emphasised that the channel is essential to his business model as resellers will populate the fibre network in high numbers. "The opportunity for partners is to monetise our routes by delivering ultrafast and custom broadband services to businesses in their area, using our expertise in PIA to provide access," he explained. "We are focused on building a network of volume selling channel partners with the right level of expertise, ideally already used to selling to SMEs, large businesses and public sector organisations, and with a reasonable degree of technical and engineering capability. Many resellers providing voice and data services already tick some or all of these boxes."
Nextgenaccess is also targeting infrastructure based carriers looking to expand their reach, and asset-light operators seeking alternative access routes. Traditional and edge data centres requiring greater diversity, security and resilience are also relevant markets. "But the arrival of 5G is a game changer, putting mobile operators centre stage to meet the increased performance demands of both business customers and consumers, and they are under pressure to deliver widespread roll-out as quickly as possible, at the lowest possible cost," commented Weller. 
"Operators have to upgrade their core mobile and RAN networks. Our fibre routes will form part of the essential plumbing that underpins high speed 5G networks for the delivery of AI, the IoT, Big Data analytics, Machine Learning, connected cars and Virtual Reality etc. With this comes an unprecedented opportunity for resellers to use and monetise our fibre for enabling 5G applications. Our infrastructure model is fully optimised and future-proofed for 5G." 
To turn its strategic vision into positive and assured action Nextgenaccess has assembled a high calibre and experienced senior management team including Chairman Steven Marshall, formerly Group Exec VP of American Tower Corporation, the $60 billion Fortune 500 and NYSE listed telecom, broadcast and energy infrastructure group. Also on board is former Gamma CEO Bob Falconer as a Non Exec Director and Sales Director Don McAuley who was most recently VP Global Sales for Interoute (now GTT). "We are a slim organisation and plan to keep it that way," noted Weller. "Currently we have 12 people and plan to be around 20 by Q4 this year."
Weller himself became involved with the company last year following an introduction by Nextgenaccess investor Amber Infrastructure, a multi-billion pound asset management group focused on infrastructure investment including the telecoms, transportation and energy sectors. He subsequently joined as Managing Director and worked to secure Nextgenaccess's initial £22 million funding from the National Digital Infrastructure Fund, which is a part-Government, part-private investment fund for supporting the delivery of the UK's full fibre digital infrastructure.
"We are selectively identifying key routes where there isn't any fibre or where there are few or no alternative providers to BT," said Weller. "Our priorities are to leverage our PIA and rail trackside expertise in delivering on several key strategic full fibre deployments. Our main challenge is ensuring the appropriate levels of future funding to maximise on accelerating market demand."
Weller intends to work closely from the ground up with resellers who can demonstrate a viable business case for a new route. One such reseller is currently working on the delivery of ultrafast broadband to 4,000 underserved businesses in south west England and south Wales. Nextgenaccess is providing an 80km full fibre link to provide broadband network expansion between Newport and Bristol. It's a scenario that is as much about future proofing the reseller's business as providing top notch connectivity to needy organisations.
"In today's market the drive towards cloud and SaaS models limits the potential for SIs to build a business based on integration alone," explained Weller. "Resellers and SIs will need to develop their trusted adviser role and be less project-led, going for more continuous engagement. Owning infrastructure will have the joint benefit of tying customers in more closely while also offering the flexibility and differentiated offerings that carriers will struggle to provide."
Just a minute with Mark Weller 
Role model 
My friend, Fraser Hardie, an entrepreneur with a heart and brain the size of a planet
What talent do you wish you had? 
I wish I could paint 
What do you fear the most?
Bad knees
Name three ideal dinner guests
Christopher Hitchens to challenge everyone, Bill Hicks to balance Hitchens and Kenneth Williams for his acid tongue and wit
Your strengths and what could you work on?
Explaining ideas and getting people excited about them, but I need to work on my patience
How would you like to be remembered? 
A good husband, father and boss
Best piece of advice you have been given
Count to 10...
What possession could you not live without?
My father's watch
If you weren't in IT what would you be doing? 
Fishing and sailing, preferably at the same time
Biggest career achievement 
Giving my house to the bank to set up Cellular Design Services and then getting it back a year later
Lessons learnt
I wish I had not micromanaged people early in my career. Trust people and let them fail – it's how we all learn
Top tip for resellers
Keep innovating to stay ahead