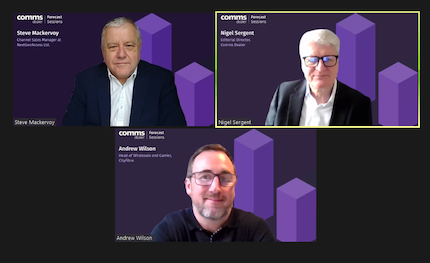 Strategic gaps, unwanted legalities and near total fragmentation highlight the immature nature of a full fibre sector that nevertheless asserts supremacy over legacy networks and resides at the centre of a comms revolution.
In the second of this year's Channel Forecast Insight Sessions, Andrew Wilson, Head of Wholesale and Carrier at Sales Director Steve Mackervoy unravel the impacts of an immature fibre market and offer solutions that would hasten, and capitalise on, the migration to Digital Britain.
Full fibre is shifting the comms sector's tectonic plates yet key points raised by Wilson and Mackervoy speak of a sector in need of greater maturity and development. A step in the right direction is a potential new plank in CityFibre's strategy, which is in the early stages of development and could ultimately speed up its full fibre roll out across regions beyond its current reach – and shows one sign of a sector coming of age. The key issue for CityFibre is whether to continue going solo or collaborate, because working with like-minded altnets certainly seems sensible given the challenges.
"Altnets are on their own missions," stated Wilson. "That creates competition and agitates the marketplace, but no one partner can do this on their own. The altnet market is immature and could do better at working with each other. We all have a collective end goal to make sure we support the UK digital landscape. So CityFibre is starting to have conversations with altnets to see whether we can work together reciprocally and add to our footprint in regions we aren't working in, or in areas that are synergistic to where we have a presence. It's early days, but those types of commercial conversations will evolve this year."
The impact of a relatively immature full fibre market is a real challenge to the sector with consequent implications for its readiness to meet Openreach's copper switch off deadline. "Individual players are on track," said Mackervoy. "But across the country we are behind the curve. Recently, Openreach talked about 80 per cent coverage by 2026. This shows that the market isn't moving as fast as it needs to. If there was more collaboration we'd have a stronger voice with Government to get things changed and also make sure fibre tax doesn't come in. Our individual voices are not loud and not heard. We'd be listened to speaking as a group."
The altnet market is immature and could do better at working with each other. We all have a collective end goal to make sure we support the UK digital landscape
Full fibre signifies perhaps the most prominent example of a sector undergoing a revolution. But the view that something is systematically wrong with the wayleave process has long been widespread among those impacted by this obstacle to growth. Mackervoy believes that for landlords and lawyers, wayleaves are no more than a lucrative aspect of the full fibre gravy train. "Key to growth is resolving the wayleave headache," he added. "In terms of access it's a big cost. Many landlords and lawyers see it as an opportunity to make money. Solving that process would make life much easier, especially in multi-tenanted buildings.
"I would like to see a process whereby we gain access to a building and once inside we can serve multiple customers. People would then see price changes because providers have to factor in the cost of wayleaves into a build programme which could be a massive percentage of the overall build. If you can get that down, prices may start falling and catalyse more take-up. But we're held hostage by landlords and solicitors to get complicated wayleaves done."
Wayleaves and siloed altnets are two symptoms of a sector in need of evolution. Another is infrastructure capacity. "We need to free up space in the ducts where we deploy in city centres," added Mackervoy. "You find congested areas and a lot of space is taken up by copper. We need copper to be recovered at the same time as the fibre roll out to give us more space and speed up deployment."
Our individual voices are not loud and not necessarily heard. We'd be listened to speaking as a group
Mackervoy's focus over the next year will be on London before expanding into other areas such as Bristol, Leeds, Birmingham, as well as Manchester and Liverpool where NextGenAccess has already completed projects. "We're not so much worried about end user contact, we're about making sure the network gets used after we've built it," he added.
Mackervoy is primarily focused on working with fibre providers rather than recruiting resellers, and NextGenAccess seeks an equilibrium between premises passed and actual connections. Against this backdrop, Wilson says that one of the biggest challenges for partners is knowing where they can buy fibre products. He commented: "Do resellers know which of their customers can move to a fibre network? That's the key to this. At the moment there are pockets of areas where you can get full fibre, and many other areas where build programmes haven't started.
"We promote our build programme, work with local authorities and councils to make sure they understand what we're doing and why. Then we create an environment where we have ISPs that can serve locally or on a national basis. We make people aware at a consumer level that we are there."
Wilson explained that CityFibre conducts a three-pronged approach to the market – build, fill and thrill. "The build programme is fully in flight," he said "We've passed over one million premises and I see that number ticking up rapidly over the coming months. My role is to fill: As we pass those premises we need to convert them into customers. So our priority is to enable the channel and give them the products and services to win across all parts of the business market, with the tools and automation to make the process seamless and low touch. It's about partner enablement."
At this point the experts diverge. Mackervoy's priority is to build, but his focus is on the back end rather than enabling resellers. "We've got innovative ideas for the channel," he commented. "Instead of having to consume a lit fibre service predominantly from Openreach we offer dark fibre alternatives, giving the customer the experience they want. We want to work with wholesale providers, sit in the background on their portals and help them build their own product with dark fibre as one of the elements of that product stack. They can leverage their own core network skills to deliver the products they want for the customer.
"A separate objective is to make sure we get access where we are building, otherwise you end up with motorways running past buildings with no way to connect into them. Ever since I've been in telecoms, access has been the limiting factor. It's the most expensive element and the most difficult and longest to install. That's what holds the market back most. Our focus is to make sure those access products are right."
According to Mackervoy, another driver that will accelerate the take up of fibre is for altnets not to seek customer ownership, but to embrace the wholesale model. "Some fibre providers are interested in building the infrastructure and owning the customer relationship, with wholesale an afterthought," he stated. "If more companies saw wholesale as important they'd get to leverage their assets much more quickly, even though they would not necessarily own the customer connection. Some altnet ISPs will continue to operate in silos. The market needs a kick start to make partnerships happen quicker."
Go-to-market strategies are an important point, concurred Wilson. "I see quite a few alternative network providers pivot their market strategy," he added. "Not having a wholesale angle, or even a business one, shows they are going purely consumer. A wholesale and business strategy will help them to maximise the opportunity and penetration better."
Altnets deserve a medal for defying many of the challenges of a new and developing market, but some full fibre providers must wake up to the uncomfortable fact that much more needs to be done to attack the market head on, believes Mackervoy. "It seems everyone started on a journey based around premises passed without considering how many connections you achieve," he observed. "Converting people to full fibre has been more challenging than expected. Competition drives this. If multiple providers hit the market with different messages at different times adoption will grow quicker. This is why people need to take the wholesale approach so that everyone can buy network from everyone else. And we all need to build to the same standards and shout with one voice."
Such a constructive outcome would radically revise the current modus operandi of many altnets, and focus the debate on hastening the sector's maturity. "Individual organisations do their own thing," added Wilson. "They'll have distinct routes to market and their own IT and system stacks, which means when we are looking at working with each other it will be more difficult if we are all talking a different language. CityFibre paved the way for many altnets and we are keen to make sure that as an industry we continue that charge and support each other."
2025 and the promise of an all-digital future is also concentrating minds, and the ultimate message being sent by our panelists is one of opportunity. "CityFibre had the vision and mission before 2025 was even announced," added Wilson. "2025 does however accelerate the opportunity for the channel, therefore we need to make sure we have the infrastructure to move people onto fibre. We're currently across 285 towns and cities which accounts for circa 30 per cent of the UK. My conversations with other altnets show that they are accelerating at pace too."