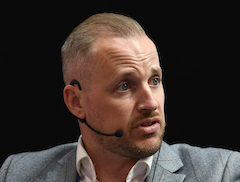 A new reseller portal was unveiled at MyPhones' virtual partner event staged on October 6th, boasting improved navigation and greater functionality.  
The company also presented new commercials, Microsoft Teams integration and future platform developments.
The online event was attended by 80 partners who took note of market predictions along with insights into the potential of white label leasing opportunities.
"Our development teams have been doing much work in the background so it was great to show our partners what we have achieved, with more to come," enthused Sales Director Paul Gibbs (pictured).
James Pink, Founder of Pink Connect, added: "The Teams integration and new portal move the game on for us."