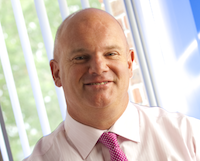 As for Business Intelligence, it's been a while since a technology has so consumed industry discussion. It's of the moment, and all about staying in the moment. Here, we assess the rise of real-time analytics and its growing influence in the channel and wider business community.
Resellers serve their customers best when keeping up with tech trends that greatly benefit end user businesses as well as their own. BI and analytics is arguably the biggest of these technology drivers for some time, and Oak Innovation is just one company aiming to be at the vanguard of this promising market having tweaked its employment policies to plug a skills gap. "We're currently extending BI to report on all forms of communication as well as customer interactions," stated CEO Phil Reynolds (pictured). "Our biggest challenge is recruiting the highest calibre development staff both in the UK and Canada. Exceptional staff are hard to find. We've observed the giants in the tech world and replicated aspects of their flexible working practices to entice the elite to Oak with some success."
BI pervades all areas of business, therefore integration is key. "It's about bringing all aspects of communication and customer interaction together in one place, and about using that information to improve service, reduce costs, maximise efficiency and increase sales," added Reynolds. "The more a business knows about its customers the more it can make intelligent decisions that will drive increased revenues and improved customer service."
Business Intelligence can transform any organisation. It shines a light into some of the darkest and least understood corners of a business and can unearth significant and sustainable improvements. "We know from experience that BI and assisting customers in understanding their data will help to build long-term client relationships," commented Carl Boraman, Commercial Director at Tollring. "The ultimate solution transforms raw data quickly and efficiently and presents the data in easy-to-understand dashboards, displaying observations and insights that drive better business outcomes. There is plenty of raw data. The trick is knowing how to access and understand it."
The challenge is to capture and encapsulate raw data from various sources in a business. Moreover, companies need a mechanism to access and interrogate data easily and effectively to deliver answers to their questions. But first, a reseller must ensure BI is at the heart of the customer offering by making it a focal point of the business across all departments up to C-Level.
"Resellers should ensure that their sales and customer facing teams understand the benefits of BI and can show with case studies how BI has helped customers to succeed," added Boraman. "Resellers should undertake training to ensure sales pitches lead with business improvement opportunities and highlight cost efficiencies, improved awareness and better, faster decision making. They should deploy and use BI tools in their own business. This helps to build understanding and credibility."
But you cannot interrogate data if it's sitting in three different silos, noted Dave Dadds, CEO, VanillaIP. "It's also important to have the same business logic underpinning all data sources," he said. "The lowest common denominator is the user. All data for services, GSM minutes and data, IP traffic, device registrations and services comes down to the user level.
"As we move to multi-vendor solutions you need an elastic management interface that unites provisioning, reporting and billing. Some form of software development resource is vital to develop services that meet market requirements. We took the view seven years ago that this was a key area. Now we are just as much a software development house as we are a service provider."
Having come to an understanding of a client's organisation, its intelligence needs and KPIs etc, how should resellers best develop and deploy an all embracing reporting solution that delivers the insights required by end users? The starting point, says Reynolds, is reseller training. "You can't expect a reseller sales person to be able to sit in front of a customer and understand where they can have the biggest impact on their business without first having a comprehensive training plan," he stated.
"A sales person is really a trusted advisor, and within a business there are a number of stakeholders. It's these people that need to have their questions answered and their needs met. The solution should be developed to meet the needs of every department, whether that be dashboards and wallboards measuring KPIs, or in-depth reporting delivered automatically."
Currently, many reporting systems are siloed which does not help to leverage customer data. But for a quick solution the answer is to look for quick wins, according to Boraman. "Identify BI tools that are product and service specific and available off-the-shelf," he said. "These need minimal effort and expertise to deploy and use. Then leverage the quick wins to help build the business case for further investment in BI solutions with more capability that can encapsulate and consolidate different data and drive better insights faster. BI combined with expert knowledge means you are not selling, you are educating."
One of Boraman's priorities is to make Tollring's offering available on more IP PBX platforms and to deliver BI around all forms of customer communications and interactions including social media, IM, online chat, email, forums, WhatsApp (for example), delivering not just high value BI but intelligent control, agent and workforce productivity. "Tollring is also focusing on areas such as video recording, the addition of sentiment analysis and omni-channel contact centre reporting for SMEs," he added. "Furthermore, S4B with its recent enhancements will become a greater force, therefore we will need to add value around the whole Microsoft portfolio leveraging the power of the Azure Cloud."
A modern workplace is swamped by data, and getting it all into one place and in a presentable format is the big challenge. The next difficulty is being able to visualise what's important and pick out the trends. In addressing this challenge VanillaIP has recently added Dashboard Widgets to its reporting portfolio. These services are a natural progression but making them best of breed is a never ending process. The Dashboard, for example, is a configurable view within the firm's Uboss portal that displays different tiles of information for each user based on their role. There are different bar and line charts for number port requests, hardware orders, tickets, month to date revenue, live calls and registrations on the platform. The user can click into any of the Widgets to drill into that reporting area.
"We see BI within our Uboss portal as two areas of insight - reseller and customer," explained Dadds. "Tools that allow end users to analyse which buttons are being pressed on the auto attendant and traffic heat maps are available now, but we have focused equally on developing reseller tools. To be successful and maximise every opportunity resellers need to see P&L, how different services are being adopted and be able to identify up-sell opportunities within their user community. For example, the reseller could look at all customers that are not using a mobility service and upload a campaign pdf that goes out with their next bill."
Edmund Cartwright, Marketing and Business Development Director at Highlight, is focused on SD-WAN, Skype for Business and the overall end to end application performance monitoring and reporting in relationship to the network infrastructure. "Our partners collaborate with us on the development priorities that will enhance the levels of BI we can offer in applications and network performance reporting," he said. "The challenges we face are in finding code solutions to complex scenarios. So far we're managing to crack the code needed to deliver the capability required by our partners.
"We are ready to do trials with network and managed service providers to prove our capability to accurately report the performance BI of a SD-WAN solution. As for the Unified Communications arena, we have developed our initial Skype for Business BI capability which is designed to offer providers and their customers insights into how the solution is performing."
Tollring offers a fully integrated modular BI solution delivered via the cloud or desktop for resellers to build into their customer UC offering. Its solutions include call analytics, wallboards, contact centre reporting, call recording and fraud detection. Boraman is seeing strong adoption of BI in markets such as key verticals like multiple-retail, recruitment, hospitality and construction. "We are also seeing traditional voice-centric resellers develop new skills and vendor partners to help sell a broader set of UC and cloud products to their customers," he added. "Some are doing this organically. However, we are seeing a greater number wishing to grow quicker who are actively acquiring complementary businesses to help achieve rapid growth."
Call analytics is probably the most widely deployed and valuable BI tool available to any business or organisation of all sizes, including the reseller, according to Boraman. "Call analytics is often misunderstood and overlooked despite being an inexpensive, easy to deploy and highly effective BI solution that delivers business insights automatically at the touch of a button," he commented. "Even without getting into omni-channel contact centre analytics, the majority of people still prefer to speak directly to their suppliers and customers over the telephone.
"If customers are calling when you are not there you need to know about it. If they are not able to speak to you when they need to they will eventually take their business elsewhere. By combining call reporting data with call recording the value of the information increases exponentially. Not just who called, when they called, was the call answered, who answered the call - but listening to the actual call to understand and add information such as customer emotion, reason for the call, the promised action and outcome."
Just as relevant is the ongoing consumerisation of IT in terms of BI and the move to the cloud, observed Dadds. "The definition of 'product' has widened considerably with consumerisation," he said. "A few years ago we would have said we were in the phones business, but BI, self-serve and manageability are now crucial to customers and have become differentiators in the market." •