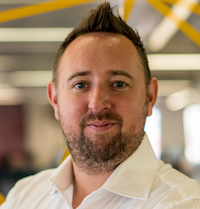 Britain's infrastructure badly needs smart innovation and the response by leading channel network providers ranks with some of the greatest comms industry game changers to date.
Virtual1's Product & Marketing Manager Neil Wilson (pictured) sees two key trends dominating the market, and the company is active in both - SDN and SD-WAN. Virtual1's new national network will be fully software defined to drive efficiency and improve the feature set delivered to the channel. On SD-WAN, Wilson said: "This is about more than just network flexibility. There is also a tremendous amount of value to be had from the metrics and reporting these solutions will provide. This will be particularly important as businesses start to look for more granular SLAs against individual applications rather than how the circuit as a whole is performing."
Over the last 18 months Virtual1 has worked hard on upgrading and expanding its network. Introducing templates and standardisation across the network gives partners access to perform many of the configuration changes that they traditionally rely on carrier providers for, such as bandwidth changes and VLAN resizing etc. "SDN delivers a real world advantage that we are keen to deliver to the channel," added Wilson. "It is essential that we roll out our full UK network without incurring the considerable overheads of the legacy carriers. This reduction in overhead means that we can be commercially competitive, and this disruption will bring revenue and margin opportunities to the channel."
Wilson says network innovation is about giving channel partners access to the functionality enabled by Virtual1's SDN network. "In 1Portal we have a vehicle that our partners use already, so we will simply layer the additional functionality in there," he explained. "With our own in-house development behind our SDN functionality and 1Portal we will be able to take configuration requests though 1Portal and implement them directly on our network, removing error and delay from the process and delivering those updates in real-time. In verticals or applications where a dynamic network is required partners will be able to administer these changes themselves rather than being at the mercy of a legacy player with manual workflows and processes."
In advancing its technological developments Virtual1 is simplifying what is currently highly complex. Making configuration changes accessible to the many rather than the few is key, with portals and APIs playing a critical part in this. "We also see attention focusing on the application or business outcome rather than the individual components of a networking solution," noted Wilson. "After all, it is the application or business outcome that really matters to a business. The status of an individual component comes later. A longer-term outlook might take in VR and AR for network visualisation. Moving from 2D into 3D would allow a greater breadth and depth of information to be communicated."
As we have seen, networks are increasingly becoming agile and more dynamic. This enables the network to adapt to the demands of end users by putting resources where they are most needed and by being more efficient as a result. BT is continuing to invest in both the network and infrastructure to make it more dynamic with programmable capabilities. "This is important because it allows users and channel partners to take self-control of resources, putting them in the driving seat," stated Henry Bohannon, Director, Data and Broadband Products at BT Wholesale. "We are already starting to realise this with B2B interfaces where services can be controlled and modified. This is ideal for the channel because it enables underlying networking and infrastructure to be quickly modified to suit the needs of services and applications running over the top."
In terms of network and infrastructure innovation Gamma's Chief Architect Andy Rawnsley pointed out that infrastructure layer Optical Transport Network (OTN) technology provides a framework for delivering flexible capacity by switching at a wavelength level. Provisioning multiple Gigabit capacity between network nodes can therefore be as simple as a few keyboard stokes or mouse clicks.
Further up the stack the Network Function Virtualisation (NFV) - moving network functions from proprietary hardware to mature COTS IT hardware - alongside Service Orchestration platforms enable the deployment of flexible, scalable and open networks. The integration of all of these makes for adaptable and scalable network capacity and services.
"At the optical layer we are deploying a 45-fold increase in core network capacity to cope with the increasing demand for bandwidth, while establishing access aggregation nodes closer to the end user customer sites," commented Rawnsley. "In the access layer Gamma is providing 'single hop' connectivity to cloud-based Software as a Service platforms to assure continued business operation."
He also noted that at the application layer Gamma is disaggregating functions to provide flexibility in service creation and delivery. An example of this is the introduction of database driven voice call routing control which is separated from the voice switching and border edge nodes.
"Gamma is deploying an 'open system' network systems and software architecture that creates useful internal and external interfaces where component attachment and interchange takes place," explained Rawnsley. "These principles will allow both internal and external systems to interact with Gamma's platforms to deliver tailored products and services that address the needs of the differing channels we serve. We are embracing innovation in our delivery, support, test and diagnostic systems to provide channel partners with provisioning, monitoring and fault investigation tools, enabling a responsive end customer service."
No matter how an end user is served, comms networks will need to provide service flexibility and scalability as well as being customisable. "Delivery of these three principles does and will present assurance and security challenges," added Rawnsley. "We will need to ensure we all defend and mitigate against malicious actors. They are here to stay."
According to Andy Furnell, Lead Technical Architect at Zen Internet, SDN represents the single biggest change to our industry for some time, probably since the widespread adoption of MPLS in the early 2000s. "More recently we are starting to see some interesting technologies that significantly tighten the level of integration between telco/connectivity and enterprise/hosting domains, which will ultimately allow for tighter, simpler and more meaningful integration of connectivity and hosting services and applications," he stated.
Zen Internet is refreshing its core network and expanding its LLU network from 200 to 400 exchanges. "The focus at the moment is less about exciting innovations and more about building a strong and solid foundation to support the growing demands of our customer base," added Furnell. "This is a two year programme but we expect the network we are deploying to be in the ground for the next 7-10 years, hence a lot of our time is spent planning how we will evolve and grow the network in terms of capacity and resilience, and in terms of features and functionalities to ensure our products remain relevant.
"The key focus for us at the moment is in providing a more open, dynamic and programmable network. In reality this means a lot of work behind the scenes to tighten up standards and processes with the ultimate aim of exposing more self-serve to our channel customers, giving them more control over their end user experience and improving levels of transparency throughout the service lifecycle."
A more transparent and programmable infrastructure is key, noted Furnell. It delivers tangible differentiation for end user services when coupled with more service-oriented technologies and topologies. "We are working towards an entirely service-oriented architecture for both infrastructure and software where each and every end user service is discretely instantiated end-to-end within our network," he added.
"The possibilities are huge. The ability to manage each service for each end user will allow us to monitor and report meaningful QoE and SLA metrics on a per-service basis, and will give our partners and our own technical teams high levels of control over where and how their end customer services are served."
While network connectivity is increasingly a commoditised market the availability of ultrafast connectivity products serves to level out the playing field while at the same time presenting a significant business opportunity, believes Furnell. "Faster speeds based on more reliable connectivity opens up many possibilities to deliver a quality set of supporting services, both OTT and 'through the middle', via tighter integration between infrastructure and applications and blending the best aspects of traditional infrastructure technologies with an increasingly dynamic and flexible set of end user services," he commented. "We see a place for both, which can only mean more choice for end customers and constantly developing and improving value opportunities in the channel."•