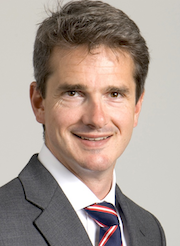 Equinix's multi-million UK data centre investment builds on its blockbuster acquisition of Telecity Group early this year and marks a step change in the firm's growth strategy, according to Equinix UK Managing Director Russell Poole.
Equinix's late summer £26 million investment in the second phase expansion of its LD6 International Business Exchange (IBX) data centre in Slough upped its capacity to serve interconnection to connect companies. And in January the company closed the acquisition of European data centre services giant Telecity, delivering fresh challenges to Poole's desk. "Following the acquisition the big priority for me has been around welcoming many new members to our team and integrating the combined business, as well as managing the ongoing growth of our company which continues apace," he said. "It's about making sure we have the right capacity, in the right place, at the right time, with the right profile of service providers to allow our customers to execute their IT strategies. Doubling the size of our data centre in Slough helped us to keep up with customer demand in the UK."
US-based Equinix was established in 1998 by co-founders Jay Adelson and Al Avery, who were both facilities managers at Digital Equipment Corporation. They predicted that data centres as they existed then would not have the capacity to handle all the data created and demanded by technological advancements. They wanted to build a neutral location for carriers to connect together - almost a Switzerland of the Internet. With this idea in mind, Equinix was born. Since Equinix was founded it has invested over $13 billion in its data centre platform and grown from a single US location to having a global footprint of 146 data centres in 21 different countries.
"Having established a critical mass of network service providers we were able to secure customers such as Sony, Sprint and AT&T," stated Poole. "Creating a global footprint of data centres has been the company's goal since the beginning, and acquiring Interconnect Exchange Europe in 2007 enabled Equinix to make a big leap into the European market."
This was followed by the acquisition of Switch and Data in 2010, which provided the firm with 34 additional new data centre locations. "Two years later we moved into Jakarta and Dubai, with Amazon Web Services becoming a customer the same year - a major milestone for us," added Poole. "This year we have doubled the size of our business in the EMEA region thanks to the acquisition of Telecity Group. We now have a network of 146 data centres across five continents."
Equinix currently has more than 8,000 customers worldwide (including over 140 of the Fortune 500) and approximately 188,000 cross-connects. "The combination of a global footprint combined with direct connectivity means organisations can have their data where they need it, when they need it," commented Poole. "Building on this we are continuing to establish Equinix as the home of the interconnected cloud, which in turn is attracting enterprises that want to adopt hybrid and multi-cloud as their IT architecture of choice."
Equinix currently employs over 5,600 staff and its financial numbers are impressive, with revenues of $2.73 billion in 2015. Last month the company delivered its 55th consecutive quarter of revenue growth. "We have a great deal of momentum in the major locations in which we operate," added Poole. "What's exciting is that the market is now really getting to grips with the concept of interconnection and the transformation it will bring to the world of business. I have no doubt we will keep pace with the demand we're seeing and will continue to grow over the coming years."
Equinix enables businesses to be part of an ecosystem in which they can strategically connect with their partners and customers. For example, Equinix claims to be the only data centre company that houses all of the main cloud service providers - Amazon Web Services, Microsoft Azure and Office 365, Google Cloud Platform, IBM Softlayer and Oracle.
"Equinix can help businesses solve their critical data management needs by creating a multi-cloud solution that can be tailored to the requirements of the business, and which uses the most appropriate service for any task," added Poole. "So an enterprise may come into our facilities to run multiple applications in the cloud - connecting directly to the Google Cloud Platform to run Google Apps at Work and to Microsoft for Office 365 for email."
Equinix is busy identifying ways to expand its global footprint, building on its 20 International Business Exchanges (IBX) data centre expansions last year. "In 2016 Equinix continues to expand the scale and reach of its global platform with 18 announced expansion projects underway," said Poole. "We've also announced new expansions in Dallas, Dublin, Frankfurt, Helsinki and Zurich, totalling more than $100 million of capital expenditure.
"To meet the demands of the rapidly evolving business environment organisations must re-architect their IT infrastructures out to the network edge. We help our customers do this through a proven blueprint we call the Interconnection Oriented Architecture (IOA) which allows businesses to securely connect to whoever they want, whenever and wherever they need it."
A particular area of focus for Equinix is the growth of the cloud. In order to meet the increasing adoption of cloud by enterprise customers, it developed the Equinix Cloud Exchange. "Through Equinix's Cloud Exchange, customers have access to software-defined connections to multiple cloud services from a single physical port, allowing them to access whatever service they need," added Poole. "It really makes us the home of the cloud as it's the only neutral ground where all the major cloud providers can collaborate under one roof.
"Building a large and diverse customer base has had a snowball effect on our business, as the ability for our customers to digitally interact and interconnect with other companies and partners has been a very compelling selling point. The fact that Equinix is continually expanding into new markets makes this offering appealing to companies with a global presence."
According to Poole, the rise of the Internet of Things and its potential to change everyday life is probably the biggest game-changer on the horizon. "Moving towards a highly connected society will significantly drive up demand for ample data storage," he added. "That's where Equinix comes in. Driverless cars, for example, will require synergy between the cars own systems and real-time information about the road and its surroundings. The volume of data this will create will be astonishing, and will require a reliable and high-capacity data management solution."
For VARs to succeed in today's channel industry it's important they deliver enterprise solutions that are secure, reliable, cost-effective and easy to implement for customers. More specifically, as the hybrid cloud fast becomes the default enterprise IT deployment model, it will be essential for VARs to think about how to best utilise the cloud for customers, believes Poole. "We recently announced a partnership with Arrow Electronics to offer preconfigured hybrid cloud packages," he said. "This will enable resellers and managed service providers to rapidly deploy and implement hybrid cloud solutions for enterprise customers from markets around the globe.
"For us the biggest change has been in the conversations we're having with customers. They're no longer coming to talk to us about data centres, they're talking about interconnection and what the latest IT trends mean for their business. From hybrid clouds to BYOD models, IT trends are now firmly on the C-suite agenda, and we find ourselves at the intersection of these trends. It's a very exciting time."•