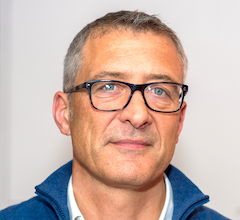 Three primary areas of business opportunity have been pinpointed by a survey of senior decision makers in 100 channel organisations – their focus resting on helping businesses to become more agile, boosting the customer experience and driving efficiencies.
The study, conducted by BT and Cisco, also found that over 96% of channel partners have witnessed customers taking a more strategic and longer term approach to their digital investments following the impact of Covid-19 on working patterns.
Almost as many respondents believe that businesses are prioritising digital transformation plans for the foreseeable future.
Over two-thirds of those questioned noted increased demand for network bandwidth from customers, while more than 60% saw greater demand for collaboration tools.
Gavin Jones (pictured), Channel Sales Director, BT's Wholesale Unit, said: "We're seeing a shift in the way channel partners and their customers are considering a long-term strategic approach to digital investments, including permanent changes in working practices for distributed teams of people.
"The research indicates a desire and need to handle complex technology via third parties which presents a huge opportunity for channel growth and, more broadly, bodes well for the technology sector in Britain."
Cisco UK CTO Chintan Patel commented: "As the pandemic persists it's clear that channel partners and their customers are looking to transform their emergency digital responses for the long-term.
"CPs highlighted cost savings through automation, enhanced agility, flexibility and increased security as key strategic benefits. As a result, the benefits and returns on these technology investments can be viewed as a dividend, giving UK businesses a return over the years to follow."
The survey pointed to the benefits of remote working experienced by channel companies, with 90% reporting that their productivity is the same or higher than in the office. Nearly half believe that a new hybrid working model will prevail, while 15% predict a predominantly virtual working model.
"A blend of old world and new world is where we'd like to get to, taking the best of both situations into the future," observed Justin Coombes, Marketing Director, Gamma.
"New benefits such as expanded talent pools and more flexible working conditions leading to higher productivity are just some of the advantages, so all businesses need to engage with the positive outcomes of hybrid working."