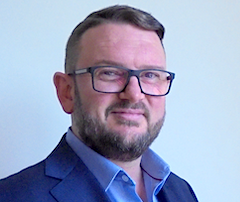 In discussing the mobile market opportunity for comms and IT resellers and the buying options available to clients the benefits of leasing become instantly apparent, according to Shire Leasing National Sales Manager Dan Mackrell.
In his Margin in Mobile interview Mackrell's message on the benefits of leasing was loud and clear and easily understood, but financing mobile deals is nothing new. In fact, leasing has been an option in mobile sales for many years, but it became more readily used around five to six years ago when most of the major networks did not provide upfront commission for signed contracts. "There's some fantastic SIM-only contracts in the wholesale environment, but then dealers are faced with the upfront capital costs of handsets," stated Mackrell. "The rise in the cost of handsets has driven demand for leasing."
For mobile-only deals Shire Leasing finances the handsets, the software and accessories, all typically funded over two or three years. "Occasionally we see mobile included in an on-premise or off-premise solution, so we can push the terms out, possibly to four or five years depending on the customer's requirements," explained Mackrell.
The benefits of leasing to a channel partner are many and varied, he noted, and also essential. "If a reseller offers a solution just on a capex basis when a competitor proposes both, you're already at a disadvantage from the outset," he added. "Resellers should give customers as many opportunities to say yes I want to do business with you as possible. Spreading the cost is an advantage."
Furthermore, noted Mackrell, leasing is a sticky product. "Typically we would have a title arrangement with partners which means that at the end of the lease agreement we offer title back to the reseller," he said. "This gives them an opportunity to go back to the client and offer a new technology or resign them."
In comms the average order value is just over £20,000 – across the business as a whole the average is £7,000. But anything to do with an upfront cost can be financed, from a single mobile handset to millions of pounds worth of kit. "We pay out immediately," stated Mackrell. "The dealer gets the money upfront while the customer pays 'on the drip' to us. Some of our partners take the opportunity to put commission into our lease rates. Because margins are fine on the handsets we try and boost that with commission while resellers still look to make that recurring revenue profit."
We are almost at the same proposal levels now as pre-Covid-19. This is without doubt the best place to be from a leasing point of view at the moment
As with any asset or solution acquired by a business it's either going to make money (generate profit) or save money in efficiencies. "So rather than say to a customer this is £20,000 or £30,000 upfront enjoy a return on investment over five years, say take it today via leasing and literally be in profit," urged Mackrell. "The customer understands that it's a depreciating asset and that technology is moving quickly, and may opt to use someone else's money to acquire the use of that tech and keep their own cash in the business. Now, it's more important to preserve cash."
Mackrell noted that Shire Leasing has operated in the ICT channel for 30 years, and that circa 50 per cent of its turnover is generated by this space. "When the crisis hit we were inundated with requests for payment holidays or people not paying," he commented.
"On analysis, the lowest default rate and request for payment holidays was in the ICT channel. We are almost at the same proposal levels now as pre-Covid-19. This is without doubt the best place to be from a leasing point of view at the moment."
Finance providers live and die by the strength of their credit policy, and Mackrell pointed out that Shire Leasing is supported by British Business Bank and provides FinTech solutions, which are all available through portals and APIs, therefore making leasing easy for partners to use. The firm has also recently been appointed as a finance provider for Mitel.
To help the process Shire Leasing has just teamed up with Proposition Pro, a product from Tariffcom that enables dealers to configure a mobile solution with different SIMs and handsets, and place the order along with contracts, and use e-sign to close business remotely. "By making Shire Leasing's services available via Proposition Pro the sales person's journey is as short and efficient as possible," added Mackrell.